Blak Douglas becomes second ever Indigenous Archibald Prize winner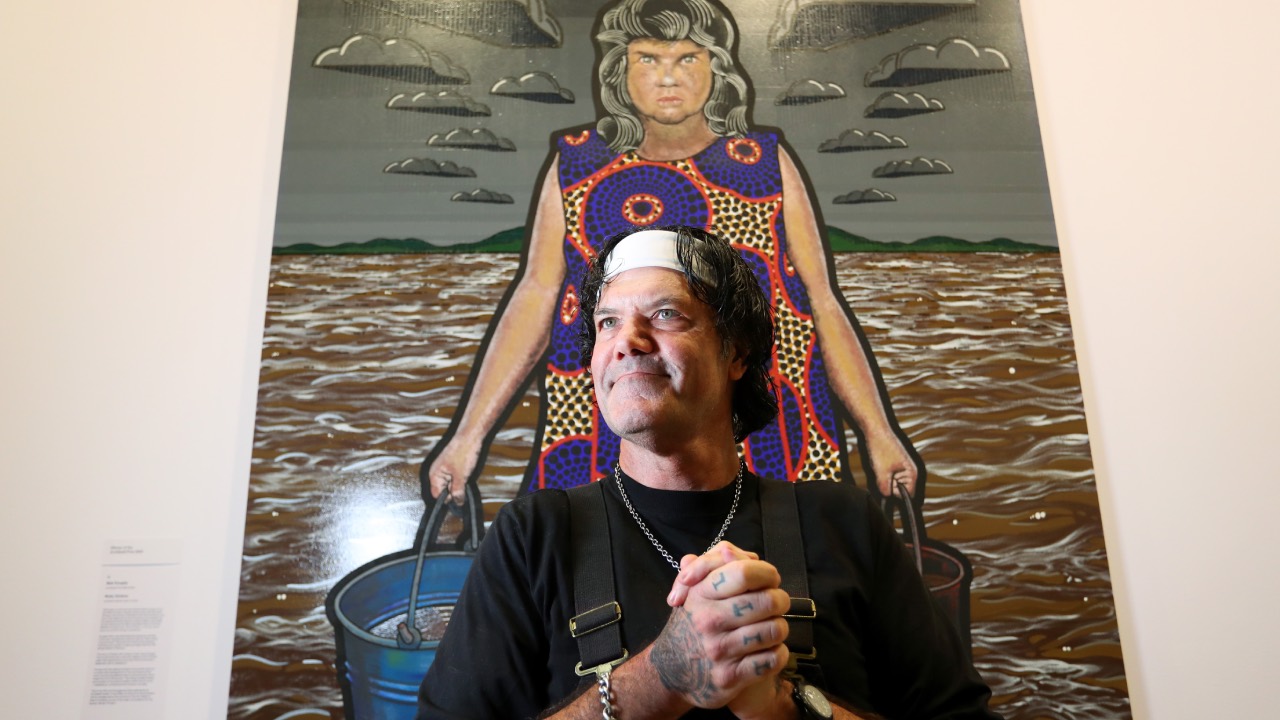 Western Sydney artist Blak Douglas has won the 2022 Archibald Prize, taking home $100,000 along with the coveted title.
The self-taught 52-year-old artist has become the second Indigenous artist to win the prize in its 101 years for his portrait of Wiradjuri artist Karla Dickens.
The 2022 competition was Douglas' fifth time as an Archibald finalist, and accepting the prize at the Art Gallery of NSW ceremony, he said: "This painting represents 20 years of taking the risk of pursuing a dream [and] surrendering normalised employment. And I'm sure many of my artist colleagues can relate to that."
His winning portrait depicts Karla Dickens, who he describes as a "legendary practitioner", knee-deep in the muddy floodwaters of her hometown in Lismore, Bundjalung Country — holding a leaking pail of water in each hand, and looking grumpy.
His painting reflects on the damage and after-effects of the devastating February and March floods in the Northern Rivers.
"I've been up there [to Bundjalung Country] several times; it's a war zone," Douglas told ABC News.
"And so to be able to further aid some of my dearest, closest friends up there, through this win — not only metaphorically, but also financially — it's a big plus."
Speaking via live video link from her home during the ceremony, Karla Dickens said she was "over the moon", and thanked her friend for "acknowledging everybody up here on Bundjalung Country that has gone through so much".
"I'm so proud of you, Adam. Such a killer painting," she added.
Image credits: Getty Images