Maker Dan opens up on Parkinson's diagnosis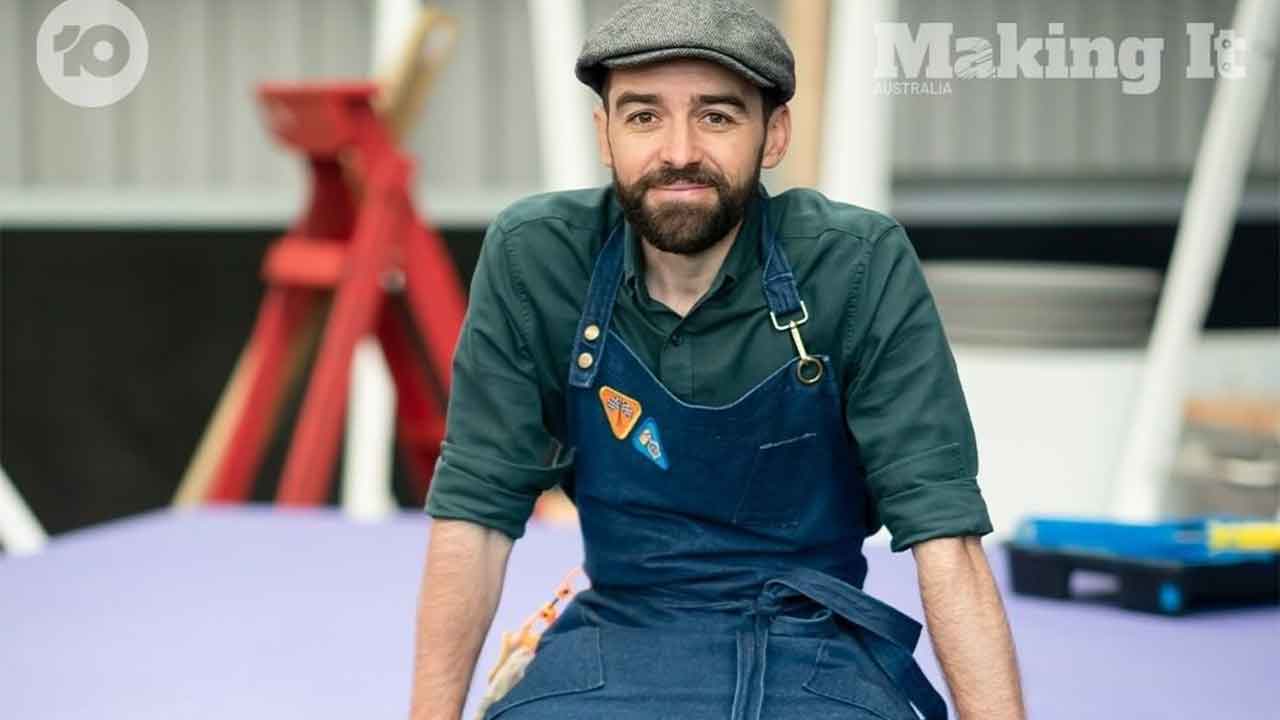 In episode six of Making It Australia, Makers were set the task of completing one piece in the Mega Craft Challenge.
Contestants were tasked with creating an outdoor oasis in a challenge that saw them create spaces with soft lighting, firepits, swings, and functioning water fountains.
Jack took out the challenge with his secret silver cinema, complete with a projector and a series of white curtains.
View this post on Instagram
As always, one person made their exit from the show, and this time it was Dan.
After his departure, Dan sat down with OverSixty to chat about his time on the show and the meaning that crafting has for him.
O60: What was the highlight of being a Maker?
The Incredible Makers, Judges and other people that I got to meet were definitely the highlight for me. This is seriously like the Making Olympics!!
O60: What surprised you most about your Making It experience?
The pace was so fast!
O60: In a personal moment on the show, you shared that you were diagnosed with Parkinson's disease. Not to pry, but this is an important issue to many of our readers. Are there any alternative treatments you are considering? Has your diagnosis put pressure on the crafting you do or increased the appeal of making things now?
I have always broadcast the enormous sense of duty that accompanies my insatiable internal drive to create. As for [Parkinson's Disease (PD)]? When I received the news I was actually a little relieved! I had been searching for the correct cause of the restriction in my right hand for several months. This diagnosis came with medication that provided rapid relief and a dim light at the end of a tunnel.
Making it was an AMAZING adventure/distraction to which I adhered to a chance to prove to Kye (wife), Australia and MYSELF, I am still the Dan! So, yes, in the 15 months since my PD diagnosis, Crafting and Making has certainly gained emotional magnitude.
With regard to treatments: I'm currently managing symptoms with medication. I'm hoping, prioritising my own health and wellbeing, stress minimisation, and a balance of rest/work will prolong the medications' effective window. Although unfortunately DBS Deep brain Stimulation has already raised its head in a few consultations.
O60: What's next for you after Making It?
Keep showing my wife, Kye, that I love her! And developing the OCG (Obsessive Compulsive Garden) and I [am] hopeful I can complete my Electric Hotrod by March 2022. Work wise I've been making deliberate choices to consolidate and focus on what makes me happy. This has inspired me to launch DeleurDesign. In order to combine, my passion for the environment and minimising our impact, making skills, knowledge of a broad and growing array of materials and ability to design and create unique practical and beautiful solutions to problems for waste management in particular. Lastly, I am going to raise some funds for Parkinson's Disease Research. If you are familiar with the #CARBAR I Created while on Making It Australia? IT WILL SOON BE COMPLETED AND UP FOR GRABS!!!
I encourage you to join me on this journey @DeleurDesign on Instagram or find me on Facebook.
O60: Making It seems to be challenging the idea that eliminations mean you no longer appear on the show, can you give us an insight into what's been happening behind the scenes with the eliminated Makers?
They did an amazing job of selecting Makers! Assembling a group of Makers that became instant family! We still chat and create every day!
O60: Last but not least, if you had the chance, would you do it again?
Yes!
Starting this weekend, Making It Australia will air on Saturdays at 6 pm on Channel 10.
Image: @deleurdesign / Instagram