Incredible collection of 200 "lost" Elvis Presley items up for auction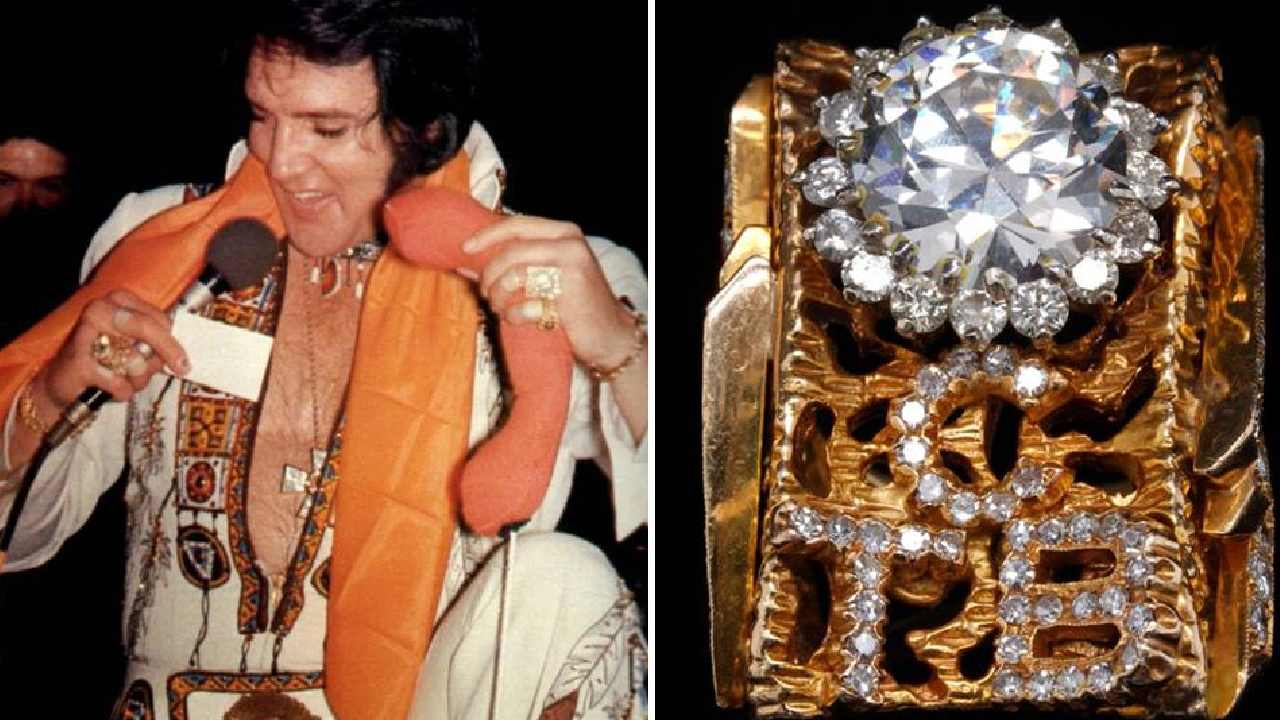 A stunning collection of lost jewellery and other memorabilia and items that Elvis Presley gave to his manager, Colonel Tom Parker, is going up for auction on August 27 with the backing of his ex-wife, Priscilla.
Up to 200 items, including gold rings encrusted with jewels, cufflinks, watches and chains, have been brought together by GWS Auction. Also included is the V-2 guitar played by Presley during his famous 'comeback' TV special of 1968, which alone is listed at US$750,000.
Presley's 9.81 carat-to-weight Diamond 'First' TCB ring – where "TCB" stands for "taking care of business"' a favourite expression of the music legend – is also listed for a minimal bid of US$500,000.
His 18 karat lion ring, which Elvis wore in the documentary 'Elvis: That's The Way it Is' is for sale too for a minimal bid of US$25,000. Other accessories, including watches, rings and necklaces, are mostly listed between US$1,000 to US$10,000 per item.
The King's "Heartbreak Hotel" original lyrics board is also for sale for a minimal bid of US$50,000.
Other items in the auction include: The King's "Speedway" Racing Jumpsuit, listed for a minimal amount of US$20,000; his 1976 Harley Davidson FLH 1200 Electra Glide for US$100,000; his 1973 Lincoln Continental 'Last' Limo for an amount of US$50,000; and his personally owned jet purchased for his father, listed at US$100,000.
Many of the jewellery pieces were provided by Priscilla, although she doesn't own them. The lost collection's total estimated value, as well as its current owner's identity, remain unknown and it is also unclear how the items were found.
Priscilla has also said she felt protective of the items because she designed some of them herself, including artefacts with the logo for TCB Band, the musicians who formed the core rhythm section of Presley's backing band in his later years.
She also said she supported the auction in part because she was weary of seeing so many fake Elvis items for sale online.
"There is so much product out there that is not authentic at all and that worries me," she said.
"I want to know for sure that that is going to go to someone who is going to care for it, love it."
The auction will be held in Los Angeles, California, at the Sunset Marquis Hotel starting at 10 pm on August 27.
Image: Kruse GWS Auctions