Family spat sees mum living in a shipping container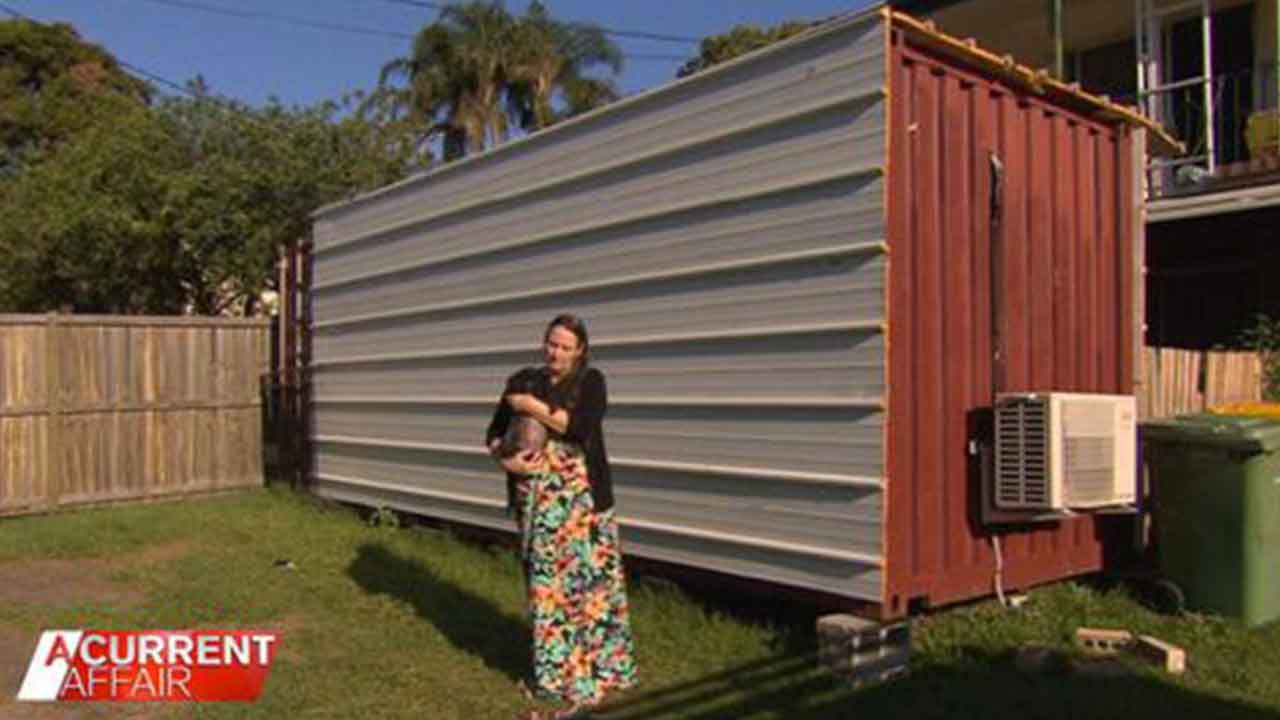 After Varina Quinn gave her daughter the family home in return for lifetime tenancy, she has been left homeless and sleeping in a shipping container.
"I feel like I've lost my daughter and my home," she told A Current Affair.
Varina had lived alone in her home near Toowoomba for 15 years, until her daughter Rachel moved in following a break-up.
She said she "really felt for [Rachel]" and wanted to help her get back on her feet.
"I suggested that if she would like to, because she came out with nothing, I'd gift her the house in exchange for lifetime tenancy and she would support me," Varina said.
The property title was transferred to Rachel in 2019 for the remaining balance of the mortgage, with the pair entering a lease with conditions that would grant Varina lifetime tenancy.
"I was there for less than a year before she threw me out," she said.
Now, Varina lives in a shipping container in the front yard of her son Caleb's rental home.
"She wanted me to leave immediately. So, she has all my possessions as well," Varina said.
Caleb said he tried to warn his mother before she signed the house over to Rachel.
"I didn't think it was a good idea … I didn't like the fact that she was giving out the only place she had to live to my sister," he said.
After a fight between Varina and Rachel last October, their arrangement started to turn sour.
"She just kept repeating the words 'when are you leaving' … I was very upset. And I called my son and Caleb came, came up to pick me up," Varina said.
"She did say, 'don't ever bring her back here again'," Caleb said.
Rachel let Caleb return the next day to pick up some of Varina's belongings, and he began filming after he arrived.
He claims Rachel told him he couldn't take anything.
"She has family photos. She has all my electronics, white goods, furniture. All my prepping supplies, all my tools," Varina said.
When approached by A Current Affair, Rachel said Varina had instead taken all of her belongings, and that she had none that belonged to her mother.
"She's got all my stuff, everything is at her place," Rachel said.
Despite differing takes on the events, Rachel changed her mind after she was told her mother was living in a shipping container.
"The home is open to her whenever she wants to come home," Rachel said.
Though Varina isn't convinced, Rachel claims "everything was done above board".
"I did everything she ever asked me to do … I didn't kick her out … I'm the victim here," she said.
Property law expert Tim O'Dwyer advises those entering deals with their family to see separate lawyers.
"If you want the property, you might lose your family. It might be better to lose the property and keep the family," he said.
Varina said she has filed a civil claim in the district court, in a move that she never imagined doing.
"Family, they protect each other. But in this case, she betrayed me," Varina said.
Image: A Current Affair