"They are not dogs": Father slammed for walking his five kids on a leash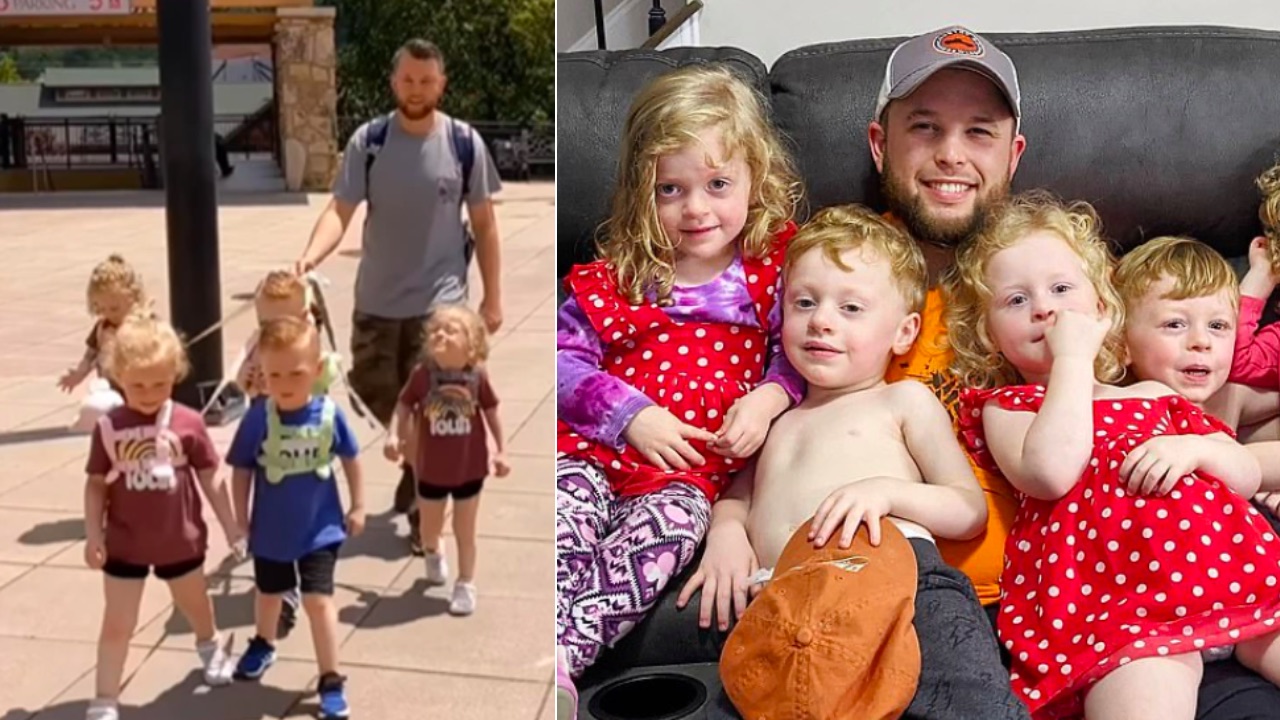 A father-of-five has been slammed online after sharing a video of his five-year-old quintuplets being walked around on a leash.
Jordan Driskell, a 31-year-old dad from Kentucky USA, uploaded a video to Instagram which showed him walking with his five young kids: Zoey, Dakota, Hollyn, Asher and Gavin.
He wrote in the caption, "When people judge me for using child leashes, come walk a mile in my shoes."
The clip showed Jordan holding on to five ropes - which were each connected to a harness that one of his kids wore - as the family all walked calmly together outside of an aquarium.
The now-viral video quickly stirred up controversy, with many people in the comments slamming his choice, while others agreed it was an effective safety tool.
View this post on Instagram
"I have nothing but respect for you sir," wrote one supportive viewer.
Another added, "Better safe than sorry. If I had that many I would do the same. Rock on!"
"With five kids you need that," said someone else. "Responsible parenting right here."
"Not going to lie, some kids really need leashes, nothing wrong with not wanting to lose your child every time you look away," agreed someone else.
Despite the support in the comments, Jordan was also slammed by people who thought placing his kids on child leashes was treating them like "animals".
"But teachers can look after 30 kids without using leashes," someone pointed out.
Another person added, "They are not dogs. How about teaching [them] what to do?"
"Are you gonna train them to pull a sleigh next? Which one has the red nose? Are any of them rescue?" read a different comment.
While chatting with the Today show, Jordan explained that his kids love to "run off and explore" due to their "curiosity," so he and his wife Briana use leashes for their "own peace of mind and sanity."
"A leash gives them the opportunity to do that [explore]- but we're still in control. They love it."
Image credits: Instagram