Baked eggplant with yogurt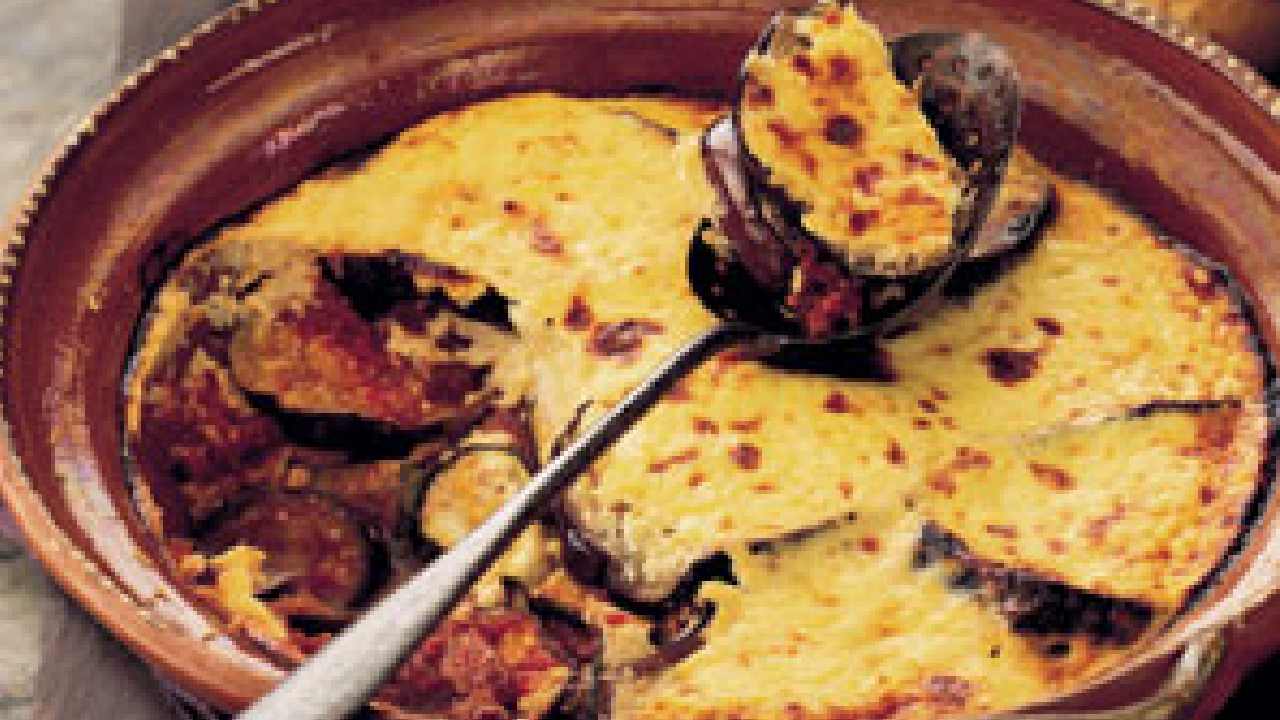 In this delicious dish, grilled slices of eggplant and zucchini are layered with a rich tomato sauce and cumin–flavoured yogurt, then baked. Thick slices of bread and a crisp green salad are the perfect accompaniments to make a satisfying meal.
Ingredients
3 tablespoons extra virgin olive oil
1 red onion, finely chopped
2 cloves garlic, finely chopped
1 can chopped tomatoes, about 400 g
2 teaspoons tomato paste
100 ml dry red wine
1 bay leaf
2 tablespoons chopped fresh parsley
salt and pepper
3 eggplant, about 700 g in total, cut into 1 cm slices
3 zucchini, about 500 g in total, thinly sliced
½ teaspoon ground cumin
1⅔ cups (410 g) low–fat natural yogurt
2 eggs, beaten
⅓ cup (35 g) freshly grated parmesan
Preparation
Heat 1 tablespoon of the oil in a saucepan, add the onion and cook for about 8 minutes, or until softened.
Add the garlic and cook for a further minute, stirring.
Stir in the chopped tomatoes, tomato paste, wine and bay leaf.
Cover and simmer gently for 10 minutes.
Uncover the pan and let the sauce bubble for a further 10 minutes, or until thickened, stirring occasionally.
Remove the bay leaf.
Stir in the parsley and season with salt and pepper to taste.
While the sauce is simmering, preheat the grill to moderate.
Lightly brush the eggplant and zucchini slices with the remaining 2 tablespoons oil.
Cook under the grill, in batches, for 3–4 minutes on each side, or until browned and very tender.
Preheat the oven to 180°C.
Stir the cumin into half of the yogurt.
Arrange one–third of the eggplant slices, in one layer, in a large ovenproof dish that is about 2.
5 litres capacity.
Spoon over half of the tomato sauce.
Arrange half of the zucchini slices on top, in one layer, then drizzle with half of the cumin–flavoured yogurt.
Repeat the layers, then finish with a layer of the remaining eggplant slices.
Mix the remaining 200 g yogurt with the beaten eggs and half of the parmesan.
Spoon the yogurt mixture over the eggplant, spreading with the back of the spoon to cover evenly.
Sprinkle with the remaining parmesan.
Bake for 40–45 minutes, or until the top is lightly browned and set, and the sauce is bubbling.
Serve hot, in the baking dish.
Serves: 4
Preparation: 20 minutes
Cooking: about 1¼ hours