Aussies make history at Commonwealth Games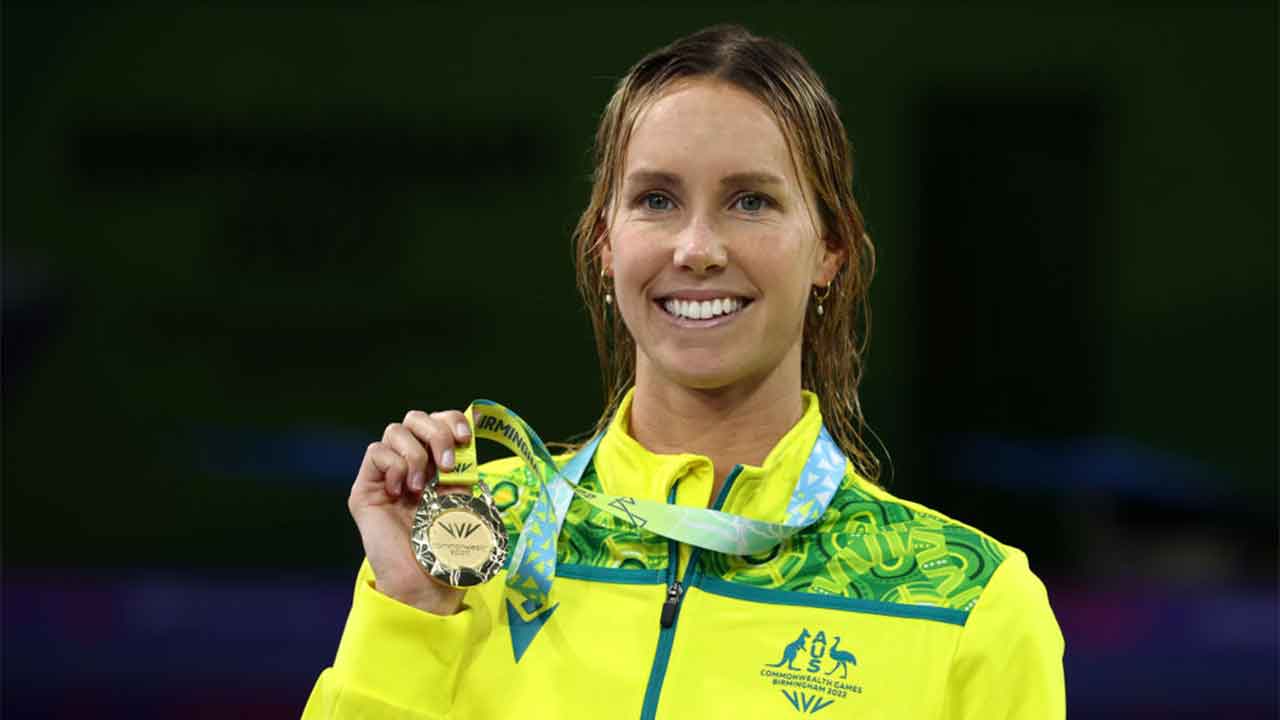 Australia's star swimmers have claimed an absolute bounty of gold and new world records in the pool on day three of this year's Commonwealth Games.
After securing a record-equalling tenth gold medal in one of the relays over the weekend, 28-year-old Emma McKeon won gold again in the 50m freestyle final, overtaking the likes of Ian Thorpe, Susie O'Neill and Leisel Jones as the first athlete with 11 Commonwealth games gold medals to their name.
Speaking to the media on the pool deck, McKeon shed a few tears and was comforted by fellow Aussie Meg Harris, who took silver in the 50m race, as she talked about finding it "hard to be proud of herself".
"It is special. It kind of makes me reflect on the last eight years or so since my first Commonwealth Games and I can sort of see how far I've come as a person and as an athlete," she said.
"To be honest I kind of find it hard to be proud of myself at times. So that's something I guess I've struggled with along the way. But it's nice to be here with these girls."
View this post on Instagram
Later taking to Instagram, McKeon shared an emotional post about her "huge milestone" and her hopes that it inspires others.
"A huge milestone for me. To be part of the history that some incredible athletes before me created is mind blowing," she wrote.
"I remember being a little girl watching these competitions on tv, which ignited something in me to want to do the same. I have the great athletes of this sport to thank for that.
"I hope I can do a similar thing by inspiring those that are watching to strive for something, and believe in themselves and their goals."
McKeon isn't the only one taking gold for Australia or breaking world records either, with Kaylee McKeown coming first in the final of the women's 100m backstroke and several of their Dolphins teammates delivering a record-breaking performance in the 4x200m freestyle relay.
Madi Wilson, Mollie O'Callaghan, Kiah Melverton and Ariarne Titmus set a time of 7:39:29, beating silver-placed Canada by 12 seconds.
View this post on Instagram
Titmus, who won gold in the individual 200m freestyle event, helped break the world record by more than a second with her time of 1:52.8 in the relay's final leg.
"I'm really happy to be able to perform for the girls," Titmus said. "I mean, in the past couple of relays I have done I feel like I haven't really performed my role as well as I would have liked.
"I was disappointed last year at the Olympics, so I'm glad that I could do my job for the team."
At the end of day three, Australia was sitting in first place with a whopping 52 medals in total, including 22 gold, 13 silver and 17 bronze, with events across swimming, judo, hockey, gymnastics, netball, boxing, cycling, weightlifting and lawn bowls still to come.
Image: Getty Images