"Insensitive": Grieving daughter calls on Scott Morrison to apologise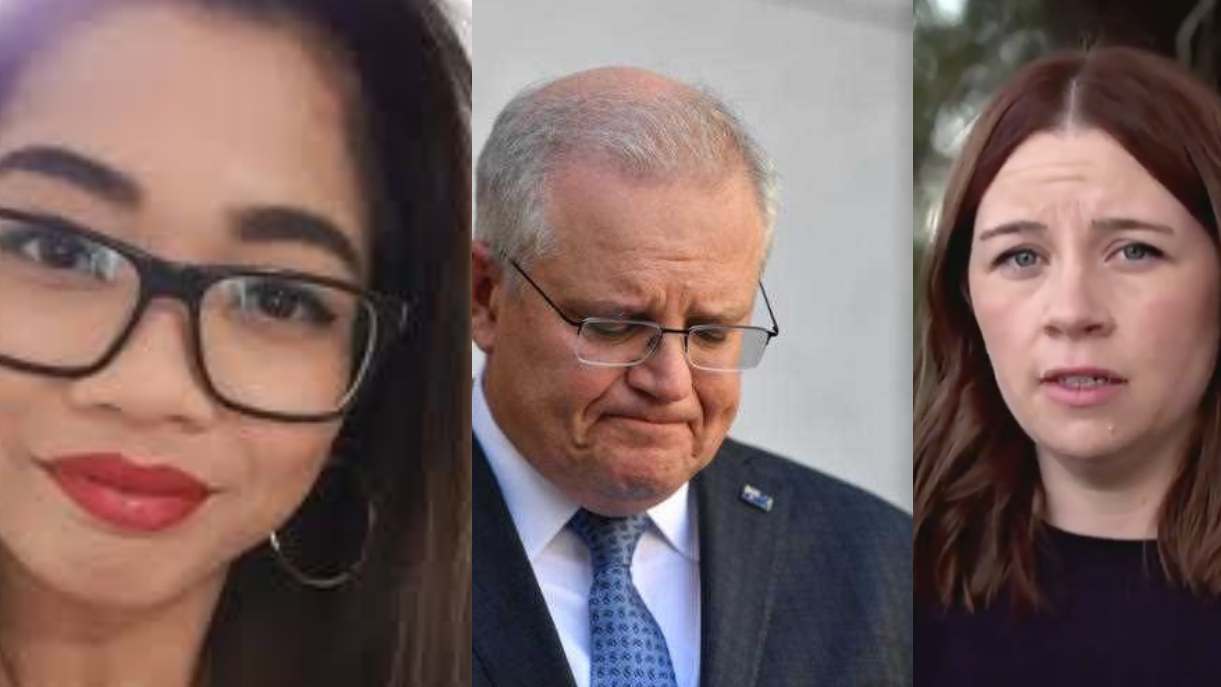 The stepsister of a woman who was not allowed to attend her dad's funeral in Queensland has accused Scott Morrison of using her family's horrific tragedy to fuel his political agenda.
Sarah Caisip, who lives in Canberra, made headlines all across the nation last week when she was told she would not be permitted to attend her father Bernard's funeral in Brisbane.
Ms Caisip, 26, had applied for a Queensland border exemption to visit her dying father.
However she was not granted anything until two days after his death.
In response, she wrote a scathing letter to Queensland's premier Annastacia Palaszczuk.
Prime Minister Scott Morrison had earlier made an emotional plea on behalf of the family.
He argued that it wasn't about borders and that Ms Palaszczuk's lack of action over the "heartbreaking case" had forced his emotional moment on air.
"It was Father's Day on the weekend ... In this midst of all this heartache surely just this once this can be done," he told 2GB.
But Alex Prendergast, 32, Ms Caisip's stepsister, has criticised the PM and accused him of using her dad's funeral to push his political agenda.
Ms Prendergast told The Project on Monday night it would have been ideal if the matter had remained private.
"I don't think it's appropriate at all for him to announce and kind of inform the media of the location and the time so that they could come and take photos," Ms Prendergast told the program.
"I think it is very insensitive."
The Project panellist Steve Price asked if Ms Prendergast thought the PM was "genuinely trying to help", and noted that he was emotional when he made his statements.
Ms Prendergast says she believes it was a "happy coincidence" to both help and incite the media.
The cameras "hiding in the scrub" at her dad's funeral gave her a "real shock", she said.
She went on to add that there was no media attention around her aunt and sister who didn't get any exemption to see her grandmother who had died just days before her father.
The 32-year-old also told ABC's 730 she believes "it's quite clear" the PM orchestrated this to maximise media coverage".
She added they used her family's tragedy to create a campaign against the Queensland Premier.
Her comments follow a letter she wrote asking the PM to apologise.
"Mr Morrison, I am extremely disappointed that you have used my family to try and advance your political agenda. Your announcement of my father's funeral (on radio) prompted a media circus outside the crematorium at which the service was held," Ms Prendergast wrote in an open letter to the prime minister.
"I am devastated that the final memories of my father have been marred by the media you have used to prosecute your political agenda."
Ms Prendergast said Mr Morrison's actions made "an absolutely devastating time for my family even harder".
"Sarah Caisip should not have been used as a tool to vilify the actions of the Queensland premier and health department" on border controls, she wrote
Ms Prendergast called on Mr Morrison to apologise because while he highlighted her family's case "there (have) been many, many other cases that are very similar to this case where he has not intervened".
Join Over60
Join our community of over 400,000-plus members today and get the latest Over60 news, offers and articles.
Get all the latest Over60 news, offers and articles.