Pacific Explorer receives TONNES of food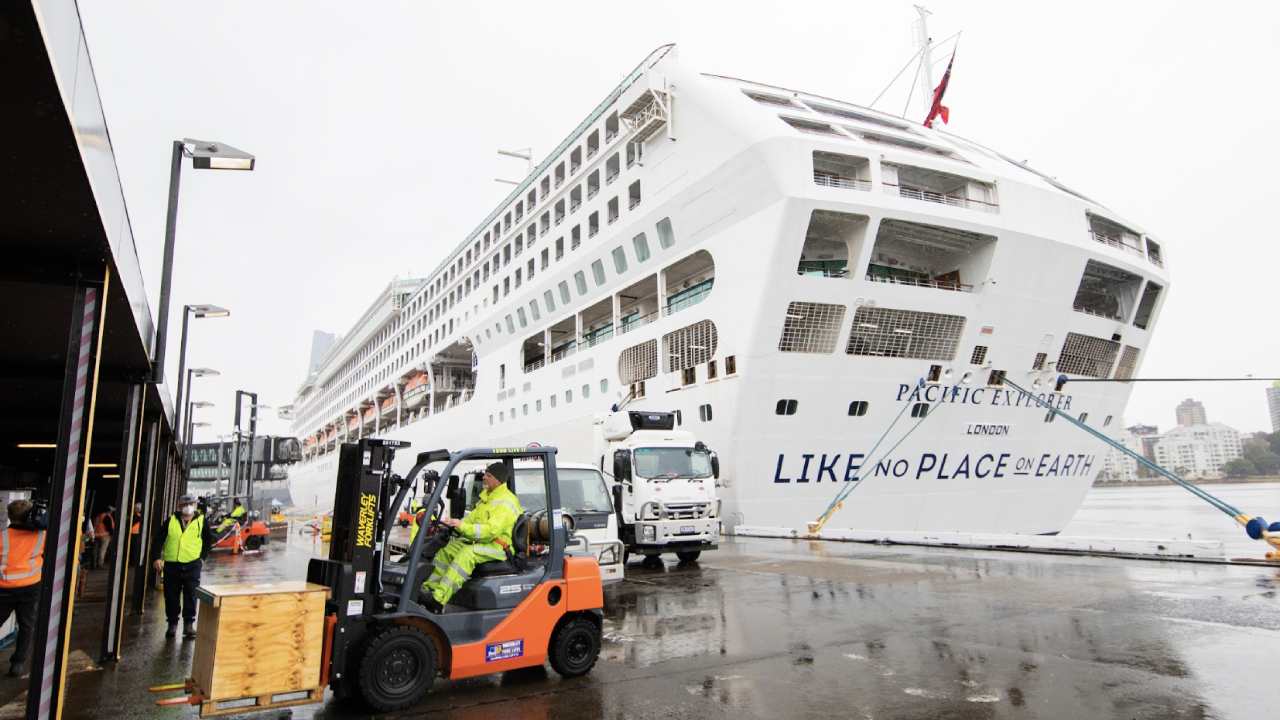 Cruise ship Pacific Explorer has received tonnes of food as they prepare for their return to the seas on May 31.
After a two-year ban due to Covid, cruises are gearing for massive return to the seas which will also see an eye-watering $5 billion pumped into the economy and will help more than 18,000 people get a job.
Pacific Explorer received more than 220 pallets with 7.3 tonnes of meat, 9.6 tonnes of fruit and vegetables, 6.6 tonnes of seafood and 30,000 shelled eggs on Friday.
P&O Cruises Australia celebrity chef Luke Mangan commended the quality of the foods which worked as a perfect opportunity for farmers.
"As a chef and restaurant owner and operator including a number of signature outlets on P&O Cruises Australia ships, I know that the quality of Australian produce is the key to success," he said.
"So, it is fantastic to see that the return of cruising also means the return of opportunity for our farmers and other producers including winemakers and craft beer makers.
"Many have done it tough over the past two years and it is good to know that the benefits will only increase as cruising ramps up."
Marguerite Fitzgerald, President of Carnival Australia and P&O Cruises Australia, echoed Chef Mangan's comments saying this was just one of many big deliveries.
"Today's big delivery of produce to Pacific Explorer is where cruising and economic opportunity meet. It is also strong confirmation of the multiplier effect of cruise tourism and the diversity of the 'cruising ecosystem'."
NSW Minister for Transport and Veterans David Elliott described the tonnes of food as the "tip of the iceberg" in helping stimulate the economy.
"The cruise industry is an economic powerhouse because its impacts are felt from the farm gate, through our freight and supply chains all the way to our tourism destinations – it generates jobs far beyond the ship, boosts regional economies and supports farming communities."
Pacific Explorer is due to set sail from Sydney on May 31 on its first commercial cruise since the cruise ban in Australia was lifted.
Guests will enjoy a four-night itinerary with a call to Brisbane on June 2 where Pacific Explorer will become the first cruise ship to berth at the Brisbane International Cruise Terminal.
Image: Supplied