5 minutes with author P J McKay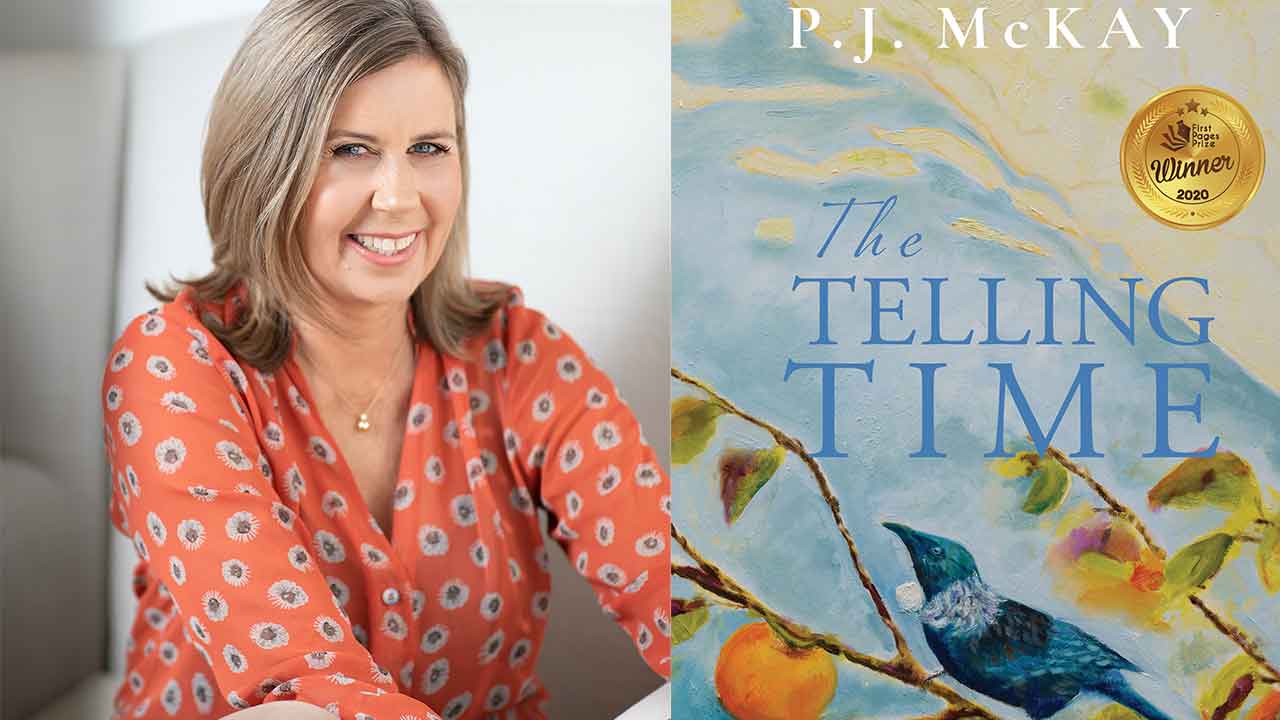 In 5 minutes with the Author, OverSixty asks book writers about their literary habits and preferences.
Next in the series is P J McKay, a novelist and mum-of-three based in Auckland. After training and working as a food scientist, McKay began writing while undertaking her Masters in Creative Writing at the University of Auckland. During her studies, McKay was inspired by her travels through former Yugoslavia to pen her debut novel, The Telling Time. After winning the 2020 First Pages Prize, McKay's novel is now available.
OverSixty sat down with McKay to chat about representing New Zealand's Croatian community, her current reads, and the role cooking played in her novel.
O60: What book(s) are you reading right now?
My current book on the go is Betty by Tiffany McDaniel — insights into the Cherokee Indian culture are an added bonus and despite the tough themes I'm enjoying cheering this resilient young woman on.
And I have just finished two novels:
Crazy Love by Rosetta Allan — A love story with a twist. A triumph of love conquering adversity. A no-holes barred insight in the realities of supporting our mentally unwell. This is Rosetta's third novel. She manages to inject humour into what's a tough subject to tackle and never allows the story to wallow.
And for something much lighter, Take me Home by Karly Lane — transports the reader from Australia to Scotland. A feel-good story with a dash of romance.
O60: Does your training in food science influence your writing in any way?
Great question! There are a few food descriptions peppered through The Telling Time. My love of cooking (and consuming food!) has most definitely influenced this. Some reviewers have noted it as a bonus to be transported by these descriptions. Any reference to food is of course relevant to the era and/or the setting but given the aroma, taste or even just the sight of food transports us to different settings it can be a useful and fun tool to employ: think Greece and Mediterranean dishes, or traditional Australasian sweet treats — lamingtons for example — or food which is typical in Croatia, such as črostule, njoki, špek or the local wine on Korčula, Pošip. As an author I invite the reader to use all their senses when imagining my characters in scene. If I get their taste buds watering then that's a bonus.
O60: How did you start writing historical fiction?
It's the genre which I enjoy most as a reader and my background roles in research were also very helpful. The nugget for this novel came from my own experience when backpacking in the late 1980s tied in with my interest in the immigrant experience and for The Telling Time, the Croatian diaspora. I also wanted the novel to encompass the mother/daughter relationship, hence the dual timeline that includes the late 1950s and 1989. It's scary to think that these two eras now count as historical! When researching for a novel like this it means going back even further in time. The Telling Time references events from the early 20th Century, WWIII, and the events that followed afterward, particularly in the former Yugoslavia. I love that historical fiction often gifts the reader information they didn't previously know. This for me is the joy of historical fiction writing; finding those facts to thread through the fiction to ensure the 'world of the novel' is credible.
O60: The Telling Time was inspired by your travels and the connections you made with the local Croatian community. How did it feel to represent this community with your novel?
I feel privileged to have been privy to stories from the Croatian community and delighted to shine some light on what makes this group unique, but also what unites their stories with other immigrant groups. It is always tricky finding the balance when representing a community that is not your own lived experience. For me, it was important to observe and listen at the local Dalmatian club when attending club nights and events. There were excellent resources to draw on at the club — their cultural museum and language tutor who checked my use of Croatian words/phrases in the novel — and having the novel reviewed by Dr Nina Nola from the University of Auckland's English department was another essential step. Nina's mother immigrated to New Zealand from Hvar in the 1950s. This is a novel, and therefore a work of fiction, but staying true to the culture and customs is an essential component and the feedback from readers of Croatian heritage suggests I have succeeded in getting the balance and details right. Of course, when Croatian publishers Znanje d.o. bought the translation rights for the novel earlier this year (to be published there in June 2022) this was a further seal of approval. I felt both proud and delighted that I would soon be able to gift copies of the translated novel to the club.
O60: What book or books do you think are underrated?
That's a curly question! The Lost Lights of St Kilda by Elisabeth Gifford is a gentle historic novel, published last year which I thoroughly enjoyed but don't hear a lot about now. And I'll put in a plug for fellow New Zealand author, Rosetta Allan, mentioned above. Along with Crazy Love, her two other novels, Purgatory and The Unreliable People, are both fabulous reads that deserve more air-time!!
O60: How do you deal with writer's block?
I found the best solution was to chat more. By this I mean nutting out a problem with trusted friends or asking a question which then often provided a lead, or new tangent to explore. There was one dire moment of writer's block when I was desperate to get my character, Gabrijela, out of the house. I asked Mum for ideas about social events in the 1950s and she told me how popular a day at the races was along with a personal story about backing an outside runner called Red Glare. Bingo! Guess where Gabrijela was now off to! Critique was also a valuable tool, especially during my Masters in Creative Writing year at Auckland University. It challenges you to think harder and strive to improve, to iron out the creases waiting to trip the reader out of their suspended disbelief.
O60: Which author, dead or alive, would you most like to have dinner with?
Has to be Janine Cummins, who wrote American Dirt.
Images: Supplied