Grace Tame's sneaky dig in book cover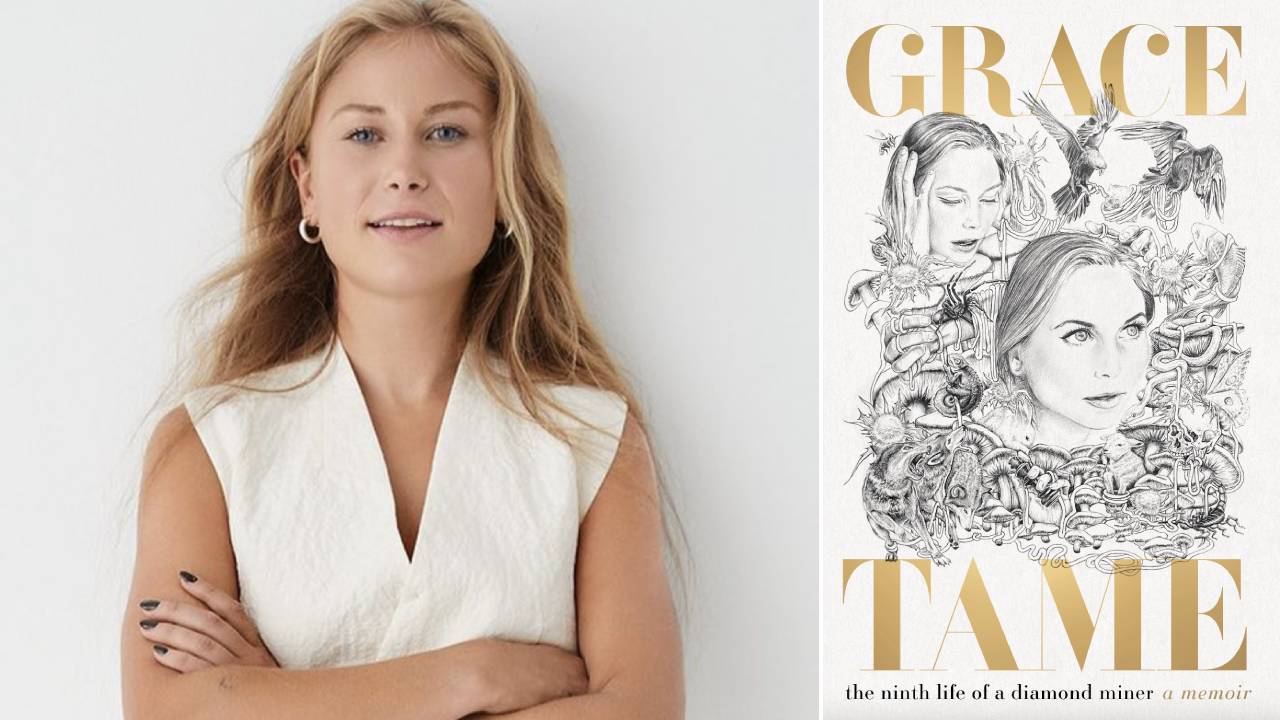 Grace Tame has revealed that the three wolves represented on the cover of her memoir are media bosses she's constantly clashed with.
The activist shared a sneak peek into the cover of the book - The Ninth Life of a Diamond Miner, A Memoir, is set to be released on September 27.
The cover shows an illustration of three wolves and two of Tame's face in which two of them are "growling" at Tame while another has his head bowed.
The 2021 Australian of the Year drew the cover herself using a $1 ballpoint from Woolies and has now explained who the wolves represent in the response to a tweet.
"Three guesses who the wolves on my book cover are lol," Tame responded to an article underneath a picture of Kerry Stokes, Rupert Murdoch, and Peter Costello posted on Twitter by Crikey writer Bernard Keane.
Three guesses who the wolves on my book cover are lol

— Grace Tame (@TamePunk) June 15, 2022
Tame is not short of any exposure by mainstream media but has been frequently targetted by the trio media empires of Seven West Media, News Corp and Nine.
She has also called out the fact that the majority of Australian media is owned by Rupert Murdoch.
Tame is quite vocal about the media's bias toward her and has frequently called it out.
Former Prime Minister Kevin Rudd, who is calling for a royal commission into Rupert Murdoch, previously defended the activist after she was targetted by the Murdoch media for her stance.
"There goes Murdoch, trying to bully Grace Tame like they have so many voices for progress over the years," he tweeted.
"They whine about 'cancel culture' but they will try to cancel anyone who doesn't share their reactionary worldview. We need more diversity, not less. #MurdochRoyalCommission"
Tame's book is ready for preorder at $49.99 as a hardcover with her publisher's Macmillan Australia sharing a brief description of what to expect.
"Grace Tame has never walked on middle ground," it began.
"From a young age, her life was defined by uncertainty - by trauma and strength, sadness and hope, terrible lows and wondrous highs. As a teenager she found the courage to speak up after experiencing awful and ongoing child sexual abuse. This fight to find her voice would not be her last.
"In 2021 Grace stepped squarely into the public eye as the Australian of the Year, and was the catalyst for a tidal wave of conversation and action. Australians from all walks of life were inspired and moved by her fire and passion. Here she was using her voice, and encouraging others to use theirs too.
"The Ninth Life of a Diamond Miner is Grace's story, in Grace's words, on Grace's terms. Like Grace, it is sharply intelligent, deeply felt and often blisteringly funny. And, as with all her work, it offers a constructive and optimistic vision for a better future for all of us."
Images: Pan Macmillan Australia/Facebook