New Bob Hawke book drops multiple bombshells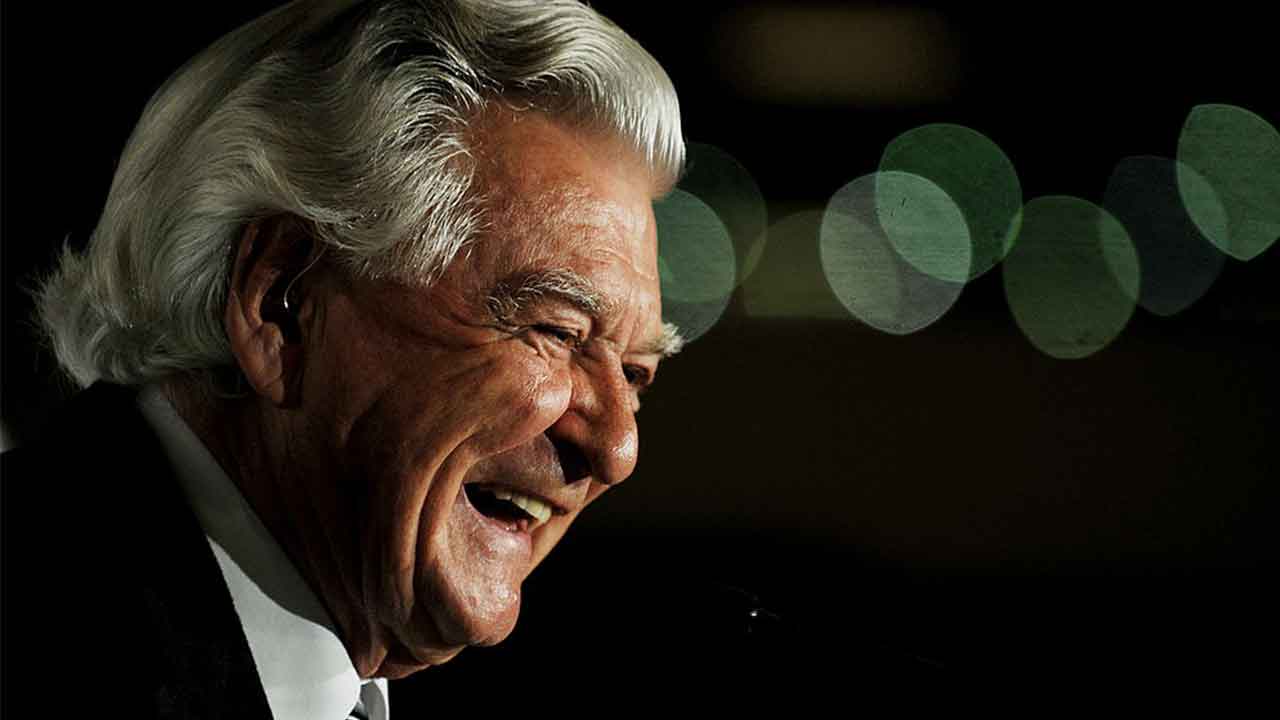 Bob Hawke's widow has claimed he was a sex addict who used a taxpayer-funded security team to see women in a new bombshell biography about the former PM.
The autobiography, Demons and Destiny, is written by Troy Bramston and contains revelations about the former Prime Minister from his second wife, Blanche d'Alpuget, among many others.
It's thrilling to tear open a box and hold your book for the first time! Very proud of my biography of #BobHawke, packed with new interviews/archival discoveries, can't wait for people to read it. In bookshops 1 March. Pre-order @PenguinBooksAus #auspol https://t.co/ai0oQUkgBf pic.twitter.com/xELhOiqlqz

— Troy Bramston (@TroyBramston) February 6, 2022
Ms d'Alpuget has revealed that her late husband had at least four lovers during his stint as Prime Minister, and that he used extramarital sex as a form of stress relief while he was still married to his first wife, Hazel Hawke.
"Sex will calm people down, and he was a very highly strung man," she said. "At the end of a day of intense activity, he somehow had to let off steam, as it were, and there's nothing like a roll in the hay or five to do that."
When asked if she believed her late husband was a sex addict, Ms d'Alpuget replied, "I think so."
The new biography contains several other surprising revelations, including that Mr Hawke's longest-running affair was with Jean Sinclair, his personal assistant at the Australian Council of Trade Unions, who was also married.
Their affair continued during his time in parliament, as she went on to join his parliamentary and prime ministerial staff.
The biography also reveals that Mr Hawke visited Ms Sinclair several times as she battled cancer in a Melbourne hospital in 1991, and that he was too distressed to speak at her funeral.
Ms d'Alpuget, whose affair with Mr Hawke was on-and-off from 1976, said he was even unfaithful to her during their marriage.
"Getting in to see him at The Lodge was (often) the only palace that we could meet," she said.
She also recalled a particular rendezvous where she wore a red wig and stetson hat to meet Mr Hawke, and that they "rushed into each other's arms, laughing" upon seeing each other.
Roger Martindale, the former head of Mr Hawke's VIP protection service, revealed that the Australian Federal Police sometimes drove him to see his paramours so he wouldn't gain extra attention from driving his Commonwealth car with its Australian flag.
"We were all adults," Mr Martindale explained. "He never asked anything of us. He just expected discretion from everybody."
Wendy McCarthy, a friend of Hazel, said she was less concerned with her husband's affairs and more with his drinking.
"The alcohol mattered more than the affairs," Ms McCarthy said. "She would not have been happy about it but there was nothing she could do about it. She was resigned to it."
The autobiography claims Mr Hawke nearly drank himself to death during the 1970s, despite claiming he gave up drinking when he became Prime Minister.
Demons and Destiny will be published in March, 2022.
Image: Getty Images