Climate change activists dump a huge pile of poo in front of minister's office in protest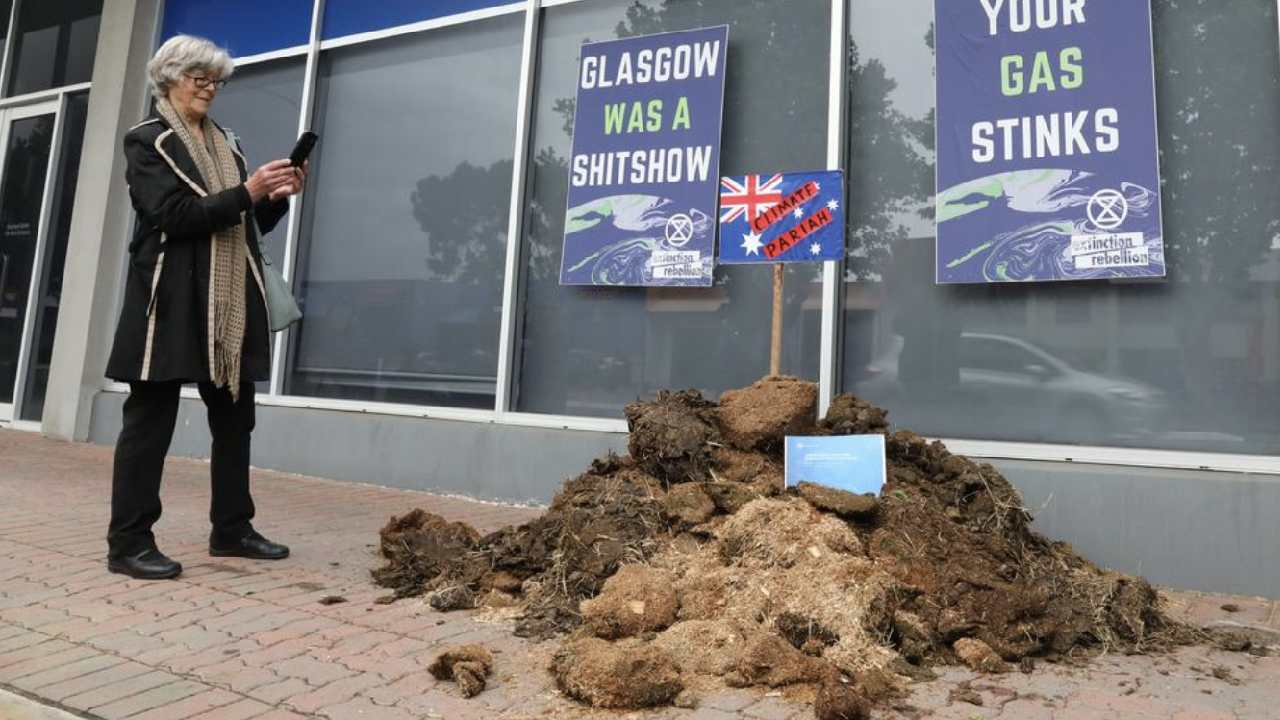 Climate change activities have dumped a huge pile of horse manure in front of Simon Birmingham's Adelaide office because they say Australia's contribution to the COP26 climate summit "stunk most of all".
Extinction Rebellion protesters dressed in hazmat suits dumped numerous bags of the animal dung outside the federal Finance Minister's office along Sir Donald Bradman Dr at Hilton on Friday morning.
A video broadcasted live on Facebook shows activists at the premises where a sign was propped into the top of the manure heap that read "climate pariah". A sign reading "Glasglow was a sh*t show and "Your gas stinks".
"We are currently in a climate code red and all we've witnessed lately is Glasgow's sh*t show."
"We have left a nice message of some very organic horse manure which hopefully senator Birmingham will feel quite at home with, with all the sh*t that's been going around."
One passer-by, who did not wish to be identified, said the stunt was "the best I've seen in all my 84 years".
Extinction Rebellion took to social media to say Prime Minister Scott Morrison took a "weak, non-binding 'plan' with no new policies or mandates" to the summit.
"(Australia) also refused to sign global pledges aimed at limiting methane emissions and phasing out fossil fuel production," the post read.
"Instead, the government continued to shamelessly spruik coal and gas.
"Birmingham assures us that Australia is 'over-achieving' on climate. That's what ScoMo was going to tell the world at COP26.
"There's political spin and then there's BS. Clearly Birmingham is full of it.
"The #COP26 climate summit was bullsh*t and Australia's contribution stunk most of all."
he South Australian senator responded to the act with a witty tweet saying he'd "hate to see unnecessary waste".
"Any eager western suburbs gardeners are most welcome to help themselves to some spring fertiliser," he posted.
Senator Birmingham, who is in Adelaide, told ABC Radio that he hadn't yet been into his office but his staff were faced with the "unpleasant welcoming".
"Whatever point Extinction Rebellion ever make, if they're going to harass somebody I'm more grateful they're disrupting me and my office than gluing themselves to the roads around Victoria Square and disrupting tens of thousands of South Australians like they did a couple weeks ago," he said.
"These are extremists who wouldn't ever be satisfied by anything."
"Let's appreciate Australia's made the commitment to achieve net zero by 2050 … We're investing billions of dollars doing so."
"We're one of the few countries in the world who can say we've met and exceeded all the commitments we've made to date and yet these guys, of course, still cry out in juvenile ways for more."