"I will not be bullied": 2GB hosts Chris Smith and Ray Hadley go head-to-head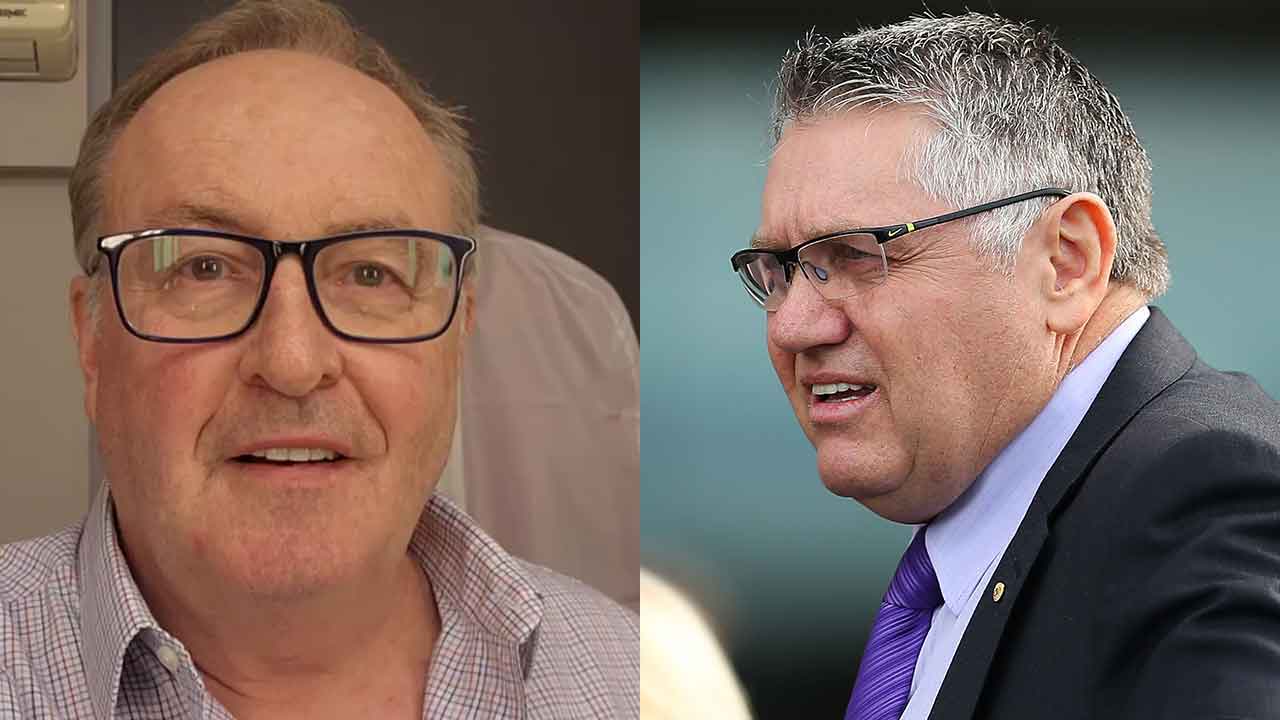 2GB radio presenters Chris Smith and Ray Hadley have been engaged in a bitter stoush over the Coral Princess cruise ship scare.
Smith said he has hired defamation lawyers and rejected claims he had received money from the cruising industry after Hadley accused him of playing down the cruise ship's decision to allow passengers to disembark in Sydney after recording 118 cases of COVID-19 on board.
"I've actually engaged two media defo lawyers and will work on that very closely on Monday," he told listeners on Saturday.
The stoush began after Hadley slammed Smith for comments suggesting people "shouldn't panic" about the Coral Princess, adding that he was "embarrassed to be on the same network" in a rant last Wednesday.
"One of my colleagues this morning was saying nothing to see here – it's all wonderful," Hadley said.
"I'm sorry – but the sort of nonsense I heard on the network this morning is just foolish. I'm almost embarrassed to be on the same broadcast network as that bloke. But anyway, that's another story I'll deal with privately."
Smith, who had been filling in for breakfast host Ben Fordham for the week, hit back at Hadley at the start of his regular Saturday morning show, though he didn't mention his fellow radio host by name.
"You may have been following the disagreements that have taken place here on-air over the arrival of the cruise ship the Coral Princess into Sydney Harbour on Tuesday," he said.
"I made the point that considering 95 percent of us are fully vaccinated, considering the antivirals that are available now, the new Covid treatments, the testing kits, the many protocols we've adopted in two years, the cruise rule that states at a minimum you should be fully vaccinated — the arrival of the Coral Princess was absolutely nothing like the drama and concern that surrounded the Ruby Princess more than two years earlier."
Smith described the situation surrounding the Ruby Princess as "a terrible tragedy" that "we were defenceless" to deal with.
"But the way the television media traced this latest ship's every move was way over the top," he said.
"That was my simple point. It was a beat-up, there was no comparison. There were no critically ill people, no ambulances, and at one stage just four passengers infected. That's not the same as 28 passing away, no vaccines, no treatments, no protocols, no masks, no defence. Any reasonable person can see the contrast here."
He went on to say that those who were "peddling fear", particularly for those with loved ones on board, were "foul and shameful".
"Peddling fear in this context is foul and shameful, especially for families with loved ones on board. It scares people for no reason, which is what Dr Nick Coatsworth said to me on the breakfast show as well," Smith said.
"Which is why I said what I said. It was also consistent with what I've said throughout the second half of this pandemic — we need to live with this and stop panicking.
"I don't hold a candle for the cruise industry, except I feel terribly sorry for the tens of thousands of families whose loved ones have been left jobless because the industry was shut down for so long."
He emphasised that he wasn't affiliated with the cruising industry, and that he had read commercials and taken listeners on cruises "without payment" and as part of his job.
"It's not a paid role, I take no financial advantage from it at all, none, it doesn't work that way. I have absolutely no link to cruise companies," Smith said.
"Why would I ever go into bat for cruise companies for the sake of it? Anyone who suggests I have, anyone who peddles that suspicion had better be prepared to defend themselves in court — I know I can."
Smith concluded by thanking fans for their support and stressing that he wouldn't be intimidated by critics.
"I hold my head up high on this subject and won't be intimidated, bullied or scared into acquiescence ever, so thank you so much for your overwhelming support, it's been phenomenal. Those that have elected to go down a twisted path and get personal to hurt me have terrible glass jaws, they have copped a terrible bashing too on various media platforms which says it all. I will not be bullied, even by lifetime bullies," he said.
"I love a good rumble, I look forward to further disagreements and I look forward to standing up for myself each and every time."
Images: The Chris Smith Show (Facebook) / Getty Images