Man assisting elderly neighbour recounts terrifying stabbing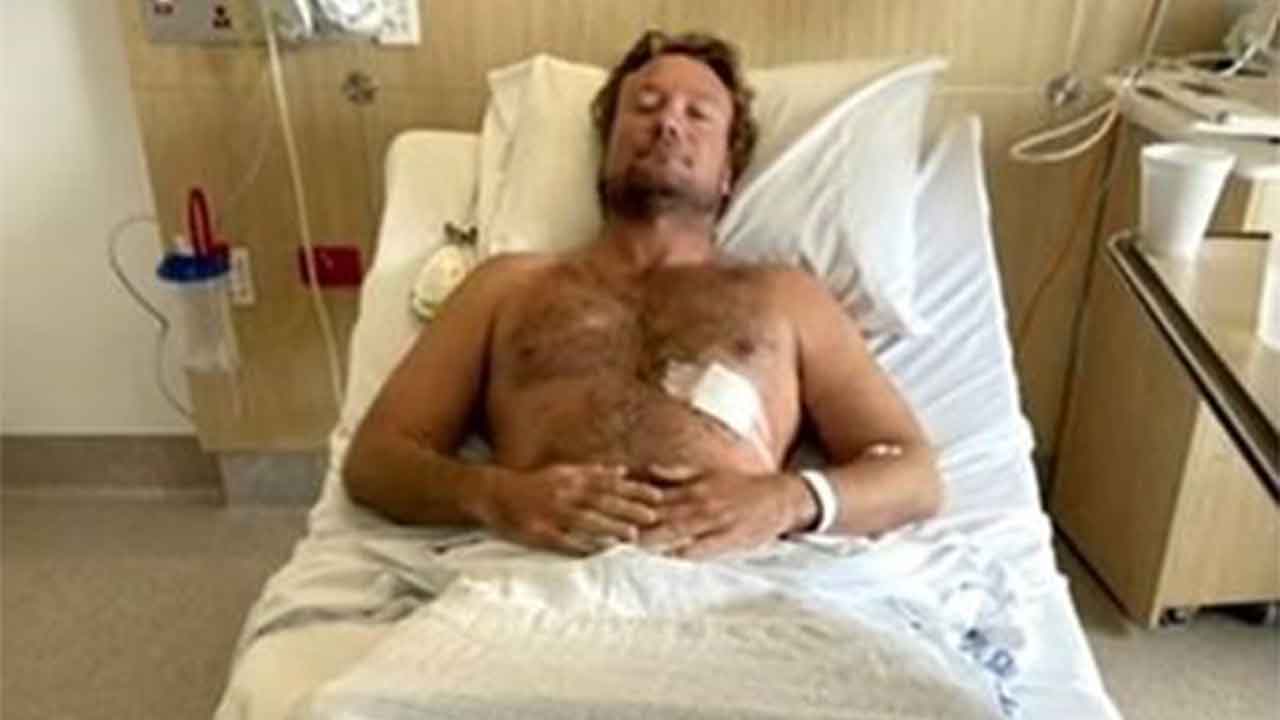 A Gold Coast man was stabbed in the chest while investigating an attempted break-in at his elderly neighbour's home and had to keep himself alive, only to find out all of his vital organs were untouched.
James Fletcher, 40, was in his Palm Beach home on Monday night when he heard a noise from the house next door.
After realising he could see his 92-year-old neighbour "rummaging around" outside with a torch, Mr Fletcher and his housemate went to check on him.
"He's an old boy and I know him, and I thought he might have had a fall or something," he told ABC News.
When they got there, they found the couple walking around on broken glass and quickly took action.
"We just took control and tried to look after them to get the glass out of their feet, get some shoes on and start cleaning up," Mr Fletcher said.
"We were there for about 10 minutes and it wasn't until I started cleaning the glass that I noticed that there was a paver that had been thrown through the window or through the door.
"So I was like OK, someone's trying to break in here, you know, they [his neighbours] were a bit shocked and didn't know exactly what happened either."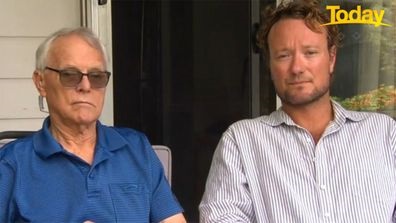 James Fletcher (right) was stabbed by an unknown assailant when he came to check on his neighbour, Des Oatridge (left). Image: Channel Nine
Once he saw the disturbed paver, the 40-year-old said he went outside to check on his own house, which was left open, and to pick up a first aid kit.
As he did so, a man called out asking whether he had heard the loud noise and if everyone was alright.
"And he walked towards me and as soon as he sort of walked past me, spun around and rammed a knife in my chest," Mr Fletcher said.
He said the 15-centimetre blade went through his rib cartilage before becoming lodged in his sternum.
"I'll never forget that. Like, the ferocity and the anger and the intent that that was delivered with," he said.
Initially he said he thought he had been punched, until his attacker attempted to pull the knife out.
"This knife was embedded in my sternum, and he pulled the knife out but I came with it," he continued.
"And then his hand slipped off and then I sort of reached for my chest, and then I had the knife in my hand, and then he saw that and ran."
Mr Fletcher said he immediately realised he was in trouble, but knew what to do as a physiotherapist trained in trauma.
While his housemate and neighbours called an ambulance, Mr Fletcher laid down on the ground and compressed the wound.
"I asked for a pillow and some towels to apply pressure to my wound and my job became hanging on," he said.
"But I still didn't know what was actually going on… I knew I had a big hole… and then the knife actually fell out of my chest when I went to sit up to get into the ambulance."
After arriving at the Gold Coast hospital, the surgeons waiting to treat Mr Fletcher discovered that the knife had missed all his vital organs in a "one in a million" moment.
"It missed my lungs. It nicked my pericardium, which is the sac that contains my heart, but it didn't touch my heart, missed my spleen and missed all the large vessels," he said.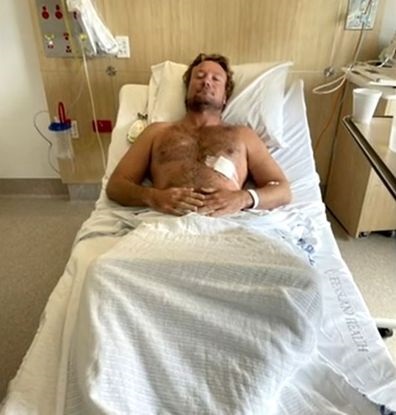 Image: Channel Nine
Mr Fletcher has since provided his statement to police officers, but there have been no arrests yet.
Despite his serious injury, Mr Fletcher said he hoped his attacker could access the help he needed.
"This guy, I'm sure has a mental health condition. And I'm sure it's unmanaged or he's been unable to access resources. And he's out there in the community. You know, he almost ruined two people's lives," he said.
After being discharged from hospital on Tuesday afternoon, Mr Fletcher returned to work on Wednesday.
He said he had received plenty of support, but was unsure about how he will continue to feel about how "someone tried to kill me, and he was nearly successful".