"They used to be better": Nostalgic Kmart pic sparks huge debate
A teenage history buff has sent Aussie shoppers on a trip down memory lane after sharing a throwback photo of a Kmart store in 1995.
Jimmy Borg, a prolific contributor to the Facebook group Old Shops of Australia, downloaded the image from an annual report in the Coles Myer national archives as part of personal research he was undertaking.
"I'm passionate about history and seeing how things were in the past," he said.
The image shows the entrance of a Kmart store, with a caption underneath revealing that three new stores had opened across Australia at the time.
"New stores opened in Indooroopilly (Queensland), Parramatta (New South Wales) and Chadstone (Victoria), together with an additional 15 refurbished stores," the caption reads.
The 19-year-old shared the photo to the group earlier this week, describing it as "the Kmart we all remember, the Kmart we'll never see again".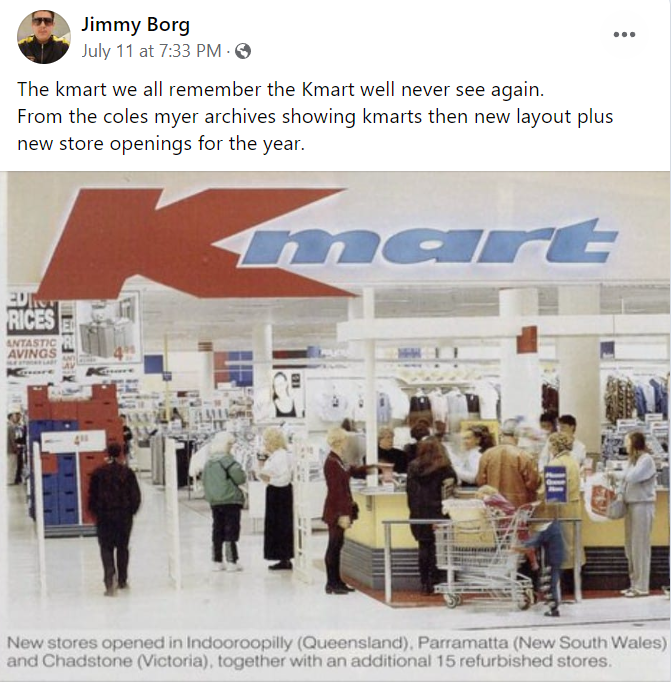 Jimmy Borg sparked a debate about the controversial layout of Kmart stores when he shared a throwback photo of a Kmart in days gone by. Image: Facebook
Speaking to Yahoo News, Borg said he wasn't a fan of the "new format" at Kmart stores, including the location of registers in the middle of the store, and preferred the Kmart layout pictured in the historical image.
"This was the Kmart I grew up with and the one I remember where you could buy garden plants and parts for my bikes and scooters," he said.
"I remember the cool Kmart where you could buy consoles, DVDs, CDs, TVs before they changed."
He isn't alone in his frustrations either, adding that many people who saw his post had "strong" nostalgia for Kmart as it was.
Many shoppers shared their particular dislike of the new placement of checkouts, with some noting it made for some uncomfortable interactions with staff.
"I still can not get over the ridiculous centre store payment hub... baffles me every time I shop there! What genius thought of that?" one person wrote.
"People pay, get their things and themselves organised to leave and are then stopped by security for proof of purchase," another said.
"I've never been back since they started this and their discrimination!"
The image also prompted some to reminisce on the things they loved about previous iterations of Kmart, with one man recalling how its gardening section was filled with people on a Saturday morning and others pointing out surprising products that used to be sold there, including guns and cigarettes.
"Back in the 1970s they had everything including a restaurant," one person shared.
"I loved the cafeteria in our local Kmart, kids loved it in school holidays as we went often for lunch, good times that will never be seen again, so sad,"another added.
Image: Getty Images