Scott Morrison slammed for "pathetic" coronavirus address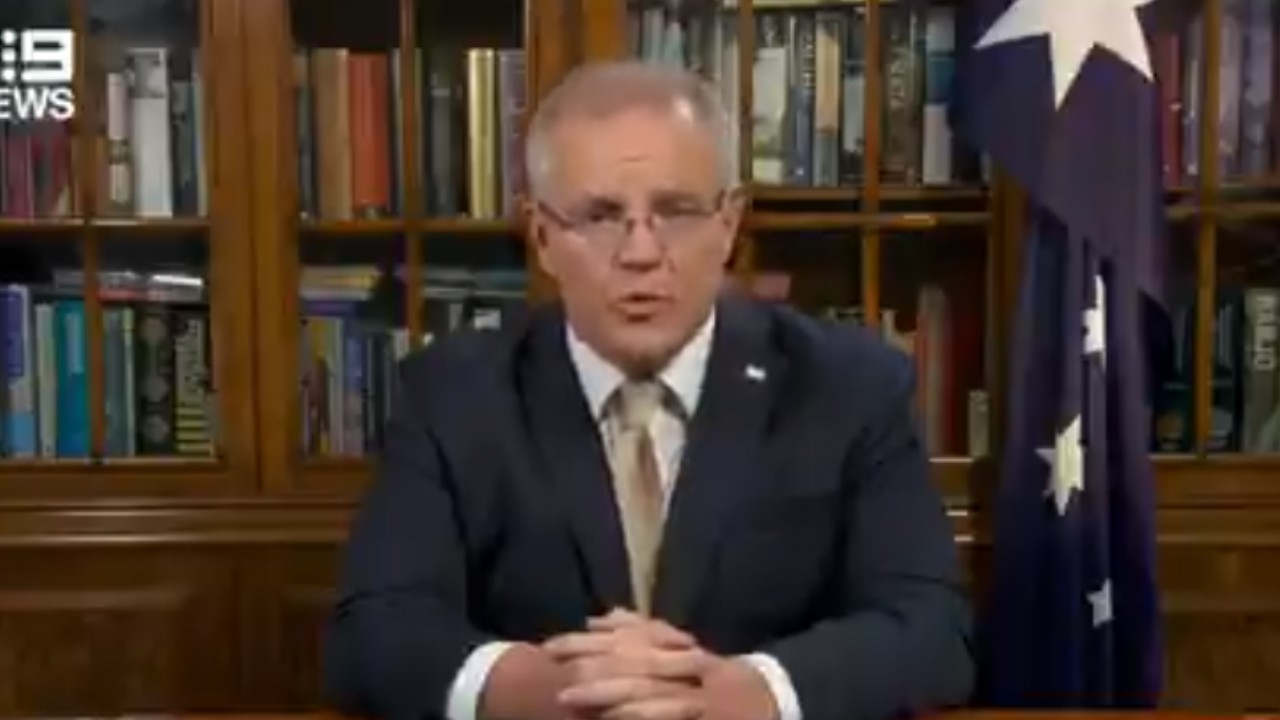 Scott Morrison has been lambasted for his address to the nation about the coronavirus, with viewers accusing the Prime Minister of "bending the truth" and putting a "marketing spin" over the health crisis.
Speaking on a rare television address on Thursday night, Morrison said the government has a "clear plan" to deal with the impacts of the pandemic.
"I want to assure you and your family tonight that while Australia cannot and is not immune from this virus, we are well prepared and are well equipped to deal with it," he said.
"We do have a clear plan to see Australia through."
He said the three priorities in the government's strategy consisted of: protecting the health of Australians through travel restrictions; providing economic stimulus to protect jobs and livelihoods, and; ensuring industries can "bounce back" after the crisis.
WATCH: Prime Minister Scott Morrison delivered a rare address to the nation about coronavirus tonight pic.twitter.com/m4AY5t5Km1

— The Age (@theage) March 12, 2020
The address came hours after Morrison announced a $17.6 billion stimulus package, including $750 one-off payments for up to 6.5 million welfare recipients and assistance of up to $25,000 for small and medium-sized businesses.
Many Australians have expressed lack of confidence in Morrison following the address, with some accusing the PM of "spinning" the address to promote the Coalition.
"It's a campaign ad masquerading as a public health notice," one wrote on Twitter.
"Scott Morrison's address sounded like an infomercial," another commented.
"The worst address to the nation I have ever witnessed. No information, just throw money here and there and let's keep calm. Sooo SMUG! We're not idiots, we need a leader!" one said.
"This $750 stimulus payment is literally just the government trying to avoid a recession thanks to their pathetic economic handling - and here is ScoMo acting like it's to help businesses cause of the Coronavirus," one wrote.
I can see @ScottMorrisonMP's #coronavirus address becoming meme fuel for years to come, what with the faint smirk, peppy tone and rapid blinking. It's a campaign ad masquerading as a public health notice. https://t.co/cuVoDRFsIB

— Henry Chen (@hcnyre) March 12, 2020
Having ScoMo address the nation sitting at a desk in front of a giant bookcase does not actually make him appear more trustworthy or knowledgeable about COVID-19. He should have had a small press conference where our top medical and scientific folk gave us facts and direction.

— Cᴀʀᴅiɴᴀʟ Ciᴘʜᴇʀ (@Cardinal_Cipher) March 12, 2020
Surprised in his address to the nation by @ScottMorrisonMP didn't give people advice on what to do to prevent the spread of #covid19, and how to access government support. I feel like practical measures are so important why not use every opportunity to send the message?

— Stephanie March (@steph_march) March 12, 2020
Such an underwhelming address by Scott Morrison. At a time when our nation needs strong, decisive, compassionate and emotionally intelligent leadership- we get a pitch from the marketing team #leadership #coronavirusaustralia https://t.co/3NsmrBIXKt

— TheRealVoter (@TheOG1) March 12, 2020
And how the hell did Morrison last night not address the panic buying?

— Greg Jericho (@GrogsGamut) March 12, 2020
However, others believed the address was effective in reassuring Australians.
The Australian's editor-at-large Paul Kelly said Scott Morrison's address was an "effective performance" which "sold a message of reassurance".
One wrote, "Thank you ScoMo. Great address to us tonight. Good to know you and your team are looking after us."
More than 126,000 people around the world have been infected with COVID-19.
Join Over60
Join our community of over 400,000-plus members today and get the latest Over60 news, offers and articles.
Get all the latest Over60 news, offers and articles.