'Happy Chat' benches around Cardiff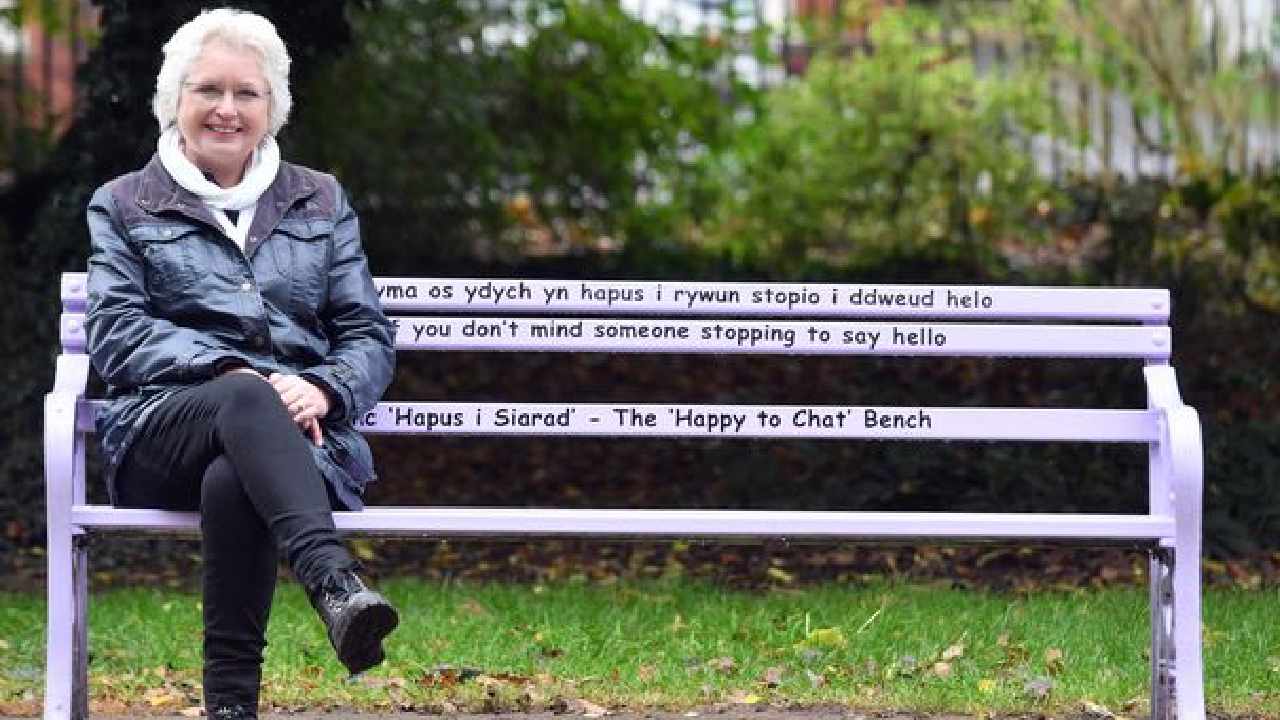 Image:
When Allison Owen-Jones was walking her dog around Cardiff's Roath Recreation Ground she noticed an elderly gentlemen sitting on a bench alone. As she was unsure whether or not the man wanted anyone to talk to him, she came up with an idea that gained popularity quickly around the world.
The retired Cardiff and Vale College lecturer went home and printed out a sign that could be attached to the bench saying: 'Sit here if you don't mind someone stopping to say hello.'
Now Allison's 'Happy to Chat' benches have become a permanent fixture in Cardiff with the council installing three brightly-coloured benches in Bute Park, Hailey Park, and Roath Pleasure Gardens.
"It looked like it had taken the man a lot of effort to get there and my dog went up to him and his face lit up," Allison who has lived in Cardiff for 35 years, said about the day she came up with the idea.
"He patted the dog and I thought that I should go and speak to him but I felt awkward – perhaps he wanted a bit of peace and quiet.
"That's when I thought: 'what if there was a little sign on the bench to say sit here if you don't mind having a chat with somebody?'."
Allison printed her sign out on the green paper and laminated then, punching two holes through it so that could be tied to the bench.
A week later Allison's son, Cardiff councillor Owen Jones, sent her a photo which had received hundreds of likes on social media.
"I decided then, that summer, that I would go around and put the signs in all the parks in Cardiff," Allison said.
Allison realised that the world had spread when she was attaching a sign to a bench in Bute Park and she was approached by two ladies who had been looking for one of the benches.
"Then I really knew it was catching on, that people were actually looking for these thing I'd invented," Allison said.
But word hadn't just spread around Cardiff – Allison's sign started to be picked up around the world in places as far as New York, Vancouver, Melbourne and New Zealand, all using the same words she had put on her original laminated sign.
"Any time I'm feeling down I just Google 'Happy to Chat benches' and look at the images and they come from all over the world. It is very, very exciting," she said.
"Loneliness and isolation is huge problem facing society today and one that was really highlighted because of the pandemic," Cllr Jones said.
"It's just that opportunity to break down barriers. We are nation of people who shy away from talking to strangers – British people as a whole, not just Welsh – so it is opportunity that if someone does want to chat someone will talk to them.
"If you're having a bad day just having a chat with someone can make a difference."