Terminally ill nurse caught in desperate waiting game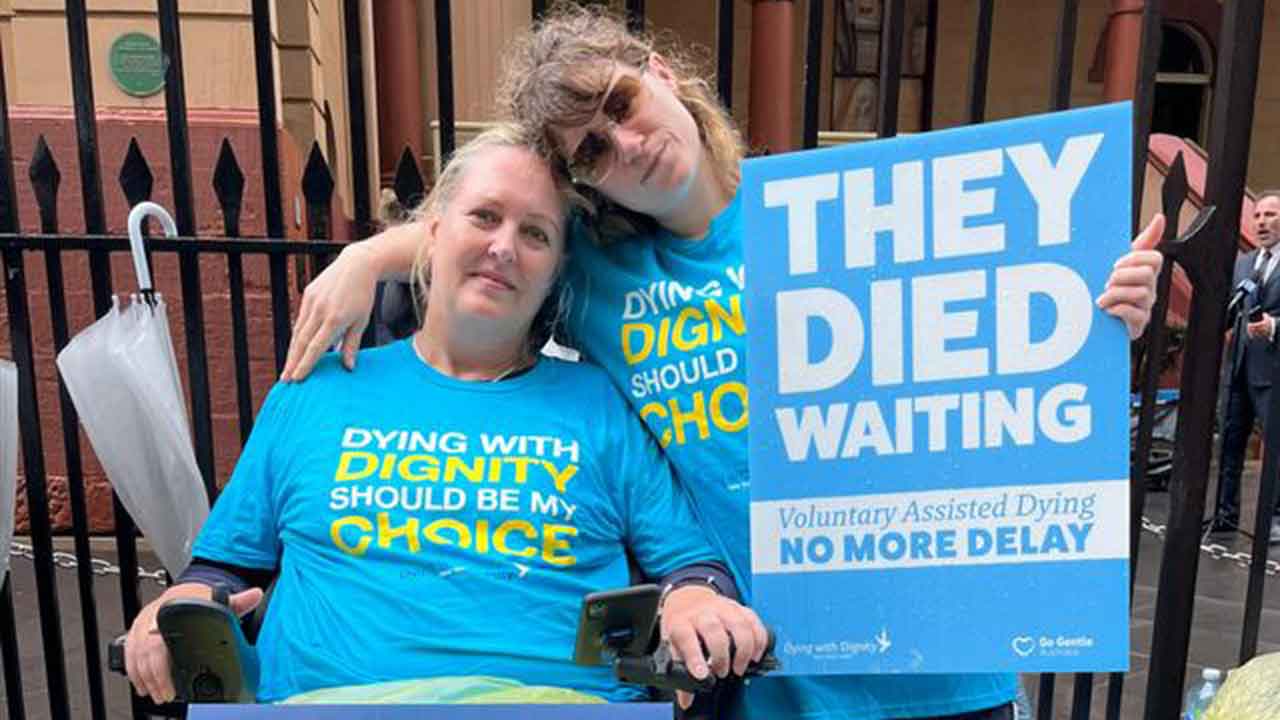 A nurse who has months to live as a result of her diagnosis of motor neuron disease (MND) is "virtually paralysed" and waiting for the NSW government to decide how she will die.
Sara Wright had been a nurse for 33 years before she was diagnosed with amyotrophic lateral sclerosis (ALS) - a subtype of MND - two years ago, and is now dependent on a carer 24 hours a day.
"The disease started as a weakness in my right foot, travelled up my right leg, then my left foot and leg," the 54-year-old told 7NEWS.com.au.
"Then it travelled up my torso affecting my upper body, firstly my abdominal muscles, and now it affects both of my arms and hands, my lungs and my swallowing and speaking muscles."
Ms Wright, who shared her story via dictation since speaking is difficult and painful, is waiting to see whether voluntary assisted dying laws (VAD) will be passed in the NSW Upper House next week.
If they don't pass, she says she will likely "have to deal with suffocating or choking to death".
"It's a terminal illness and the average life expectancy is three to five years," she explained.
"Given I have already been living with the disease for three years, and the progression has been faster than I ever could have expected, I don't know how long I will live.
"I don't think that I will live for more than another six to eight months, as my breathing capacity is reducing very fast and I do not wish to have a tracheostomy (an operation where a breathing hole is cut into the front of the neck and windpipe)."
ALS/MND is more common among adults aged between 40 and 70 years, with 384 people diagnosed each day according to the International Alliance of ALS/MND Associations.
Ms Wright's career as a nurse made her all too aware of the "limitations of palliative care in the final stages of terminal illness", so she initially planned to book into Dignitas, a non-profit organisation in Switzerland that offers a range of end-of-life services.
But, the COVID-19 pandemic derailed her plan with the closure of international borders.
She then considered moving interstate, where VAD is legal, but she worried about uprooting her 15-year-old daughter, Ester, from her home and friends, especially since most of their family is UK-based.
"(Ester) is now 15 and she needs to have her community around her for support when I die," she said.
"Obviously this is an incredibly difficult conversation to have with your own child.
"We have not specifically spoken about what could happen to me if the laws aren't passed … but I have tried to assure her that family in the UK will fly out to be with her as soon as they can if I die unexpectedly."
Ms Wright's fate is tied to the voluntary assisted dying bill, which passed through the NSW Parliament's lower house last year and is legal or will soon be legal in every other state except NSW.
"I know that all my family, my parents, my brothers, my ex-husband are all in support of voluntary assisted dying and helping me relieve my suffering," she said.
"But none of us want to break the law or risk anyone being imprisoned if they helped me."
Since the bill entered the upper house last March, it has been debated passionately and passed through a second reading stage last week.
It has even divided the state's core leadership, with Premier Dominic Perrottet opposing the bill in favour of improving palliative care and Health Minister Brad Hazzard supporting it - despite opposing euthanisia for 29 years.
Ms Wright, a strong supporter of VAD laws, has been brought close to the death of others during her nursing career and said she was "pretty certain" that if members debating the bill had seen people die uncomfortable, drawn-out deaths like she had, they would support the bill.
"I have seen far too many people, elderly people, in the middle of the night in a ward without anyone there to hold their hand because nobody knew that was going to be their time to die," she said.
"I think that most people don't think enough about death because we are all frightened of it.
"And this could be the reason that some people are refusing to consider VAD laws, because it's a topic that is deeply uncomfortable and taboo.
"If we as a society were more mindfully aware and thoughtful about death, as it is the only certain outcome of life, then perhaps people would develop more compassion."
Though the laws could still be passed at some point if it fails to pass in next week's final vote, Ms Wright said it would affect her whole family if it was too late for her to take advantage of it.
"This will not only cause suffering to me but also to all of my family," she said.
"I wonder how many people have really stopped to think about what they would like, if they were in a position where they were going to die of (an) unpleasant and drawn-out death."
Image: 7News