15 winter nail colours and trends you won't be able to resist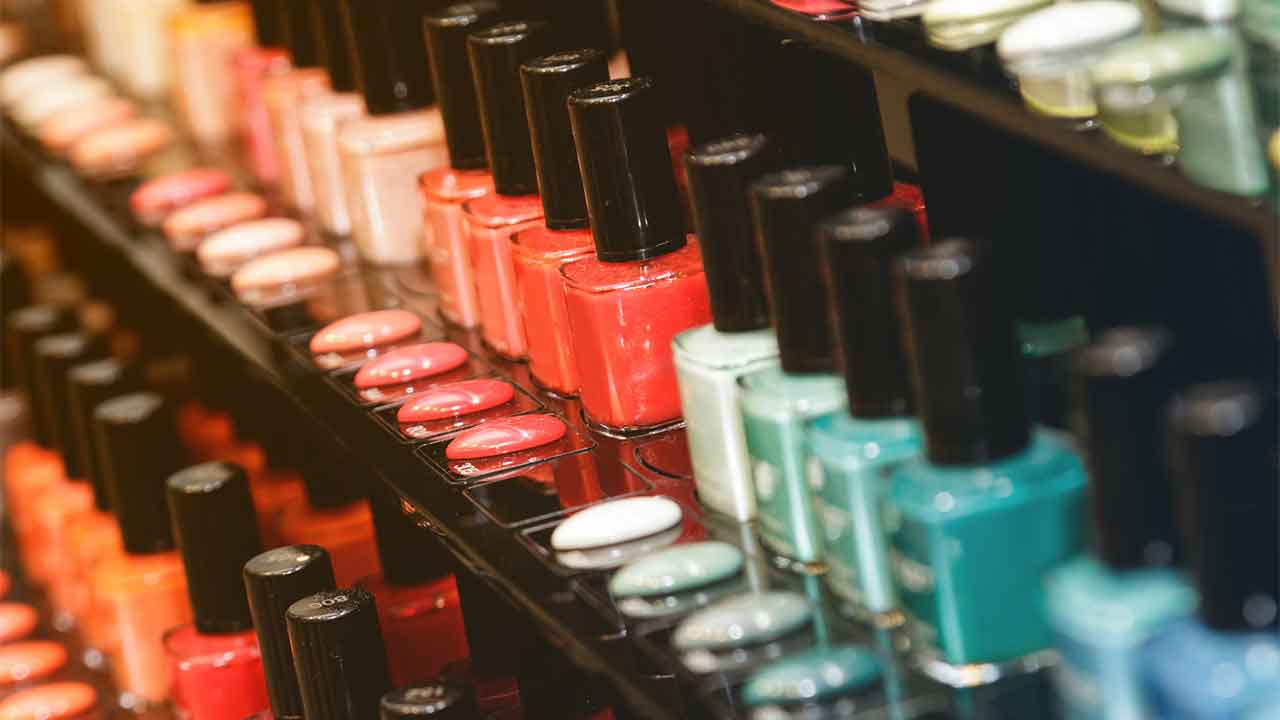 Winter nail colour trends
Even if you spend most of the winter bundled up, there are still parts of you worth showing off all year long. And let's not forget about that moment of pure joy when you slip your hands out of your gloves to show off your favourite new nail polish. So, now that autumn is over, what are the hottest winter nail colours and trends that should be on your radar?
From rich, jewel-toned hues to dupes for frosty snowflakes, winter nails aren't following one set of rules right now. We're still seeing a lot of nail art, but it's less cutesy and more architectural. For example, according to celebrity nail artist Brittney Boyce, instead of going with an overt candy-cane look, opt for a "chic, angled half-French in a sultry red, or do a half white nail with a diagonal cut across that looks clean and elevated." You also won't find just the typical wintery shades this year – you might see pastels on the chicest nails. If we had to sum up winter 2022 in a word, it would be unexpected or bold.
We asked celebrity nail artists and other experts for their take on what's trending right now so you can take your manicure to the next level. To get salon-quality results, use non-toxic polishes and gel nail polishes.
Nail trend: a hint of sparkle
Don't overdo the shimmer on your winter nail designs – a small amount will do the trick for this 2022 trend. Even if you use polish with chunky glitter in it, add only a dab or two. The idea is to catch the light, not pile on the glitter. "Adding a bit of sparkle is a great way to put a classic spin on a French mani and is also perfect for the winter," says salon marketing manager, Jennifer Bell.
Nail trend: browns, taupes, and chocolatey shades
Winter is the time of year you can match your mani to your hot drink! "We will continue to see a lot of neutral browns and chestnuts throughout the winter," Bell predicts. There are so many gorgeous shades in this family that you can take it from nearly nude to deep sueded shades, depending on your mood.
Nail trend: a touch of grey
Expect to see a lot of steely, slate, silver, or pale grey polish this season. "We [particularly] love a wintertime grey with a shimmery finish," Bell says. Greys look great on nearly everyone, but a good rule of thumb (as it were) is that if you're not sure which grey shade to choose, opt for a darker one because it flatters more skin tones.
Nail trend: naked nails
Believe it or not, one of the hottest winter nail looks is perfectly pampered hands and cuticles with barely any polish. "Nude nails have been a beauty staple for years and are back with a new twist that embraces the barely-there look," says Patricia Freund, managing director for cuticle oil brand, Cuccio Naturalé. While nude or barely there polish is a classic look, it also makes sense as there's no need to worry about chipping a nail or ruining your nail art!
Freund advises applying cuticle oil daily "to maintain hydrated and healthy nails throughout the winter and keep the 'less is more' nude manicure looking fresh all season." One more tip for your tips: while short nails make sense during glove season, a look that's gaining traction right now is a slightly longer oval nail with the sheerest polish, perfectly groomed cuticles, and moisturised hands.
Nail trend: red hot
It wouldn't be winter without classic red winter nails in every shade from spicy tomato to deep burgundy blacks. "We'll also continue to see classic deep reds throughout the winter," notes Bell. If you do plan on painting the town – or at least your nails – red, opt for a chip-proof top coat so you won't have to keep touching up your mani.
Nail trend: black
Classic black will be having a moment this winter. "The opposite of the opaque white trend for spring/summer is onyx – shiny patent leather nails," says celebrity manicurist Michelle Saunders. It's all about high contrast and showing off your sparkly jewellery with this winter nail idea. Think black tie meets high fashion. Saunders says for maximum impact, be sure to use a high-shine top coat.
Nail trend: glitter ombré tips
If don't want to go all-out with glitter, try using just a hint of it in your nail art. Boyce's advice? "Apply a strip of glitter polish on the tip, then gently drag the glitter chunks downward with the brush. This way, most of the glitter is on the tip and you'll get a nice ombré effect." You can also experiment with this effect to add a little oomph to your favourite shade. "Do this on a bare nail, a nude nail, a white nail, or even a darker one," Boyce says. But if you're going dark, stick to a neutral shade like a dark taupe or dark blue so there aren't too many competing elements.
Nail trend: forest inspired
While some trees may be stripped bare, your nails will look amazing in a leafy-green polish. "All kinds of greens are still in the forefront of people's minds," Saunders says. And while you'd think deep, lush greens were the only trending verdant hues, you can also go playful and polish your nails any shade of green for an on-trend winter manicure.
Nail trend: baby shades
Despite light colours usually making an appearance in spring, Saunders says, "we are going to see a 'pastel winter' with muted, serene colours on fingertips." Picture Easter-egg hues on your winter nails. If you're not sure that light colours are your thing in the winter, opt for colours that are classic, not cutesy. Think shell pink instead of bubblegum, or shimmery apricot instead of a bolder orange.
Nail trend: winter blue
This winter nail colour can be rocked all season long. "Blue will win the race for this winter," Saunders says. She's predicting that everything from baby blue to deep metallic blue will be on all the chic nails this season. "It's a nod to the '90s, and super fun to create nail art with," she adds.
Nail trend: rich jewel tones
If you love the look of lush nails, get ready to indulge. "Deep gemstone colours are always a classic during wintertime," Saunders says, "and that isn't changing anytime soon." Add some oomph to your LBD with any of these rich colours. Think ruby, emerald, sapphire and amethyst for a super luxe look.
Nail trend: gold half moon
"Winter is a fun time to play up shimmer and texture," Boyce says, adding that not all winter nail art needs to be complicated. "A gold half-moon near the cuticle is simple nail art that makes a big statement. You can play up different types of metallic shades for this [trend] depending on your look, from a standard gold to rose gold to even a bright orange bronze shade."
Nail trend: dark meets light
Create a bit of drama with mostly sheer nails and a hint of a darker colours. "For winter, I like dark, still shades because it reminds me of just how quiet it gets during the night," Boyce says. Think muted blues or purples contrasted with barely-there colour. "While black gives a lot of edge, you can soften it up with midnight navy or dark forest green shades," she adds.
How can you create this look at home? "An Angled Half French can be achieved easily by using washi tape as a guide and a dry brush dipped in nail polish remover to clean up the edges," explains Boyce. "You then use a glossy top coat over the entire nail for a finished look."
Nail trend: classic French tips in metallic shades
If you can't get through the winter without a French mani, consider mixing things up. "A classic French tip using a shimmery shade on an oval-shaped nail, either short to medium length, looks really gorgeous for the holidays," Boyce says, adding that the easiest way to get the perfect French tip is with a silicone nail stamper. Stampers are easy to use, but they come with a bit of a learning curve, so practise before that big event. If you're not comfortable with a stamper, try dotting on a design with a nail art brush or using a fan brush to create a softened tip.
Nail trend: all the winter colours
Still can't decide which winter nail colour or trend is your favourite? You don't have to choose. Simply paint each nail a different colour for maximum wow. The experts we spoke with for this story all said winter nails this season are more about self-expression rather than sticking to any particular trend.
Written by Rachel Weingarten. This article first appeared in Reader's Digest. For more of what you love from the world's best-loved magazine, here's our best subscription offer.
Image: Getty Images