Anne Hathaway and Reese Witherspoon jump on new Barbiecore trend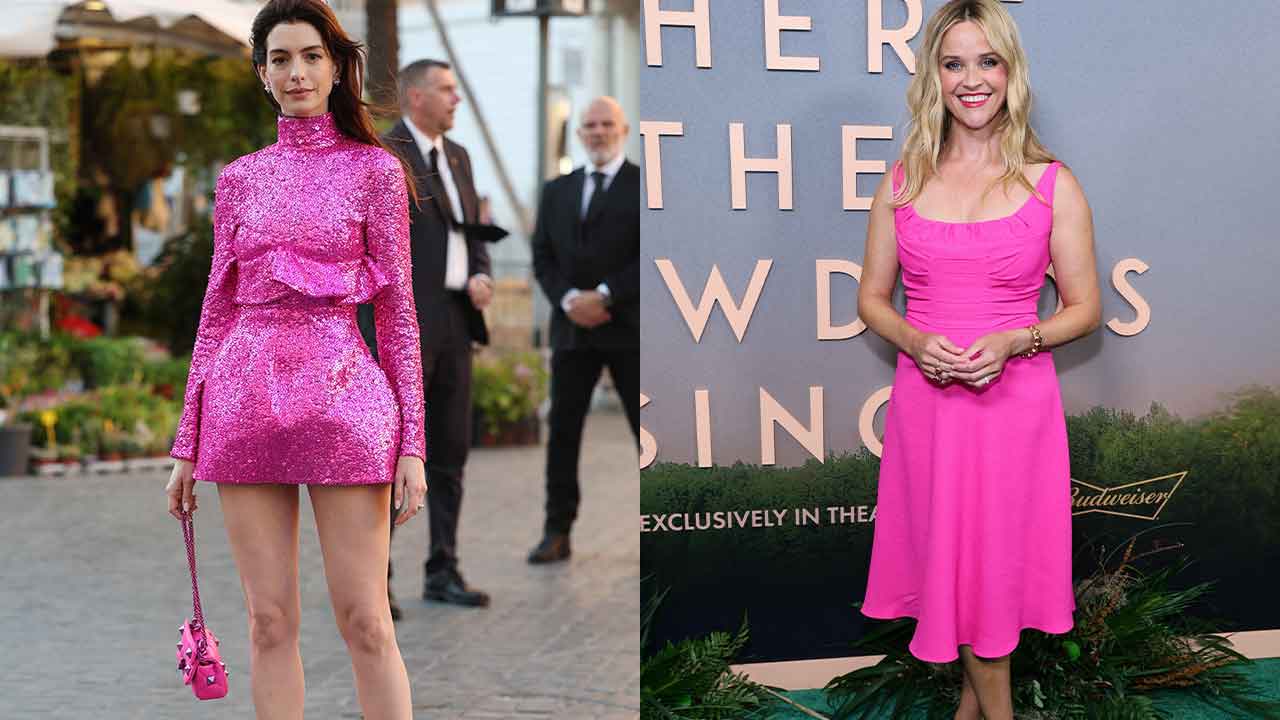 After official behind-the-scenes photos emerged of Margot Robbie and Ryan Gosling as Barbie and Ken in the upcoming live action Barbie film, there's been a resurgence in Barbiecore, with celebrities and high-end fashion houses deciding that its vibrant pink hues are the new "It" colour this season.
The nostalgic trend that embraces hyper-pink shades and feminine silhouettes has been cropping up on social media, high fashion runways, and at red carpets and A-list events around the world.
"The main theme? More is more – and you can never have too much pink," reports Beauty Crew. "When it comes to fashion, the vibe is essentially dopamine-dressing in fluorescent pink and as many sparkles as you can handle."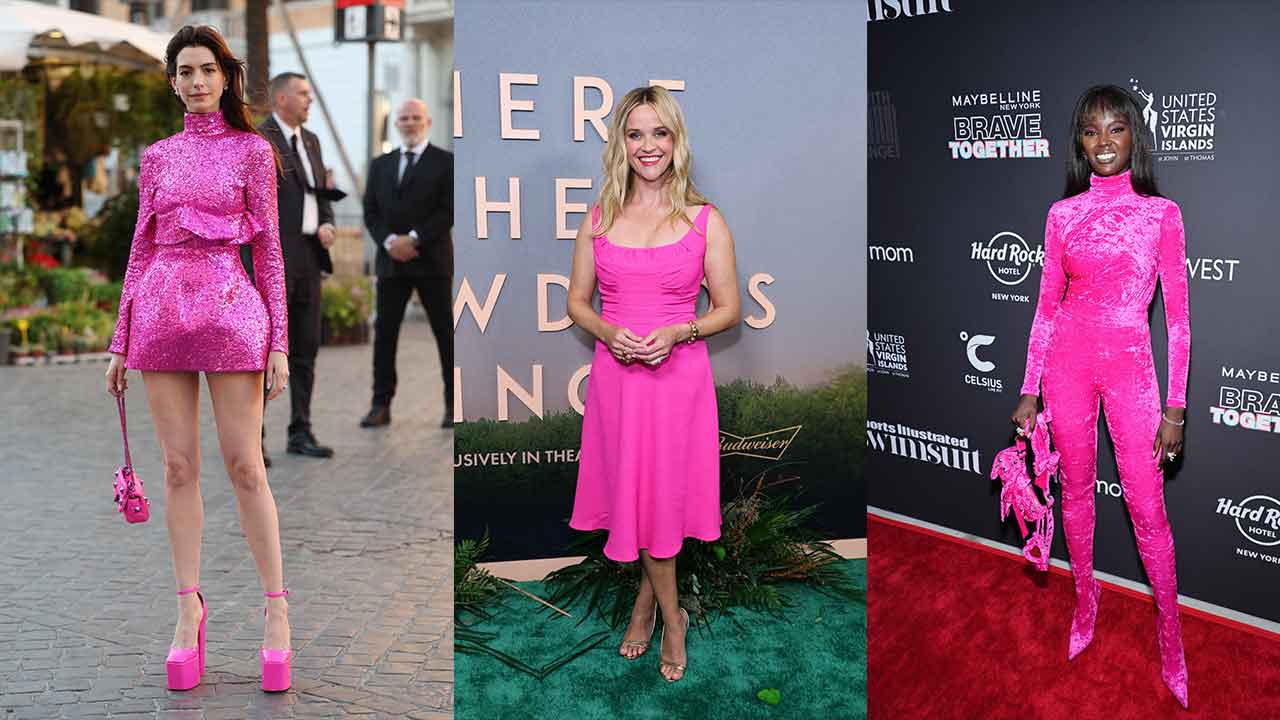 Anne Hathaway (left), Reese Witherspoon (centre), and Duckie Thot (right) have stunned with their own spins on the Barbiecore trend. Images: Getty Images
Stars Anna Hathaway and Reese Witherspoon are among the growing number of celebrities jumping on the fuschia-focused trend, which has also been featured heavily by designer brand Valentino to the point where "Valentino pink" is the fashion house's "now-signature magenta hue", per Women's Wear Daily.
Hathaway was spotted styling a sequin minidress in the brightest of hot pinks, paired with towering platform shoes and a studded minibag in a matching shade at the Valentino Haute Couture show in Rome.
Joining her in the front row in equally pink outfits was Korean pop rapper Hwasa and West Side Story star Ariana DeBose, with actress Florence Pugh also spotted styling the vibrant hue.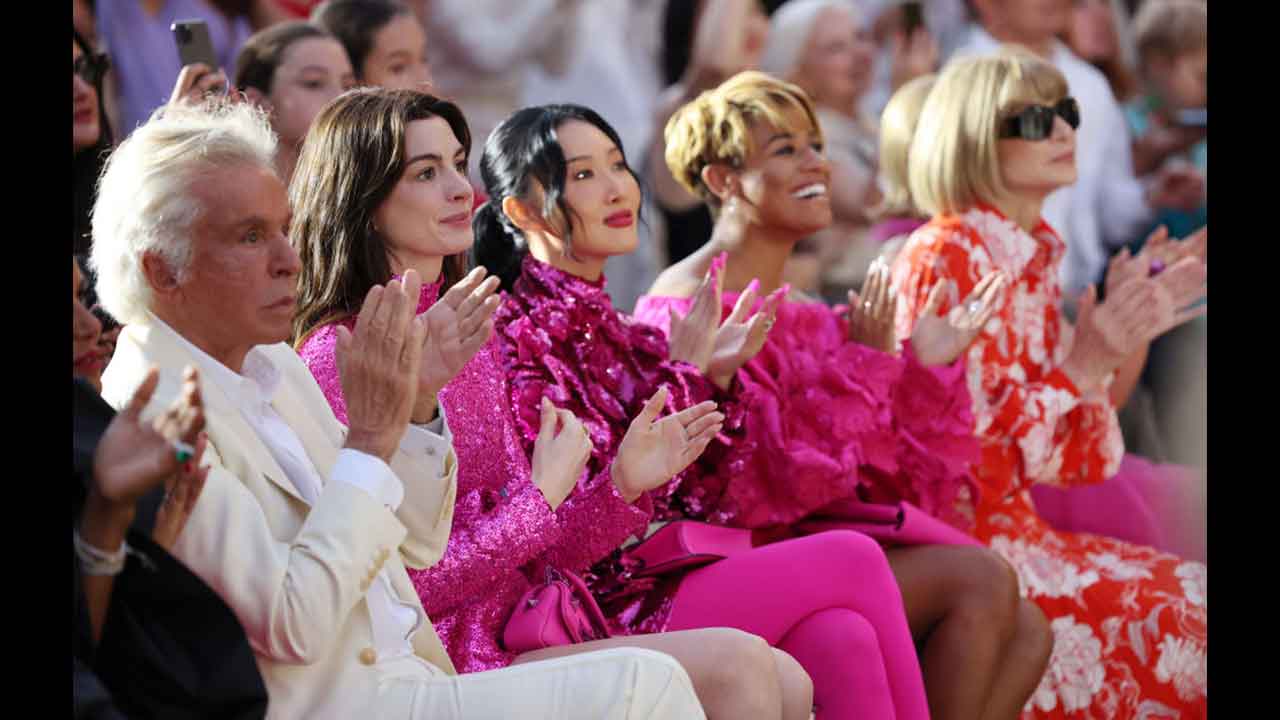 Anne Hathaway, Hwasa, and Ariana DeBose were spotted in all-pink outfits in the front row of the Valentino Haute Couture, flanked by Giancarlo Giammetti (far left) and Anna Wintour (far right). Image: Getty Images
Meanwhile, Witherspoon styled a knee-length, fuschia frock at the New York premiere of Where The Crawdads Sing, where actress Karen Pittman was also spotted pairing a hot pink camisole and skirt with a bold 80s-style blazer.
Other celebrities who have embraced the trend include Lady Gaga, the Kardashians, Australian model Duckie Thot, Lizzo, Sebastian Stan, and Natalie Portman.
View this post on Instagram
Australian designer Mariam Saddiq, who featured Barbie pink suits and dresses at her Australian Fashion Week show this year, describes it as feminine without being "sickly sweet".
"When people ask me for the Barbie treatment, it's about helping them look like they have a magically snatched-in waist. It's a move away from the androgynous look to something feminine, with prettier silhouettes, blazers with nipped waists and the celebration of that hourglass silhouette," she told the Sydney Morning Herald.
"For me, it's about making sure that there's an edge to pink looks so that they're not sickly sweet."
Erik Yvon, a Melbourne designer, says the trend is a continuation of the current generation's interest in styles from the 80s and 90s.
"You can see it happening internationally at labels such as Moschino already but I totally see it happening here," Yvon says.
"There's an energy and playfulness to it."
Images: Getty Images