Ukraine's first lady sparks controversy with Vogue cover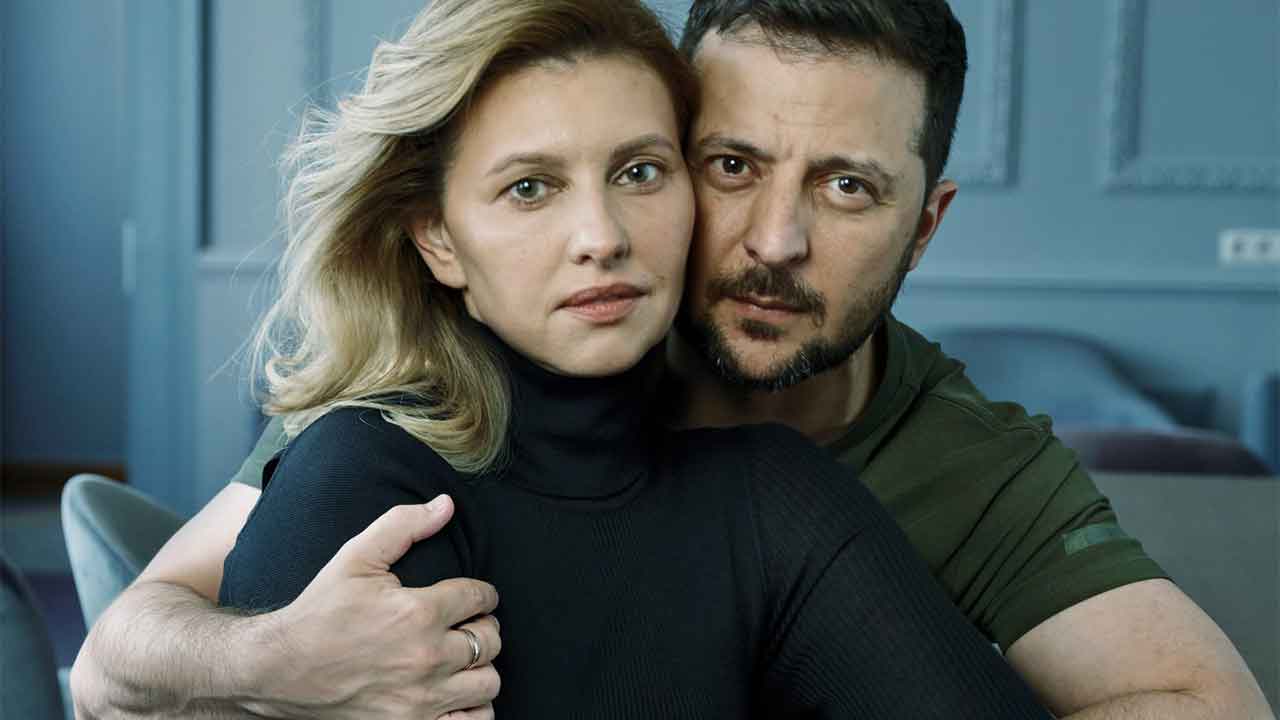 Olena Zelenska, Ukraine's First Lady, has sparked backlash after she appeared on a new 'digital cover' of Vogue with her husband, President Volodymyr Zelensky, amid the ongoing war with Russia.
The accompanying article, titled 'Portrait of Bravery', was created in collaboration between Ukrainian Vogue and the Conde Nast Vogues, featuring moody, graceful portraits of the First Lady taken by Annie Leibovitz, including one where she stands next to female soldiers at Antonov Airport.
Unlike her 2019 debut on the magazine's cover, where she was styled in brands such as Prada, Lemaire and Jimmy Choo, this year's feature sees her exclusively wear Ukrainian designers and a focus on the pain and trauma her country is currently experiencing.
With Vogue's historical connections to elitism, wealth and frivolity, the sombre tone and focus on the realities of war in Ms Zelenska's latest feature has prompted backlash from some who have labelled it as tasteless.
"While Ukraine is going through hell, Vogue is doing a photoshoot for the President & his wife," columnist Amrita Bhinder wrote on Twitter.
US Republican Mayra Flores, a representative from Texas, was among a number of conservatives who jumped on the opportunity to attack the Biden administration for supporting Ukraine financially, insinuating it was funding vanity, as reported by The New York Times.
wartime vogue photo shoots. very serious. let's keep sending ukraine weekly billion dollar aid packages to protect "democracy." don't question it. pic.twitter.com/MXVaW16K0y

— Logan Hall (@loganclarkhall) July 26, 2022
Others defended Ms Zelenska, arguing the photoshoot was a symbol for national pride and a means of raising awareness of the struggles facing Ukraine to audiences that might otherwise not be reached.
Supporters included Lesia Vasylenko, a Ukrainian MP, who tweeted that Ms Zelenska's interview with Vogue was "about duty, keeping sane and staying together".
"It's about personal strength. It's about what being Ukrainian is really like," she continued.
"It's about what #Ukraine needs."
The Zelensky @voguemagazine interview is a true story of one family, of a couple who woke up in war 150 days ago. It's about duty, keeping sane and staying together. It's about personal strength. It's about what being Ukrainian is really like. It's about what #Ukraine needs pic.twitter.com/lr2rgx4UOd

— Lesia Vasylenko (@lesiavasylenko) July 27, 2022
When asked about why she decided to appear on Vogue, Ms Zelenska told the BBC it was about speaking to people directly.
"Millions read Vogue, and to be able to speak to them direct, that was my duty," she said.
"I believe it is more important to do something and be criticised for it than to do nothing."
Image: British Vogue (Instagram)