Perfect recipe for stew season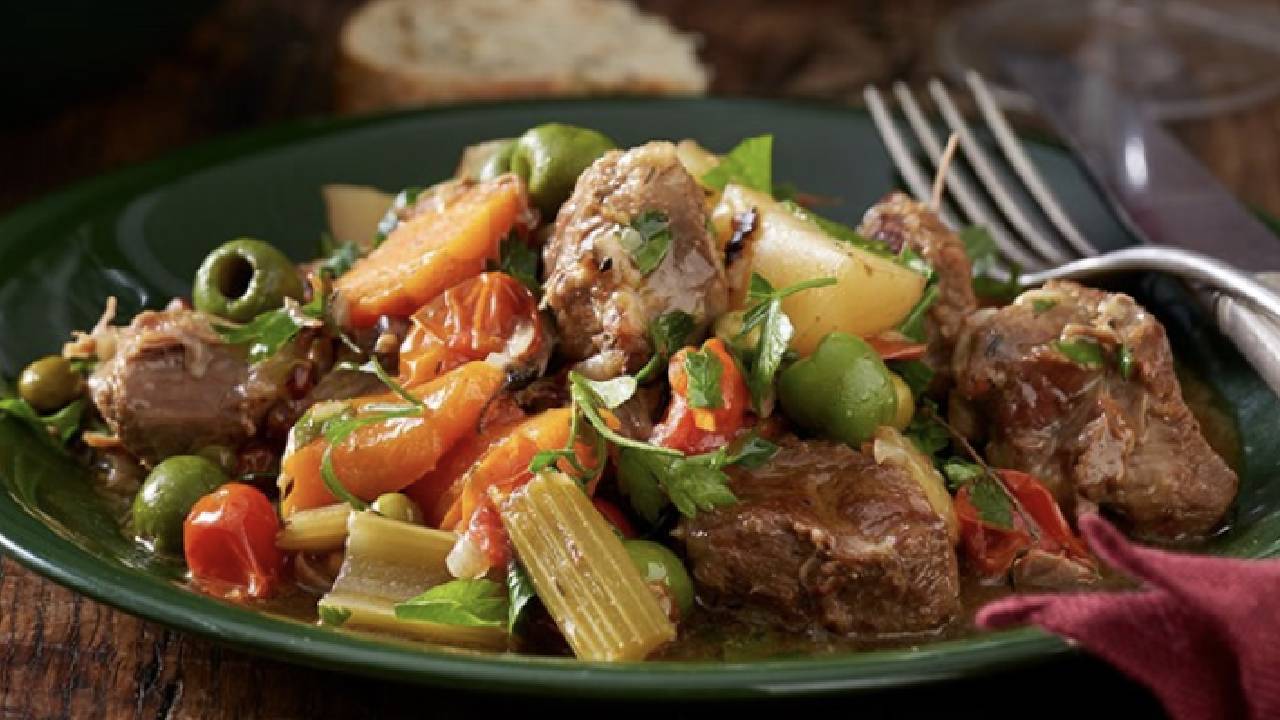 This hearty stew will feed the family and easily become your go to winter warmer. Let us know if you've tried it!
Ingredients
1kg boneless lamb shoulder, diced into 4cm cubes
Sea-salt akes and freshly ground black pepper, to season
1 Tbsp plain our
2 Tbsp extra virgin olive oil
125ml white wine
125ml chicken stock
2 Tbsp red wine vinegar
400g (about 6) baby chat potatoes, quartered
2 carrots, halved lengthways, cut into 3cm-long pieces
1 stalk celery, cut into 2cm-long pieces
1 brown onion, nely diced
3 cloves garlic, smashed, peeled
5 sprigs oregano
5 sprigs thyme
250g punnet cherry tomatoes, halved
3⁄4 cup pitted green olives
1⁄2 cup frozen peas
1⁄4 cup at-leaf parsley leaves, finely chopped
Crusty bread, to serve
Method
Put lamb in a large zip-lock bag and season. Add flour and shake well to coat.

Heat oil in a large frying pan over a high heat. Add lamb and cook, stirring occasionally, for 10 minutes or until browned. Stir in wine, stock and vinegar, then bring to the boil. Cook for 5 minutes or until liquid has reduced by half.

Transfer to the bowl of a 5L slow cooker and place in appliance. Stir in potato, carrot, celery, onion, garlic, oregano and thyme. Cover with lid and cook on low setting for 8 hours.

Stir in tomatoes, olives and peas. Increase setting to high and cook for 30 minutes or until peas are tender. Stir in parsley and season. Serve with crusty bread.

Pressure cooker method

In Step 3, put ingredients in the bowl of a pressure cooker. Cover with lid according to instruction manual and cook on high setting for 30 minutes, releasing valve according to instruction manual.

In Step 4, stir in tomatoes, olives and peas and cook for a further 5 minutes, releasing valve according to instruction manual.
Images: Better Homes & Gardens