"A true dance of love": Cameron Daddo and Alison Brahe mark major milestone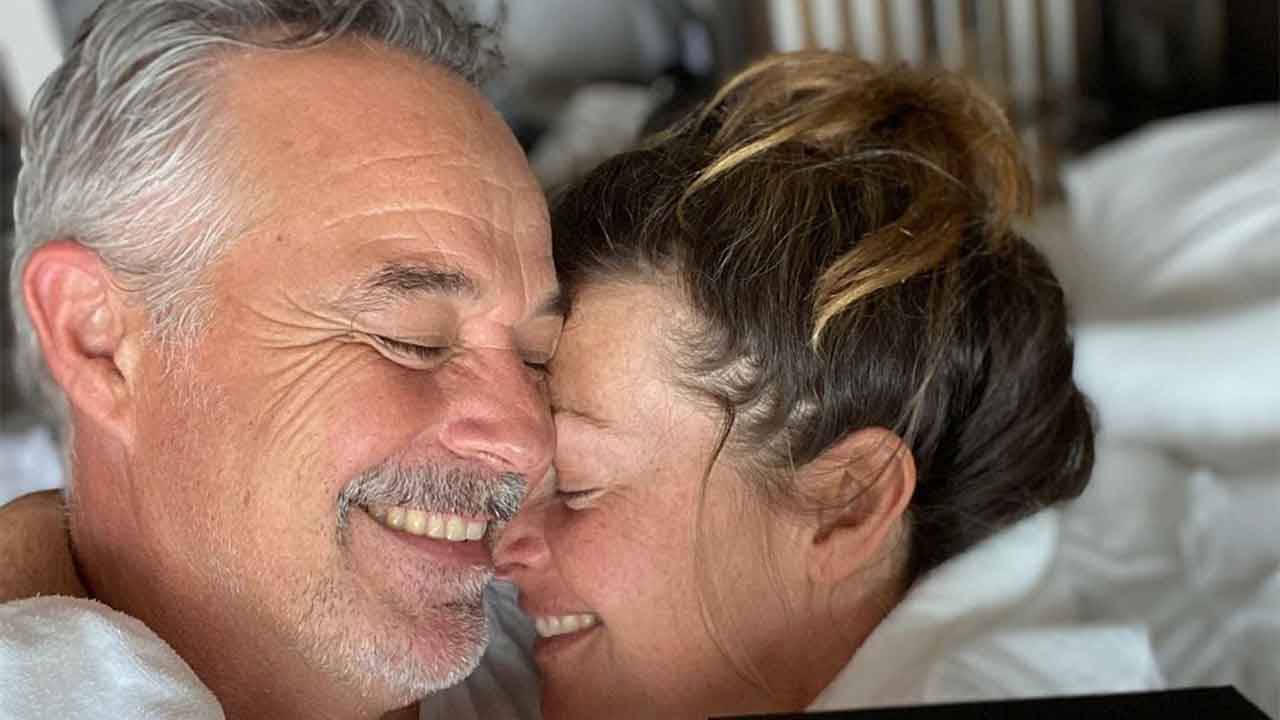 Aussie stars Cameron Daddo and Alison Brahe have celebrated three decades of marriage in the sweetest way imaginable - by going back to where it all began.
The couple enjoyed a romantic stay at the Park Hyatt in Sydney, where they celebrated their wedding day in 1991.
Daddo, 56, also shared a touching post documenting their stay on Instagram, including a snap of the pair laying in bed with a framed photo taken on their wedding day.
View this post on Instagram
"Waking up 30yrs married and messing around trying to do a "cool shot" to say thank you 🙏 to the @parkhyattsydney for leaving this pic of us taken 30yrs ago with a bottle of champers," the former
Home and Away
star captioned the photo.
"It was a fun, kind and thoughtful gesture that we really appreciated. PS it was also brilliant to revisit the place we spent 5hrs at 30yrs ago and finally really enjoy the majesty of the hotel and location. #notapaidadvertisement."
Daddo also shared a series of throwback photos on the eve of their anniversary, writing, "30 years of ups, downs and roundabouts… oceans apart and together. A true dance of love".
"I knew from our …second date that I wanted to spend my life with you and I am so grateful you've chosen to hang in there with me and ride the see-saw of life.
View this post on Instagram
"I stopped counting how many homes we've lived in when it reached a dozen and I reckon we've done really well to grow 3 amazing kids… and through it all, you still have the sharpest wit, the biggest and kindest heart and best laugh of anyone I know.
"We've kindled the fire, burned it, stoked it back up many times, ours is a love that goes deep… and I am so grateful for your grit and love in all its forms."
He ended his lengthy tribute on a joking note and with a simple declaration of his feelings.
"Also, it was me that took your phone charger this morning 😞 but I did take the recyclables out… again," he wrote. "You know it's the little gestures. 💗 I love you 🙌🥂💗."
Daddo's co-stars commented with their congratulations and well wishes, including Rebecca Gibney, Georgie Parker, and television presenter Melissa Doyle.
"Happy anniversary you two. Lots of love 💗💗💗," Parker wrote.
"Happy Anniversary you two!! 💗💗👏👏👏," the Packed to the Rafters star shared.
"Happy anniversary you two! Love love love 💗," Doyle added.
Daddo and Brahe were married in 1991, after dating for just three months.
They share three children, Lotus, 24, River, 20, and Bodhi, 14.
Image: @camerondaddo (Instagram)