Simon Baker's ex speaks for first time since split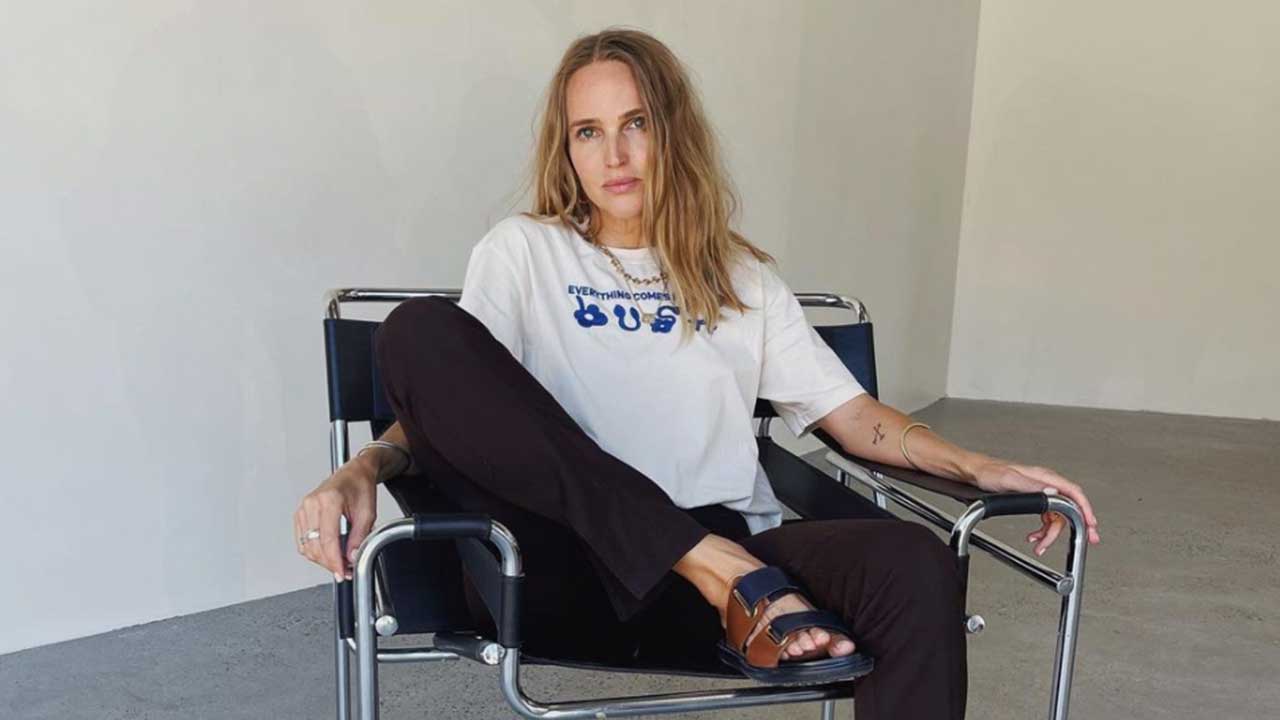 Simon Baker's ex-girlfriend, Laura May Gibbs, fashion designer and founder of the Australian label Nagnata, has spoken publicly for the first time since Baker's representatives confirmed the couple had split last week.
There were rumours that Baker had decided to end things after Gibbs attended an anti-vaccine protest on November 7. In a video from the event that she uploaded to Instagram, a crowd can be seen dancing to 'Power to the People', while some hold signs with anti-vax messages and others hold Australian flags.
View this post on Instagram
Taking to Instagram on Tuesday, Gibbs wrote a lengthy post explaining her justification for attending the protest, opposing vaccine mandates more generally, and seeking to quash the rumours that her anti-vax beliefs were the reason for the breakup.
Gibbs wrote, "Last weekend, the Northern Rivers community gathered peacefully alongside the local police and around 10,000 others, including nurses, teachers and first responders who are being subject to unreasonable mandates, currently in place in NSW. There was a march, followed by speeches and conversation, music and hope from people across all walks of life coming together to question - what is happening in our beautiful Country?
I care about these people. I care about my staff and community, without division or prejudice. Regardless of our differences we are moving through this time together. The decisions being made by those in power effect all of us, including our children and their future freedoms. I have always been here, standing up for Freedom of Speech and Freedom of Choice, despite the politics of the time or what is considered appropriately 'trendy'.
So, to the gossip columnists, who have slandered my name across their platforms and used a false narrative around the relationship I've been in this year - it's simply not true. And to the tabloid media I want to say - try harder. Stop using lies and sloppy journalism to make an example out of me. I never discuss my private life, but I will say this - the friendship and respect I share with this person runs too deep for the media's noise to have any true impact in our lives.
Instead, while we're here, let's start talking about the REAL issues facing our country - the mental health crisis, the housing crisis and the very real health crisis. This is not just about me, or my "rights", this is about Freedom for all. Our freedom is not something that the government gives or takes away. It is our right from the moment we are born. So I won't apologise for voicing my concerns, when I see so many struggling, losing their livelihoods and being silenced, shamed and ridiculed for wanting to ask questions.
Activism is important to me, I've attended numerous environmental rallies and Indigenous rights protests, and taken action in all of these areas. If the media is going to cover issues I make a stand on, then report the full scope of the matter - and while you're at it, lead with my name."
View this post on Instagram
Gibbs and her brand previously made headlines for their decision to close their Byron Bay store rather than require customers to wear masks and check in using QR codes, per the NSW government's rules for retailers after NSW's lockdown lifted last month.
Image: Instagram