How Hugh Jackman became entangled in the Sea Eagles pride jersey saga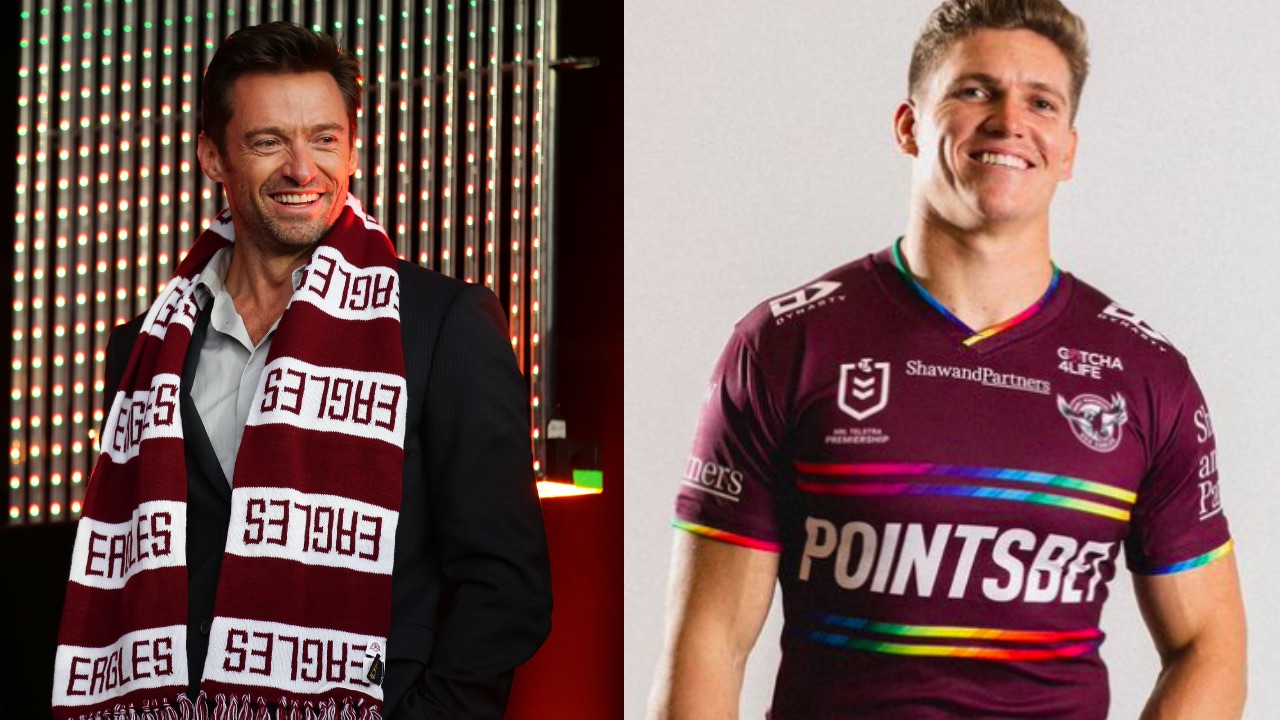 In the wake of the Manly Sea Eagles pride jersey saga that saw several players boycott a charity NRL match, it has been revealed that Hugh Jackman knew about the "controversial" design weeks ago.
On Tuesday, Manly coach Des Hasler revealed that seven NRL players decided to boycott this week's game due to the appearance of a one-off pride rainbow on their jerseys, with players citing religious and cultural beliefs.
The Gotcha4Life Cup match between the Manly Sea Eagles and the Sydney Roosters is designed to raise money to fight mental illness, with over $200,000 expected to be raised.
Hugh Jackman had agreed to promote the game as the Hollywood actor, who like Gotcha4Life founder and childhood mate Gus Worland is a diehard Sea Eagles supporter.
Jackman received a replica Manly jersey in the post a few weeks ago, proudly pointing at the not-for-profit foundation's logo for a photo.
Jackman also signed the jersey, which will be auctioned this week.
A photo of Jackman with the jersey was plastered on the front page of The Daily Telegraph on Wednesday morning, with Jackman hoping to spin the negative press of the boycott into an opportunity to highlight the good of the charity.
"I woke up this morning and saw that front page and thought, 'Aw, he hates it when he's on the front page'," Gus Worland told news.com.au on Wednesday.
"But he goes, 'Mate, it's awesome. Let's turn it around. Let's talk about Gotcha4Life. Let's see how much good we can do with the money that's been donated'."
"That's him to a tee."
The pride jersey saga has regrettably shifted focus away from the Gotcha4Life Cup, as Gus Worland, with the help of former Manly player Ian Roberts, the first openly gay NRL footballer, will put aside a portion of funds raised to assist LGBTI communities.
The saga began on Tuesday when Manly Sea Eagles players Josh Aloiai, Jason Saab, Christian Tuipulotu, Josh Schuster, Haumole Olakau'atu, Tolutau Koula and Toafofoa Sipley were willing to sabotage their team's chance at securing a spot in the NRL finals over something as frivolous as a rainbow stripe.
Criticism of the players has been rife online, with many pointing out that supporting the rights of the LGBTQ+ community should be spoken about more in the Australian sporting community.
You can donate to Gotcha4Life here.
Image credits: Getty Images / Instagram