"This is how it's done": Big names speak out against Manly pride jersey boycott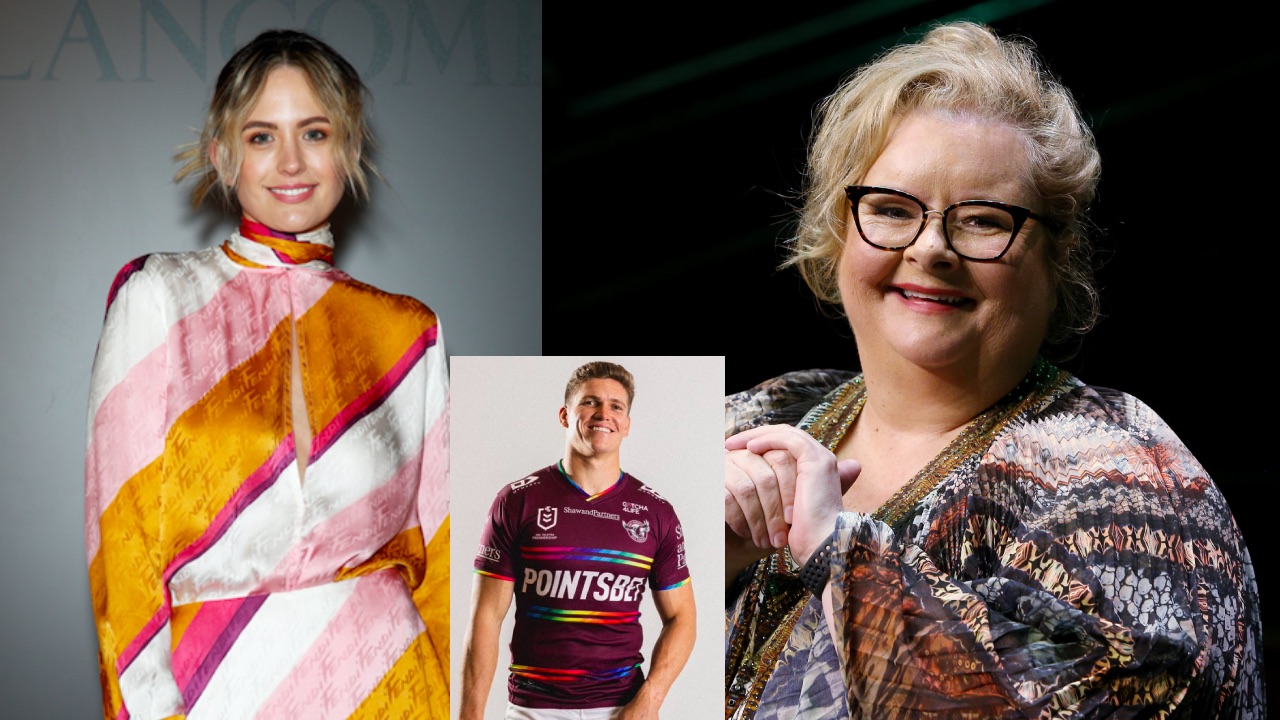 Magda Szubanski and Jesinta Franklin have led the charge of celebrity voices condemning the Manly Sea Eagles and the players boycotting the pride jersey for a charity match.
Jesinta, wife of AFL star Buddy Franklin, weighed in on the saga as she shared a photo of her husband wearing the Sydney Swans jersey in a match against St Kilda last month.
She simply wrote, "This is how it's done," followed by a string of rainbow hearts.
The image Jesinta shared showed the AFL players in their pride jerseys, along with the words "Everyone is welcome at the footy!" written over the rainbow pride flag.
Magda Szubanski also spoke out over the controversy in a series of scathing tweets, questioning the foundation of the players religious beliefs that saw them boycott the jerseys in the first place.
She declared the seven Sea Eagles players in question, who are boycotting their team's Thursday night clash with the Roosters, were failing to show the tolerance demanded by their religion by refusing to wear a LGBTQI+ themed jersey.
"Thought experiment: imagine if Manly players were asked to wear stripes to let religious players & fans know they are welcome," she began.
"Then imagine an atheist player refuses to wear the stripes coz their "belief" (based on fact) is that millions have been killed in the name of religion."
"Religious tolerance doesn't mean you condone or believe in the other's religion. It means that you accept the right of difference to exist. That you support a world where people are not excluded or persecuted because of their religion. All we ask, is for the same courtesy."
"You can't force people to believe that homosexuality is not sinful."
"But you can ask them to help make a tolerant society that accepts difference. Including their own."
Szubanski later posted bible verses which highlighted directions to show love and hospitality to "strangers" which further amplified her point of acceptable and tolerance.
The series of tweets have racked up hundreds of likes, with many sharing how they could not understand why the Manly players were willing to sabotage their team's chance at securing a spot in the NRL finals over something as frivolous as a rainbow stripe.
Image credits: Getty Images / Instagram