The world's most colourful mountains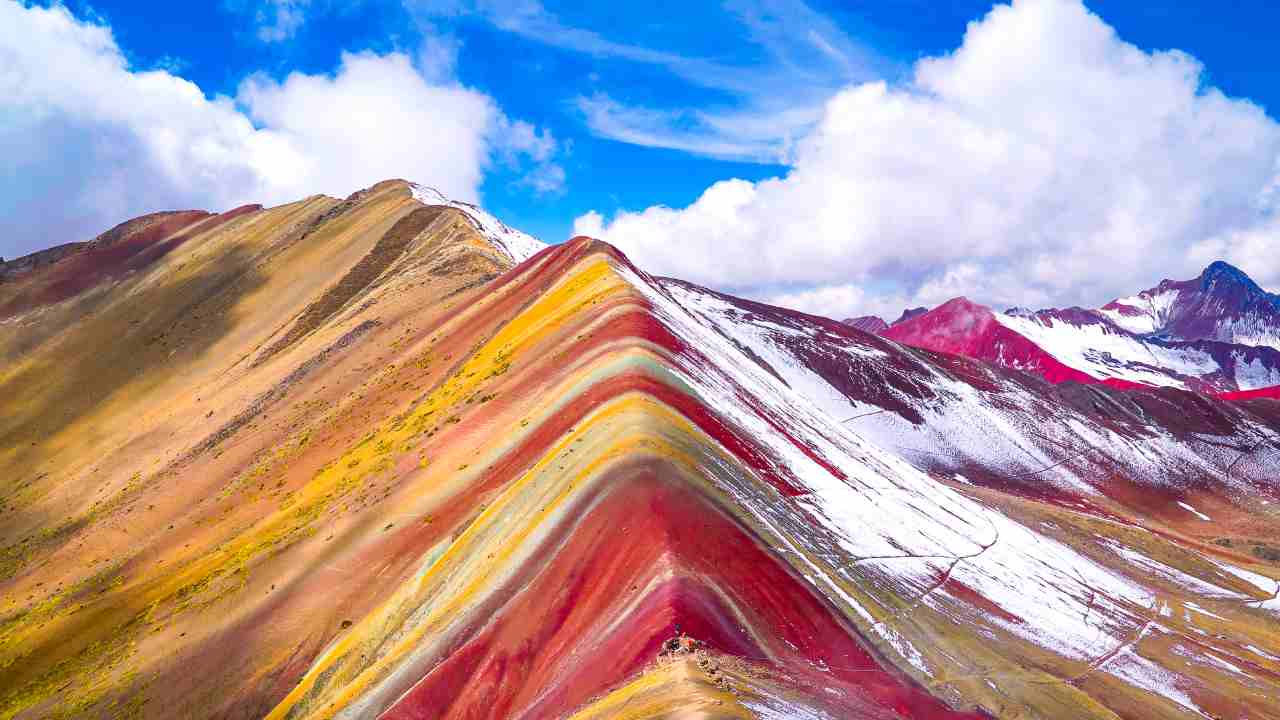 Scroll down to view the gallery below
Imagine taking a photo of a destination that's so colourful that you don't need to apply any filters. Or so bright that your camera settings only need to be changed to make sure the entire scenery is captured through your lens. Among many of Earth's colourful landscapes, there are mountains and rock formations whose hues go beyond monotone shades.
Rainbow Mountain, Peru
Also known as Vinicunca or Montaña de Siete Coloures (the Mountain of Seven Colours), this colourful mountain near Cusco became well-known throughout the world in recent years. It attracts 1,500 visitors daily during Peru's high tourism season. The mountain's rainbow look is revealed as the surrounding snow begins to melt, unveiling its true colours. In part from environmental conditions, over time marine, lake, and river sediments formed layer deposits resulting in turquoise, gold, red and fuchsia colours. Visits to Rainbow Mountain often involve full-day excursions through tour operators, where it's best to be physically able to handle high altitudes. Consider the less-travelled yet equally colourful Cordillera de Coloures Palcoyo, also within the Cusco region.
Landmannalaugar Mountain, Iceland
Iceland is known for its diverse topography and this mountain in the Fjallabak Nature Reserve based within the country's Southern Highlands fits in quite brightly. Its hues come from rhyolite, a type of rock producing quite the range of shades, from red, pink, and green to blue and golden yellow. Collectively, Landmannalaugar Mountain is a colourful mountain that makes for a picture-perfect backdrop to be captured with your smartphone lens. Aesthetics aside, Landmannalaugar is touted as a great hiking destination, where trekkers can venture along its three major trails: Mount Brennisteinsalda, Mount Bláhnjúkur, and Ljótipollur, the latter a crater lake. Speaking of water, after a long stretch, weary bodies can relax within the warm streams heated by geothermal energy, which could be why Landmannalaugar is also known by the moniker, "Pools of the People."
The Pitons, St Lucia
Near the town of Soufriere, on St Lucia's southwestern coast, this pair of mountainous volcanic cones are truly green and they're also blessed in being covered with a lush forest that is home to a number of rare plant species. Collectively they are recognised as a UNESCO World Heritage Site. However, each of these two spires has its own name and, well, "personality." Gros Piton is the taller of the two while Petit Piton is shorter but also said to be steeper. These two spires can offer hearty challenges to those who wish to go up to them – a guide is a must – but also reward visitors for their efforts in reaching their summits with mesmerising views. From the top of Gros Piton, you can see Petit Piton and Soufriere; Petit Piton will have you overlooking the Piton Bay.
Vermilion Cliffs National Monument, USA
Designated in 2000, this 280,000-acre national monument in Northern Arizona and near the Utah state line makes you feel like you've stepped onto another planet. Towering cliffs, slot canyons, and churned coloured sedimentary formations are found across this site's many regions. But wait a minute: There are certain areas that require obtaining specific permits in advance to explore them, so do your homework first. Coyote Buttes are split into Coyote Buttes North, which has The Wave, a swirling sandstone formation, the Melody Arch, and the Grotto, while Coyote Buttes South is also visually striking with Paria Canyon and its petroglyphs.
Zhangye National Geopark, China
In northwestern China's province of Gansu, within the foothills of the Qilian Mountains, this UNESCO national park is considered to be one of China's most beautiful natural wonders. At first glance, it looks like a rainbow was carefully applied to a palette. And there's a science to it. The striped colours within the 320-kilometre colourful rainbow mountain have been around for quite some time, in that they are comprised of deposits of cretaceous sandstones and siltstones that developed before the Himalayan Mountains were formed. These sand and silt deposits also held iron and trace minerals which created these vivacious colour formations. Then, as Indian and Eurasian tectonic plates collided into each other millions of years ago, mountains were lifted up and underneath sedimentary rock got exposed, thus leading to this colour scheme that's still bright.
Montagne Sainte Victoire, France
What makes this limestone mountain ridge in the Provence-Alpes-Côte d'Azur so magnifique is that it has served as a muse for the French artist Paul Cézanne. This Post-Impressionist painter was inspired by this distinct landscape so much that Montagne Sainte Victoire became the constant subject of his paintings. Apparently, Cézanne never grew tired of capturing its appearance on this canvas, as he lived below the mountain and create a series of paintings on Montagne Sainte Victoire in the late 19th and early 20th centuries.These days, Montagne Sainte Victoire can be taken in through mountain biking and rock climbing; it's also the location for religious heritage sites such as the Saint-Ser Hermitage, a tiny chapel built inside a cave.
Serranias del Hornocal, Argentina
Translated as the Hill of 14 Colours, this jagged-looking yet multicoloured geological formation in the northwestern Argentinian province of Jujuy has gotten visitors' attention in recent years. According to Jujuy's tourism board's website, you reach this colourful mountain by driving with care from the town of Humahuaca. Your ride will go along the winding and gravel-covered Provincial Route 73, traveling roughly 24 kilometres to reach this Hill of 14 Colours. At this location, visitors can view the panoramic scenery and park their vehicles at an observation point that's 4,350 meters high.
Remarkable Rocks, Flinders Chase National Park, Australia
How could we not include this amazing rock formation found in this park on Australia's Kangaroo Island? These aptly-named granite boulders are said to have been shaped by 500 million years of environmental impact from the natural elements. The end result is quite an abstract vision. Some of these rocks are covered with golden orange lichen, which is a fungus and algae organism that reflects the sunlight. Other spotted colours include black mica, bluish quartz, and pinkish feldspar. Interpretive signs tell the story behind these rocks plus there's a viewing platform for those with accessibility needs.
Simien Mountains National Park, Ethiopia
A World UNESCO Heritage site, this national park in northern Ethiopia is a biosphere onto its own with an abundance of flora and fauna. Canyon gorges, soft turfs, deep valleys and vegetation such as a type of flowering tree known as Erica arborea are all nestled here. Wildlife can be found within the park as well. Walia ibex, an endangered species of goat that's native to this region of Ethiopia, is a resident. Other coinciding rare animals include the Ethiopian wolf (also known as a Simien fox) and Gelada baboon and several birds of prey.
Seven Coloured Earths, Mauritius
While they're technically sand dunes, this colourful granular grouping stands out to us because of their blended hues. Found near the village of Chamarel, this geological marvel is a result of volcanic rock becoming clay that bridged together various elements and brought forth a result of different colours that have swirled together. Surrounded by forest, this harmonious blend of shades have settled amongst each other with red, brown, violet, green, blue, purple, and yellow shining in their own right.
This article originally appeared on Reader's Digest.
Images: Shutterstock