A list of what you can and can't take in your carry-on luggage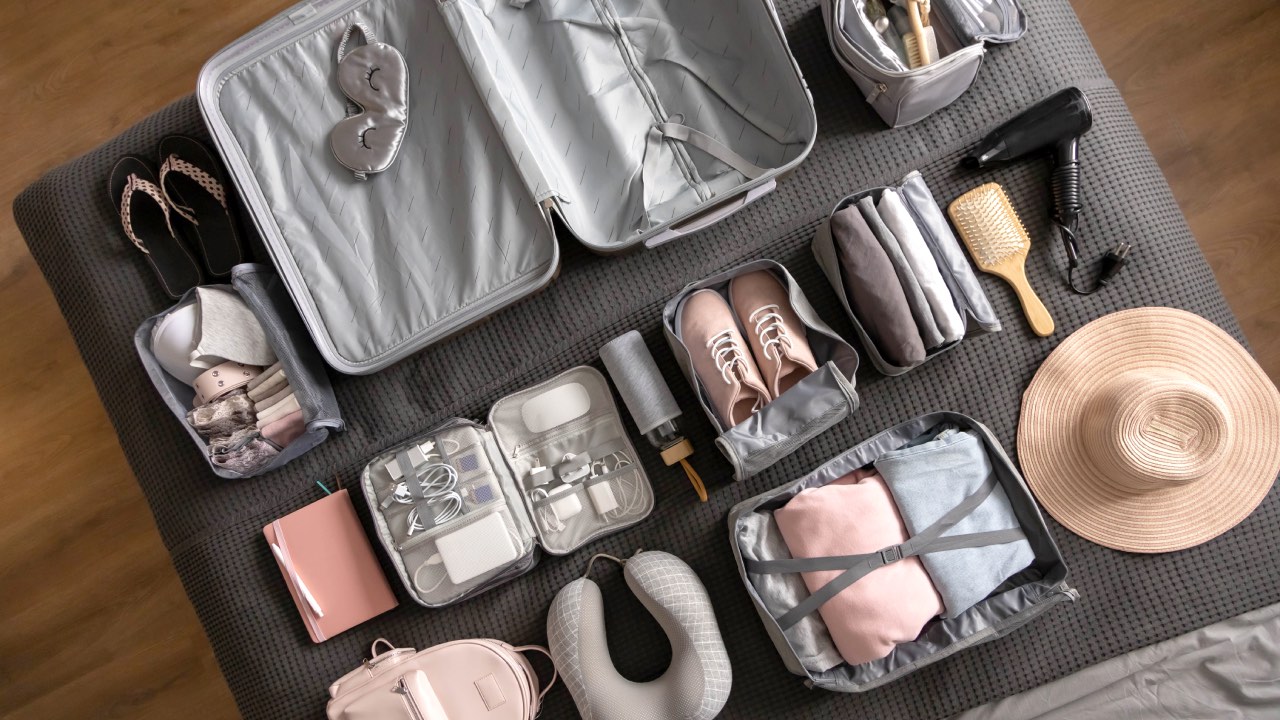 When it comes to travelling, there are a lot of grey areas when it comes to what you can and can't take in your carry-on luggage.
You often run into inconsistencies with travelling internationally and domestically with the do's and don'ts of packing, making it difficult to know what you should be taking.
When it comes to travelling within Australia on a domestic flight, the rules are slightly more relaxed than on international journeys.
According to the Australian Border Force, there are no restrictions on how much powders, liquids, aerosols and gels you can carry onboard.
However, the rules are very different for flights overseas.
All liquids, aerosols and gel items must be in containers of 100 millilitres or 100 grams or less. Containers must fit into one transparent and re-sealable plastic bag, like a snap-lock bag, with only one ziplock bag allowed per passenger.
However, there is one detail on travelling with liquids that can often catch people off guard at the last minute.
Australian Traveller's Quentin Long said, "But the problem that gets us all ... is that it's not based on the actual quantity of liquid, it's based on the container size. So if you have a 120ml size container with liquid in it, that's going to be taken off you."
"That has cost me, and a lot of other people, some very expensive fragrances."
While you are allowed to take most laptops, tablets and phones in your hand luggage without any worries, you'll need to remove them when going through security.
Airport x-ray machine operator Michael Sørensen explained why in a Quora thread, writing, "The main reason that you need to remove laptops especially and tablets sometimes is because the batteries and some electronics are so dense metallic material that they obscure what's beneath."
"So that's why we ask for electronics with large batteries to be next to your bag or in a tray on its own."
All batteries must be packed in your carry-on luggage, which includes lithium ion batteries, non-spill batteries like dry cell batteries, and nickel, alkaline, or nickel cadmium batteries.
E-cigarettes and personal vaping devices also must be tucked into your carry-on baggage.
When it comes to miscellaneous items such as umbrellas, razors and alcohol, Long says, "There's different rules for international and domestic, but the general rule for both is don't take anything sharp."
So things like scissors, metal nail files and Swiss army knives are a big no-no. Razor blades are also not allowed, but the Department of Home Affairs clarifies that household and personal items such as safety razors are permitted.
Umbrellas with metal points are also on the permitted list, along with knitting and crochet needles, perfume, lighter fluid and alcohol.
If in doubt about whether an item can be carried onboard, check with your airline prior to arriving at the airport. In some cases, you may be able to pack the item in your checked baggage at the last minute.
Image credits: Getty Images