Air New Zealand set to offer the 'best sleep in the sky'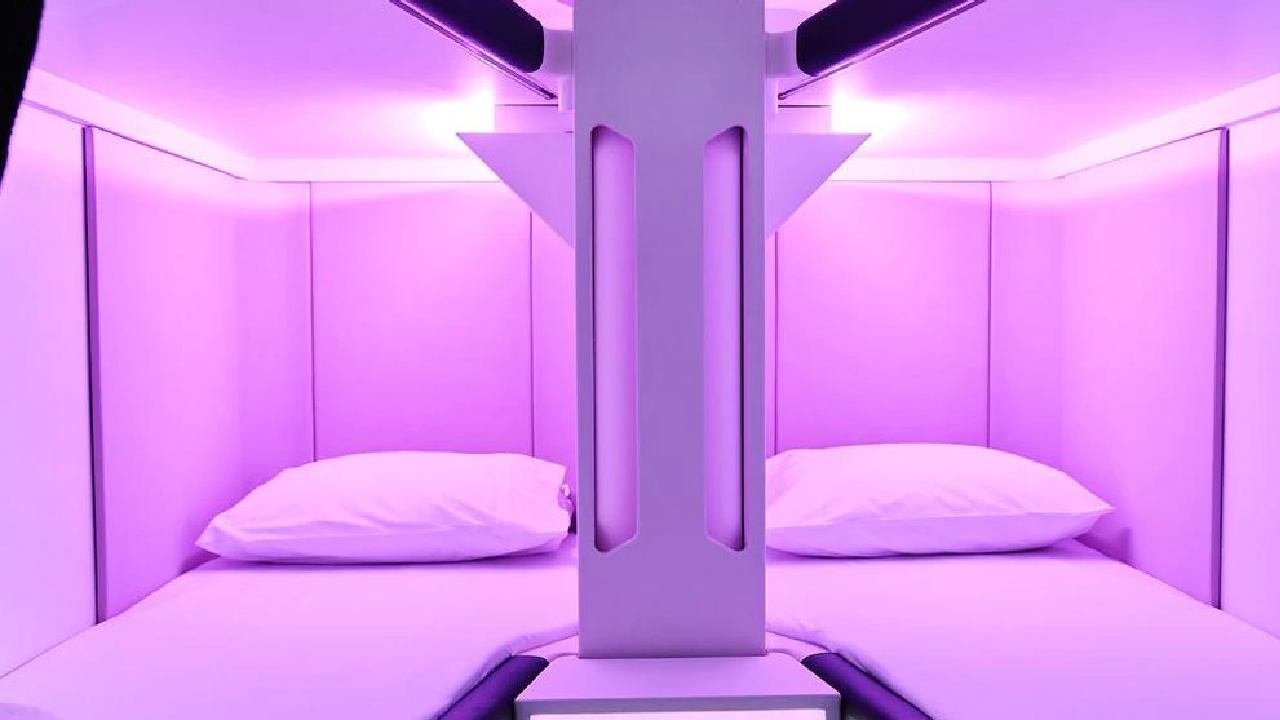 Scroll down to view the gallery below
One of the most annoying things about catching long flights is not being able to sleep and for Aussies travelling to Europe or anywhere overseas the journey could be up to 24 hours.
Once you have watched multiple movies, the only option left is sleep, which is a struggle for many.
However, Air New Zealand has completely shaken things up with the introduction of its new Dreamliners, due to arrive in 2024. It will give customers more choice than any other airline in the world, providing, as they say, "the best sleep in the sky" regardless of the cabin customers choose to fly in.
This includes a new Business Premier Luxe seat, designed for customers looking for more space and privacy, and Skynest, the world's first sleep pods in the sky for economy travellers.
Chief Customer and Sales Officer Leanne Geraghty says the idea has come after feedback from customers over the past five years basically highlighting the importance for a good night's sleep, more comfort and privacy.
"Skynest was an idea born out of looking at how we could offer a lie-flat option for Economy and Premium Economy travellers, and it's going to be a real game-changer, adding more flexibility to the economy travel experience," she said.
It allows passengers to stretch out in one of six pods for part of the journey and catch some shut eye. And to top it off, each pod will include a full-size pillow, sheets and blanket.
Of course there's the option of ear plugs along with lighting designed for rest.
"Research shows us the first night away from home is the hardest to get a good night's sleep so everything we do on-board is to help create a sense of calm – from the lighting and sleep ritual including sleepy teas and balms, to the healthier food choices and breathable fabrics," Ms Geraghty said.
Air NZ Cabin options
Business Premier Luxe
For customers looking for the ultimate space and privacy. A luxury experience with all the features of Business Premier, but with a fully closing door and space for two to dine
Business Premier
A private nest for a blissful journey and tranquil sleep. And if traveling with a companion, the middle row allows customers to open their nest and share their experience.
Premium Economy
For the treat-seekers looking for a little luxury to unwind and enjoy a taste of Aotearoa. The new seat offers more privacy and protected space where you can recline at leisure without interrupting the person behind.
Economy Skynest
It's time to swap the headrest for some bedrest. Say hello to the world's first sleep pods in the sky, Skynest. Stretch out in one of six pods for part of your journey and catch some shut eye. A game changer for economy travellers.
Economy Skycouch
Use the Skycouch the way you want. Sit, spread out, or lie down and snooze. Share the space or keep it all to yourself.
Economy Stretch
It's all in the name. This seat is for those who want to rest and stretch their legs further than the regular Economy seat.
Economy seat
An enhanced economy seat designed with more storage, comfort and space and a 50% bigger screen for entertainment. Connect to Bluetooth audio and pair your device to act as a remote control or second screen
Now, for the million dollar question. How much does the Skynest cost?
"We have yet to determine the costs and will be able to share more information on pricing closer to the delivery of our new aircraft in 2024," Ms Geraghty said.