The Wizard of New Zealand is officially off the payroll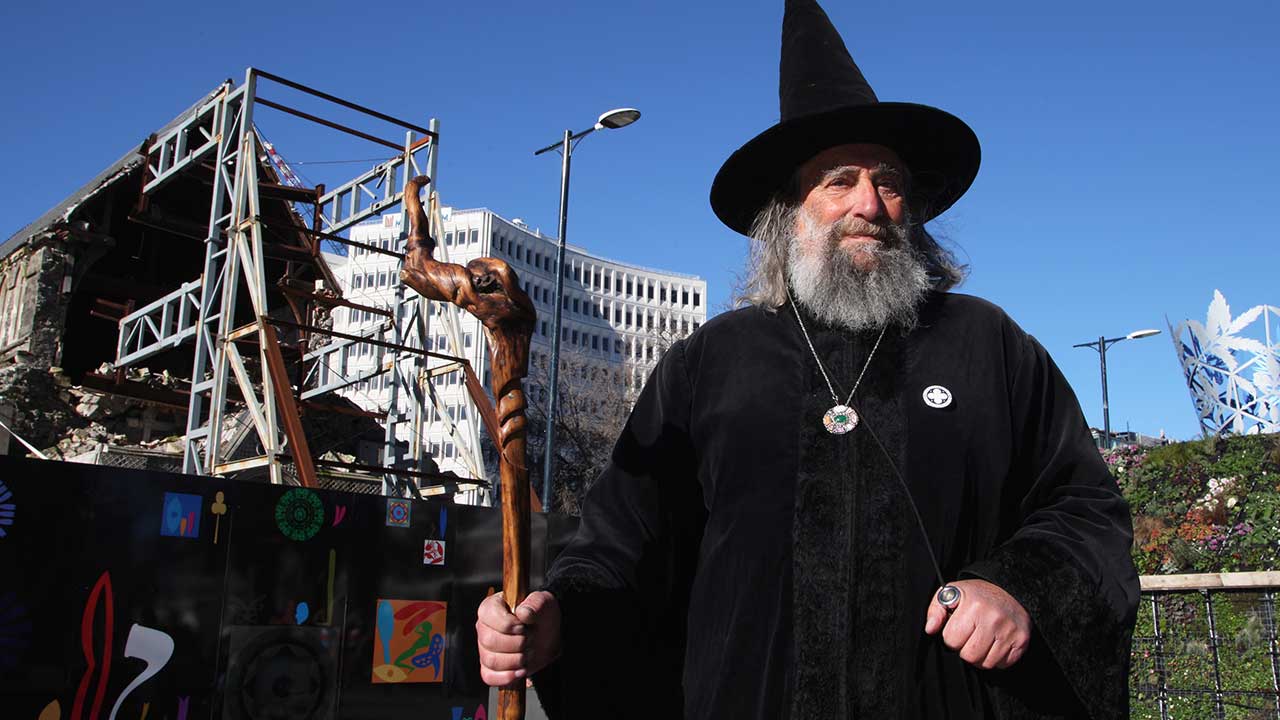 The Wizard of New Zealand (who isn't Gandalf) is in reality a man by the name of Ian Brackenbury Channell, and he has been on Christchurch city council's payroll for 23 years, drawing a salary of $16,000NZD per annum for his work promoting the city through "acts of wizardry and other wizard-like services". That means he's been paid roughly $368,000NZD over the course of 23 years to dress up as a wizard.
Unfortunately, his tenure has come to an end, with the council electing not to renew his contract in January 2022. While his job title makes it sound like he could be called upon to cast protection spells in times of crisis, and other things wizards (who aren't Gandalf) do, his primary role was to "conduct lunchtime orations in Cathedral Square" for an hour every weekday between November and March.
He was also expected to make up to 200 hours worth of appearances to promote Christchurch, welcome dignitaries, help with tourism promotions and be interviewed by the media. The $40/hour pay rate works out to be roughly eight hours of work a week.
Channell was born in England, and began publicly performing as a wizard after moving to New Zealand in 1976. The council initially tried to stop him (they were probably Team Gandalf), but the public protested, with the New Zealand Art Gallery Directors Association describing him as a "living work of art". Prime Minister Mike Moore eventually asked Channell in 1990 if he would consider becoming the Wizard of New Zealand (he probably couldn't find Gandalf's best contact number).
In his letter to the Wizard, Moore wrote, "I am concerned that your wizardry is not at the disposal of the entire nation. I suggest therefore that you should urgently consider my suggestion that you become the Wizard of New Zealand, Antarctica and relevant offshore areas … no doubt there will be implications in the area of spells, blessings, curses, and other supernatural matters that are beyond the competence of mere Prime Ministers."
His 23 years of service have seen him perform in Christchurch, raindance across New Zealand and Australia during droughts, and even receive the Queen's Service Medal in the 2009 Queen's Birthday Honours.
Unfortunately, more recently his behaviour has included making sexist remarks about women, including telling a television host that he liked to tease women by telling them they were devious, and that they used "cunning to get men who are thick".
He went on to say, "I love women, I forgive them all the time, I've never struck one yet. Never strike a woman because they bruise too easily is the first thing, and they'll tell the neighbours and their friends … and then you're in big trouble."
Following this, the council made the decision to write to Channell, thanking him for his services to Christchurch, and informing him that his contract would not be renewed in the new year.
Of this decision, the Wizard said, "I feel really insulted and deeply hurt by the whole thing. I am being airbrushed out of history. They don't like my vibes.
"What I am doing is very delicate. I can't do it in a commercial environment or a PC environment."
As a result, it looks like Christchurch will be officially farewelling its quirky spokesperson early next year – unless Channell decides to carry on his duties in an amateur capacity.
Image: Joseph Johnson/Getty Images