Video of mum and toddler kicked off flight over masks goes viral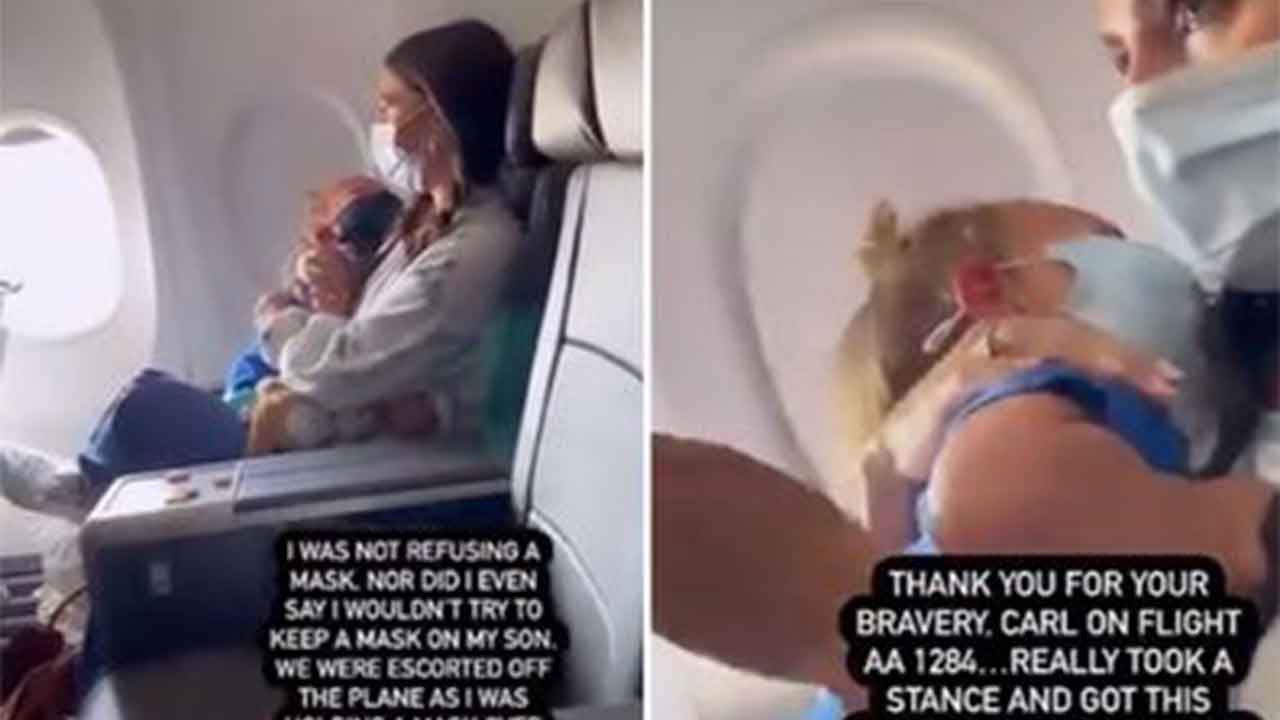 An American woman and her toddler were kicked off a flight after her two-year-old was unable to keep a mask on.
Amanda Pendarvis was on board an American Airlines flight to Colorado, and claimed on Instagram that her son wasn't wearing a mask due to suffering from an asthma attack.
Ms Pendarvis said she, her son, and her mother were all removed from the flight.
"I was not refusing to wear a mask, nor did I even say I wouldn't try to keep a mask on my son," she wrote in the caption of the photo she shared on Instagram.
"We were escorted off the plane as I was holding a mask over his little face. I don't even have words."
Ms Pendarvis claimed that the pilot apologised to the rest of the passengers for the flight's delay over the intercom and said: "We are dealing with a non-compliant traveller."
In a short video that was re-shared to Twitter, Ms Pendarvis can be seen attempting to keep a mask on her son while he screams and cries.
ASTHMATIC two-year-old struggling to breathe during an asthma attack, wasn't physically capable of wearing a mask on an American Airlines flight.

The plane was turned around and mother and baby forced to get off. pic.twitter.com/p0z63OBmPg

— OKIE PATRIOT 76 (@okiepatriot_76) September 16, 2021
The clip then cuts to a moment after Ms Pendarvis and her son were outside the plane, waiting on the jet bridge with authorities.
In a statement to Fox News, American Airlines said the party had refused to "comply with crew member instructions to remain seated while on an active taxiway and to wear face coverings over their nose and mouth".
"After observing a minor in the party laying in the aisle and moving between seats on taxi out, our flight crew made multiple attempts to reinforce safety requirements," an American Airlines spokesman said.
"While addressing the party, our crew also reminded the individuals in the party that federal directives require customers to wear a face covering at all times while on board unless actively eating or drinking," he continued.
"At no time was it made known to our crew members that a member of the party was experiencing an asthma attack or trouble breathing."
Ms Pendarvis said she was letting her son walk across the aisle to his grandmother, and that she told flight attendants about her son's asthma.
After she was removed from the plane, the airline said Ms Pendarvis was rebooked on the next flight to Colorado after agreeing to "adhere to policies instituted for the safety of our customers and crew".
Image: Instagram