"We can fix it": Dad sparks debate over Disney book edits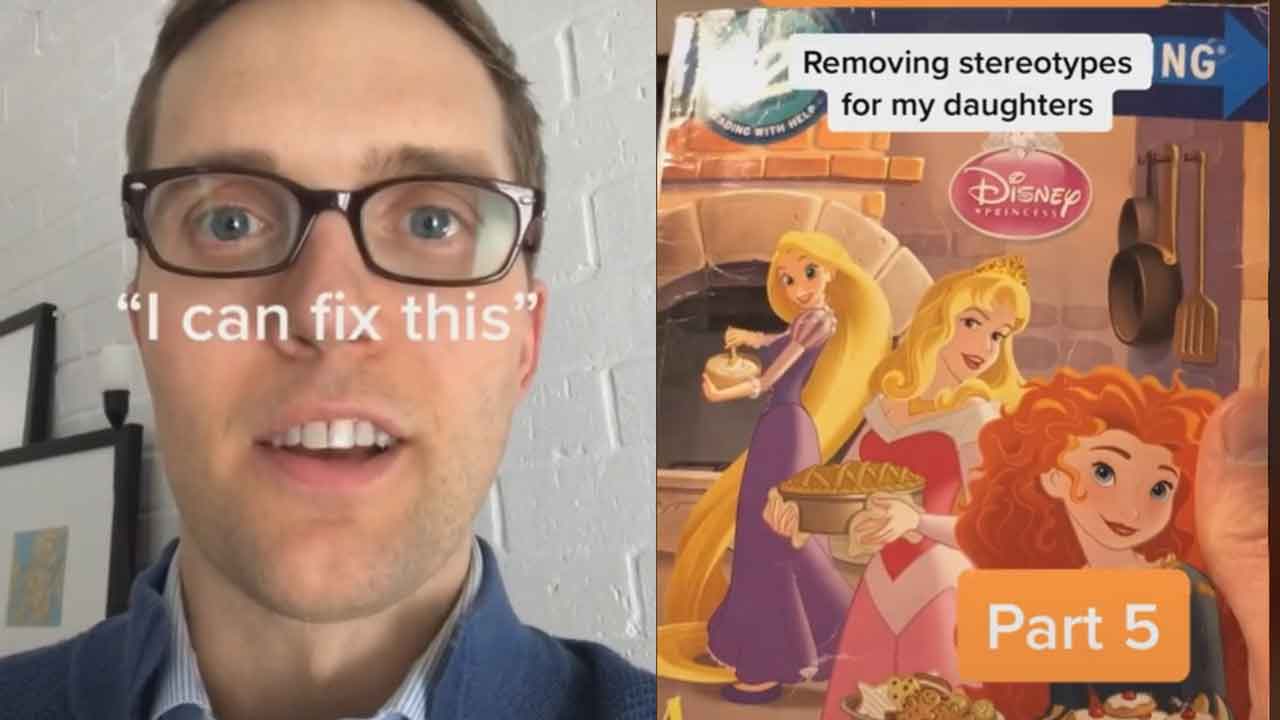 A dad has sparked some controversy online after sharing edits to his daughter's Disney Princess books to combat gender stereotypes.
The parent took to his TikTok account (@dcaspers) to share pages from his daughter's "Step Into Reading" books starring Disney princesses and the edits he makes to inspire his daughters.
In one video of his now-viral series, he takes issue with a book featuring Ariel from The Little Mermaid. In it, Ariel struggles to bake a cake for Prince Eric, and @dcaspers is quick to change it.
"Ariel changes her body, leaves her friends and family … and now she's baking, all for him," he writes over the clip.
The dad then shows the changes he made to the book, swapping Ariel's piping bag full of icing for a slice of pizza.
"Instead of baking, Ariel orders a pizza," he writes.
"While the prince eats his pizza… with a fork," he continues, "She finds her new love… in TikTok."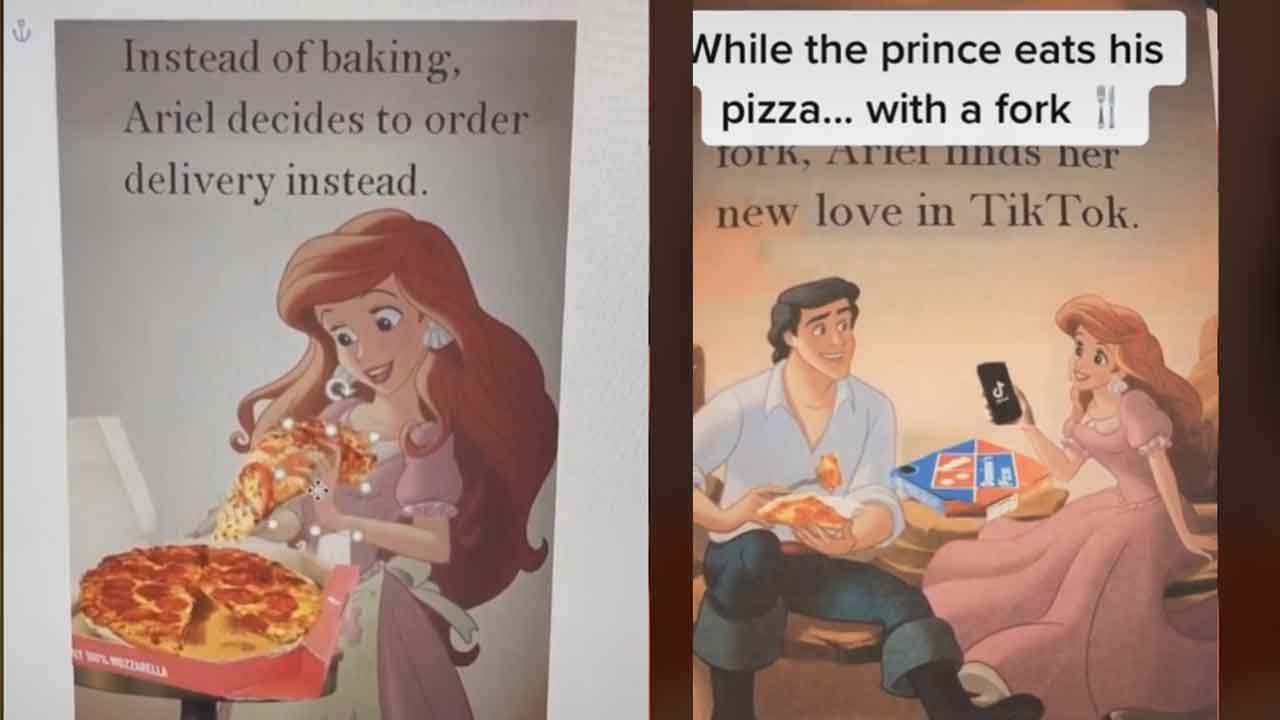 Image: @dcaspers / TikTok
In another clip, the dad focuses on Rapunzel from Tangled and writes, "Teaching my daughters not to settle for the stereotypes".
In the original reader, Rapunzel enters a pie-baking contest and wins a blue ribbon, "which her bf (boyfriend) approves" of. But, after the changes, Rapunzel considers "her future" in front of a sign for Harvard University, and her boyfriend Eugene bakes her a pie "because she's top in her class".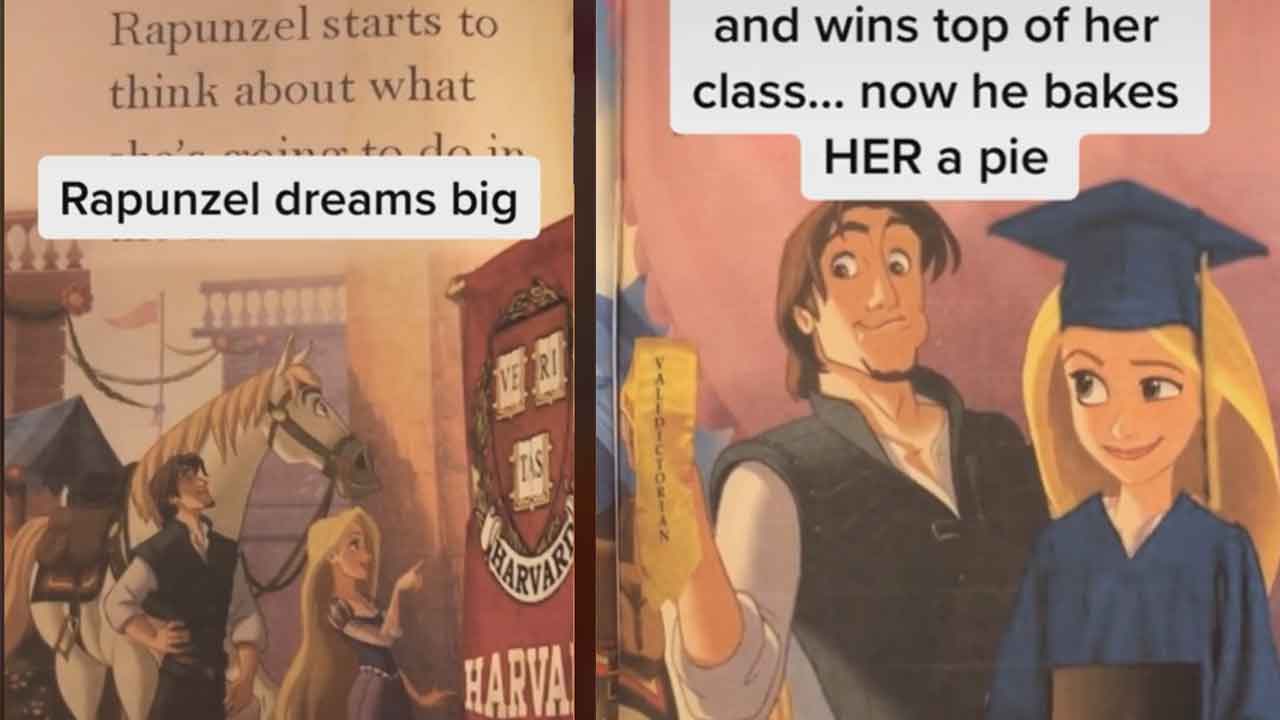 Image: @dcaspers / TikTok
Many users have shared their approval of the dad's efforts, while others believe they could do more harm than Disney's original works.
"You are such a great dad. This is what we should teach our daughters, not that women do the cooking, cleaning and chores," one commenter said.
"I honestly love this! I can't stand stereotypes, and for Disney to use them when most little kids look up to/love them is awful. You're amazing," another wrote.
"What's wrong with baking? And how is spending all your time on social media better than a fun activity that anyone could do?" one person argued, referring to the Ariel video.
"The baking is a metaphor here. She pursued a goal, and achieved it successfully, while being cheered on by a loved one.. How can you see the bad in this?" another said, challenging his Rapunzel edits.
"Bruh, just don't buy the book if it offends you," a third user suggested.
In response to the critics, one person wrote, "Why is everyone upset about a dad wanting to teach his daughters to be strong and independent?"
Despite the controversy, this dad has shown how he wants to challenge the messages and stories his daughters see and gone the extra mile to do it.
Image: @dcaspers / TikTok