"Hitting rock bottom": Mick Fanning reveals life after punching shark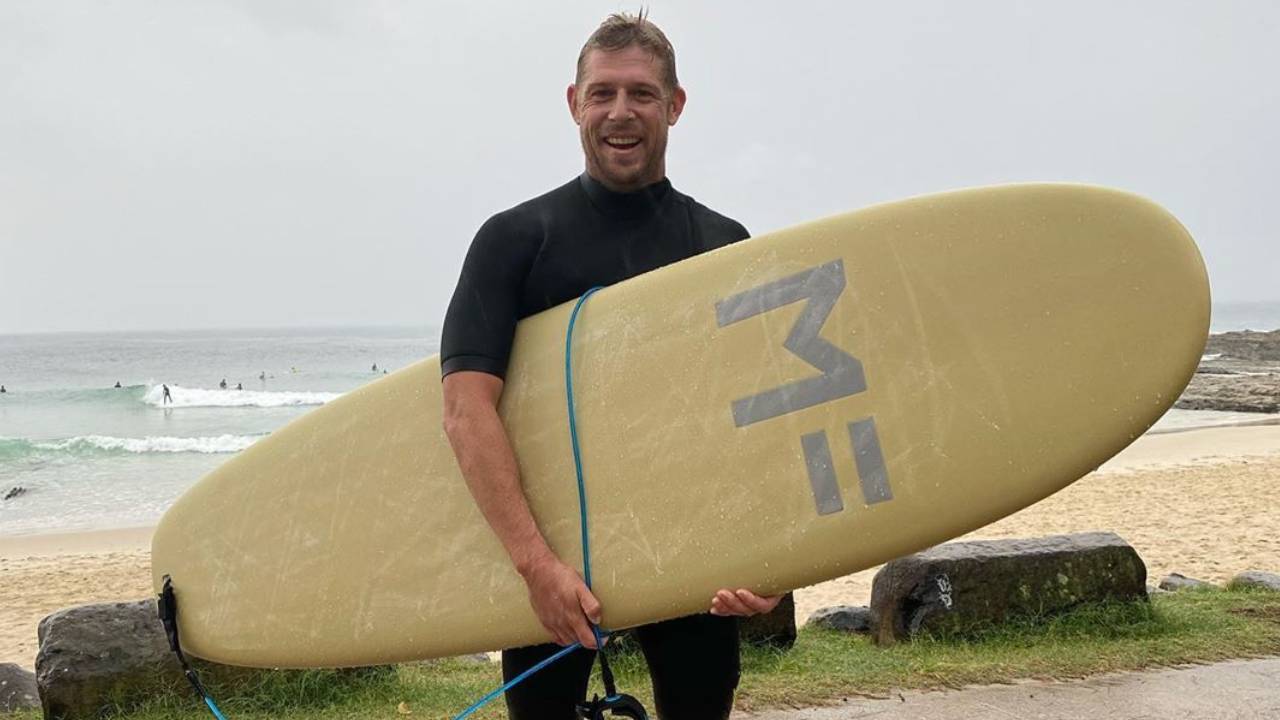 Despite fighting off a Great White shark live on television in South Africa five years ago, Mick Fanning says that fatherhood has been the greatest challenge yet.
The shocking footage was watched by thousands of shocked onlookers, with Fanning suffering from post-traumatic stress disorder and nightmares of the accident for years afterwards.
It hasn't stopped Fanning from living his life, as he and fiance Breeana Randal welcomed their son Zander Dean Fanning just three weeks ago.
Fatherhood has been 'mind-bending' for the Penrith-born surfer, and is the pinnacle of a tough few years since the shark attack.
"For me, 2015 was such a down year," Fanning shared on 60 Minutes on Sunday night.
"I went through a divorce, had the shark incident and then at the end of it all I lost my brother. I was just totally empty at the end of it. I was done."
Fanning was also unprepared for the publicity storm after the attack.
"That was the one that just floored me. I was like 'what else? What else can be taken in a year?' At the end of 2015, I just hit rock bottom," he said.
Fanning opened up about the "emptiness" he felt for the 18 months afterwards.
"I felt like I had nothing to give, nothing to give myself, or to the people around me, or to family or friends. I just didn't see a way of coming back," he said.
"I've never felt that empty before, I just lay in bed, did nothing, wouldn't leave the house."
Five years on from the experience, he is now living with his wife-to-be and wants to grow his family.
"It's incredible,' he said of fatherhood. "Just the love and care that you can give to a human, it's wild. So mind-bending."
As part of his much-needed healing process, Fanning travelled to the Bahamas to confront his fears by swimming with sharks.
"I never hated sharks, I respected them and was scared of them, but never hated them... they're a very powerful creature," he said.
"I'm definitely still scared of them."
Fanning admitted he still isn't comfortable back in the water and has accepted his limits.
'In the past, I would've pushed my instincts to the side and said ''no I'm just being soft'', where now if I feel those instincts come up, I just go. I don't have to prove myself to anyone,' he said.
Fanning previously told The Australian he had post-traumatic stress disorder and "freaks" out whenever somebody splashes behind him in the water as it was a reminder of the six-metre beast that attacked him back in 2015.
"I mean, it's like I'm in the actual position I was in, it's a reality dream," he said.
"You sort of learn your body can do so many things to make things real and not real and I just had to learn, 'OK, that moment's been done. It's not real. These dreams are just coming back'."
He says sharing with his friends and family for support helped him get through the experience.
"I thought I was going to die. I guess everyone watching on from the beach that day, and on the live broadcast all over the world, thought the exact same thing," Fanning said.
"That's what helps, talking about it," he said.
"Not being shy to ask for help. There were times throughout the year where I was trying to hide stuff and my friends would be like 'what's up'. It wasn't just for the one, two weeks. It was six months, 12 months, 18 months."
Join Over60
Join our community of over 400,000-plus members today and get the latest Over60 news, offers and articles.
Get all the latest Over60 news, offers and articles.