"Let's do it!" How this couple came to be married mid-flight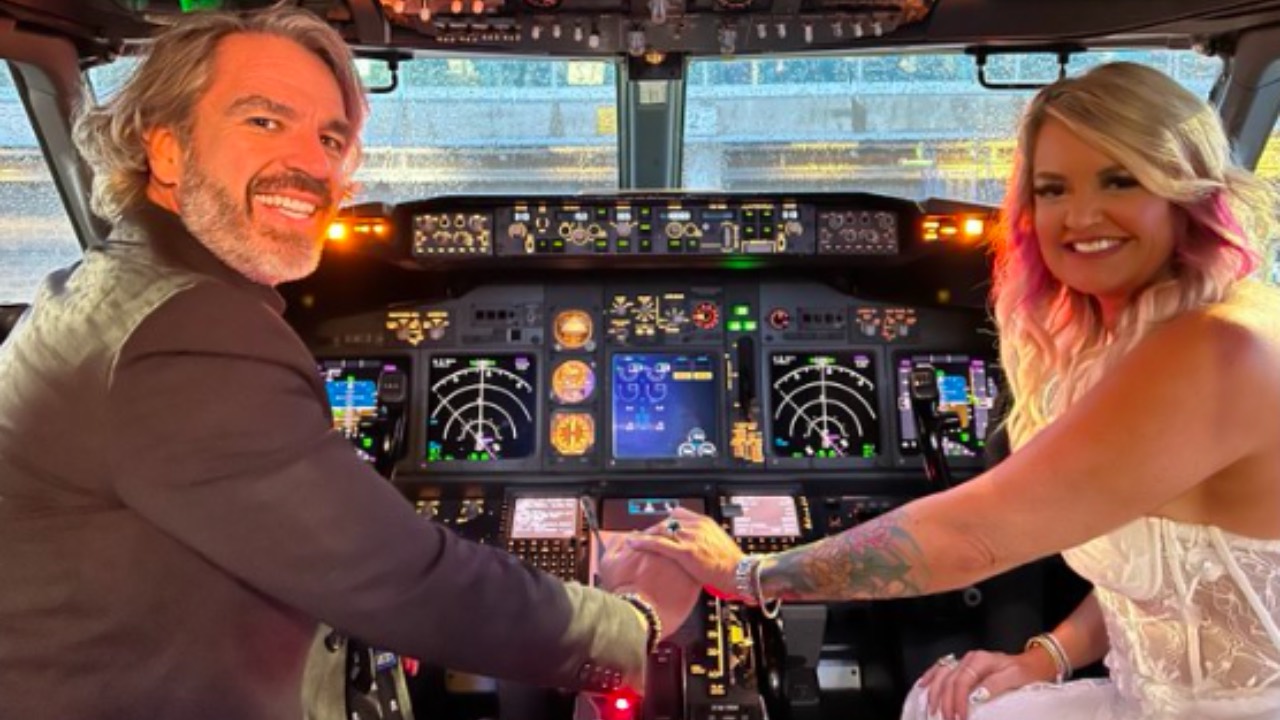 A couple from the US have eloped onboard a Southwest flight, after their elopement in Vegas fell through.
The couple from Oklahoma, Pam Patterson and Jeremy Salda, were flying from Dallas to Las Vegas to get married in a chapel on the Vegas strip.
However, when their flight was cancelled, their elopement was thrown into disarray.
While thinking of a plan B, the couple got talking with Chris Kilgora, who was also destined to be on their cancelled flight.
When the couple told Chris of their situation, he told them that he was an ordained minister and would be happy to marry them himself.
The three travellers booked flights on the next plane from Dallas to Las Vegas, and made it onto their Southwest flight with just minutes to spare.
As the couple were dressed in their wedding attire, the captain began talking with Pam and Jeremy at the gate and joked about them getting married on the plane.
Astonishingly, they said, "Let's do it!"
The Southwest cabin crew decorated the plane with anything they could find, while air hostess Julie stepped in as Pam's maid of honour.
The couple were married 37,000 feet in the air by the ordained minister in a ceremony none of the staff, or other travellers, are likely to ever forget.
One traveller handed around a notepad for everyone to write their names and seat numbers as a makeshift guest book, while a professional photographer who was onboard immortalised the ceremony with offical wedding snaps.
Pam and Jeremy were traveling on one of our competitors to elope in Vegas when their final leg from DFW to LAS was canceled. Little did they know, their luck was about to turn. 🧵 pic.twitter.com/D1aU9452An

— Southwest Airlines (@SouthwestAir) April 30, 2022
The Southwest Airlines official Twitter page shared a series of tweets detailing Pam and Jeremy's extraordinary wedding story, which quickly went viral.
"Southwest has been the love airline for nearly 51 years," Southwest wrote in a statement to CNN. "We always enjoy an opportunity to celebrate our customers in special ways."
Pam and Jeremy plan to follow hold a more traditional ceremony in Mexico where they can celebrate with family and friends.
Image credits: Twitter