Faces that told a million stories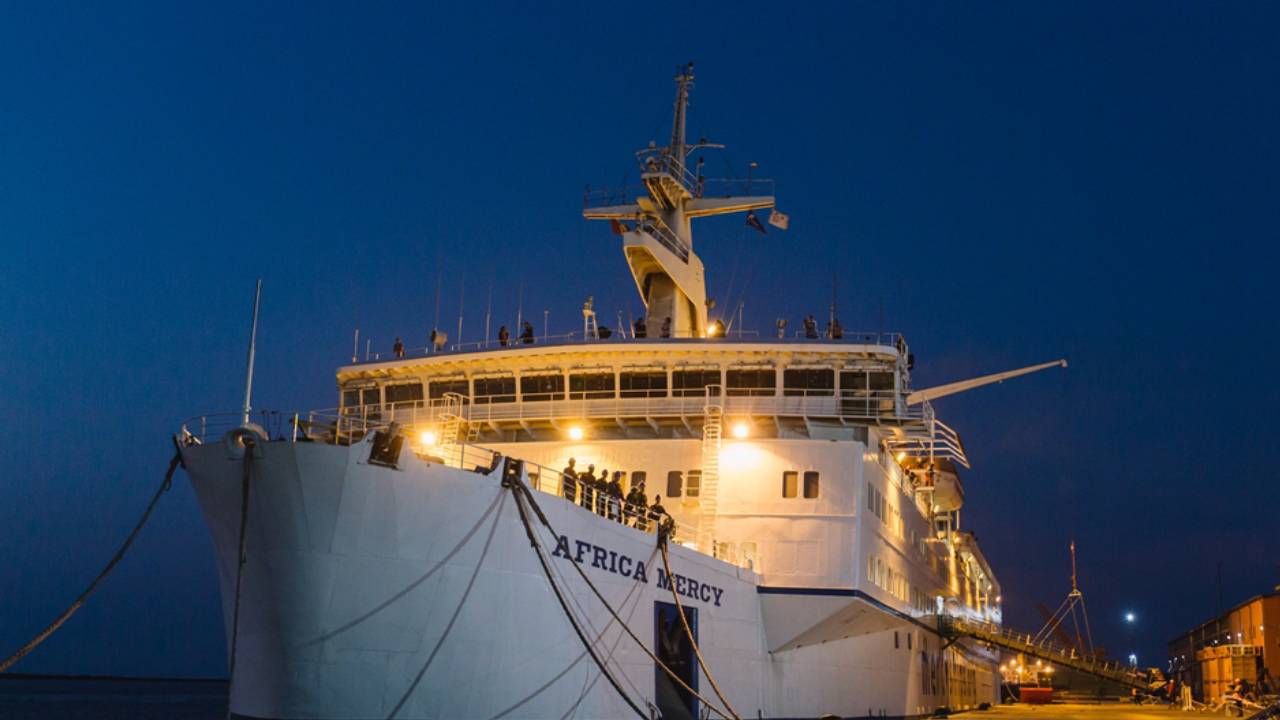 Discovering his trades skills were needed on the world's largest civilian hospital ship it was a surprise to retiree Bill Williams. With a marine engineering background including experience in refrigeration and steam, Bill proved to be an invaluable part of the crew.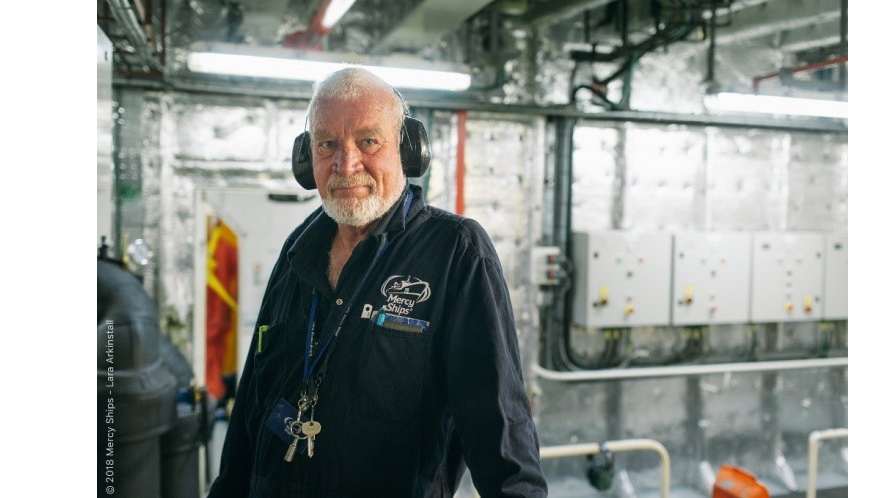 Bill brought a life time of experience to the Mercy Ships engine room crew Image: Mercy Ships.
'We hadn't been retired long and my wife, Lynda who is a theatre nurse, had nurtured a dream to volunteer with Mercy Ships for years. I was surprised to learn that my experience was needed too. I didn't realise they wanted engineering skills and all the other trades and services that are required to make the ship function, as well as nurses and doctors,' explains Bill.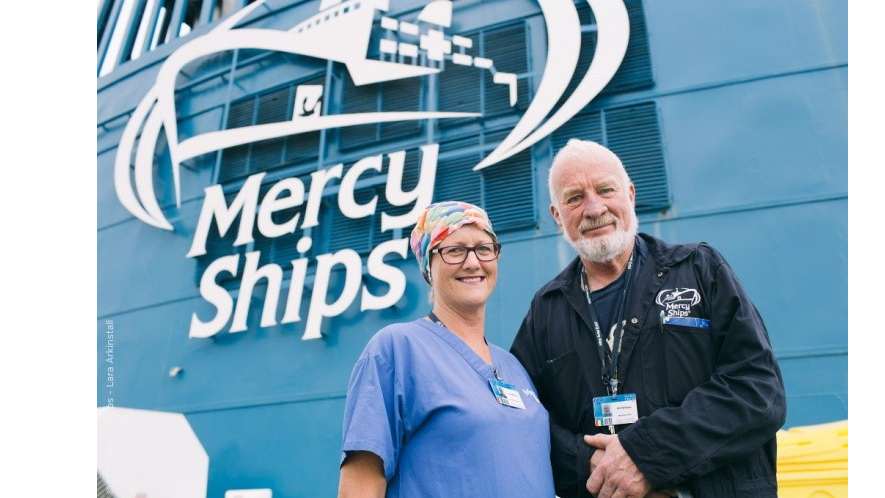 Bill brought a life time of experience to the Mercy Ships engine room crew Image: Mercy Ships.
The Mercy Ship is a 16,000 tonne floating surgical hospital. From the Captain and cooks, to surgeons and school teachers, the international crew are volunteers giving of their time and experience to help provide free essential surgery for West Africa's poor.
Since 1978 the international charity has provided 'hope and healing' to the world's forgotten poor. The faith-based NGO spends 10 months at a time providing surgical and healthcare services to developing nations. Bill and Lynda Williams joined the vessel in the port city of Conakry in Guinea, West Africa. This was the hub of the NGO's work for a fourth field service.
'Everybody brings skills, and our Down Under trades and engineering people have broad experience. I am multi traded so I was able to bring a lot of knowledge, which created a really good combined reach of skills in the engineering team. I'm used to multitasking. Plumbing, refrigeration, engineering; I had worked on many of the systems before. So I was able to help on quite a few different issues during our six weeks on the Mercy Ship.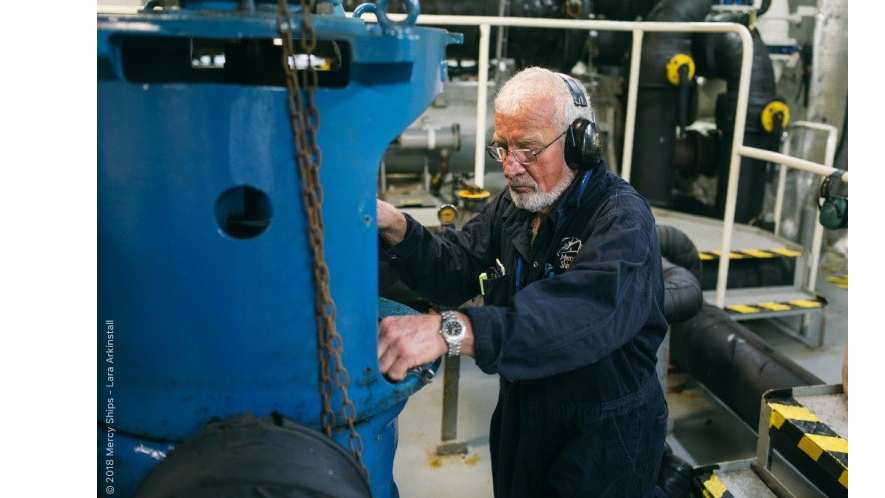 The engineering team maintain the technical side of the hospital ship so the patients can receive treatment.' Image: Mercy Ships.
'The most interesting project I was involved in was fixing the oil filters in the main generators. The cost to replace the oil filter screens was over a thousand dollars, and I thought I could show the guys how to repair them. It took about forty-five minutes and only cost a couple of dollars.
'Volunteering is a way of using our life skills to help others in real need. I wasn't directly involved with the Mercy Ships patients receiving the life-transforming surgery, but all the services the engineering team maintain were required in order for the patients to receive treatment.'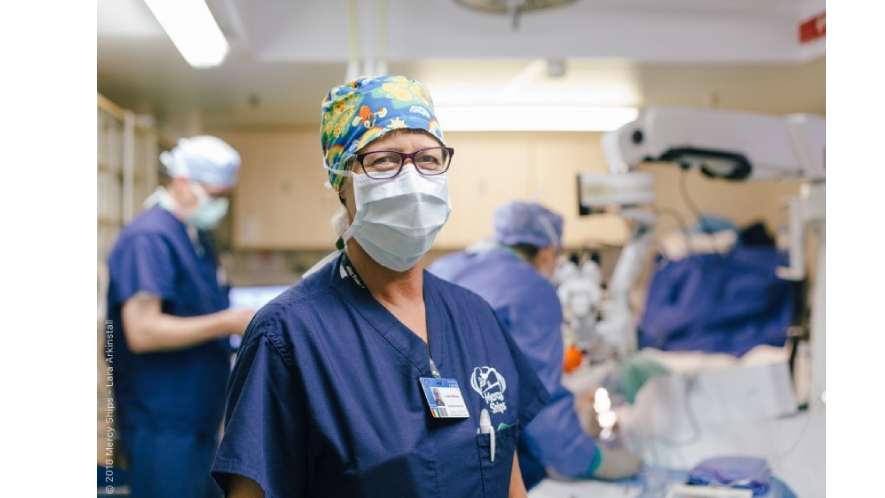 Lynda found her work in the hospital ship operating theatres stimulating both personally and professionally. Image: Mercy Ships.
While Bill brought a life time of engineering skills to the Mercy Ships technical team, Lynda worked in the operating theatres, 'Volunteering onboard gave me the opportunity to be involved in different types of surgery not done in the western world.'
'I saw the end results of the free surgeries provided', explains Bill. 'People who had been blind for years having their sight restored and huge, benign tumours were removed.
I didn't see the patients come onboard, but I saw them leave - the look on their faces told a million stories!
'Seeing the outcome was very rewarding, I definitely recommend volunteering. Everybody has skills and experience; it's amazing what can be accomplished when we work together.'
Find information about volunteering at https://mercyships.org.nz/how-to-volunteer/
Technical crew play a vital role on the hospital ship from Mercy Ships New Zealand on Vimeo.
ABOUT MERCY SHIPS
Mercy Ships is a faith-based charity which uses hospital ships to deliver free, world-class healthcare services, capacity-building and sustainable development aid to those without access in the developing world. Founded in 1978, Mercy Ships has performed more than 100,000 life-changing or life-saving surgical procedures such as cleft lip and palate repairs, cataract removal, orthopaedic procedures, facial reconstruction and obstetric fistula repairs. Services and materials valued at more than NZ$2.33 billion have directly benefitted more than 2.71 million people in 70 nations. Each year, around 1,000 volunteers from up to 40 nations, including New Zealand, serve with Mercy Ships. Professionals like surgeons, dentists, nurses, healthcare trainers, teachers, cooks, seamen, engineers and teachers donate their time and skills to the effort. Mercy Ships New Zealand, one of 16 international support offices, is based in Auckland. For more information click on www.mercyships.org.nz
Join Over60
Join our community of over 400,000-plus members today and get the latest Over60 news, offers and articles.
Get all the latest Over60 news, offers and articles.