Tourist cops earful from member of Queen's Guard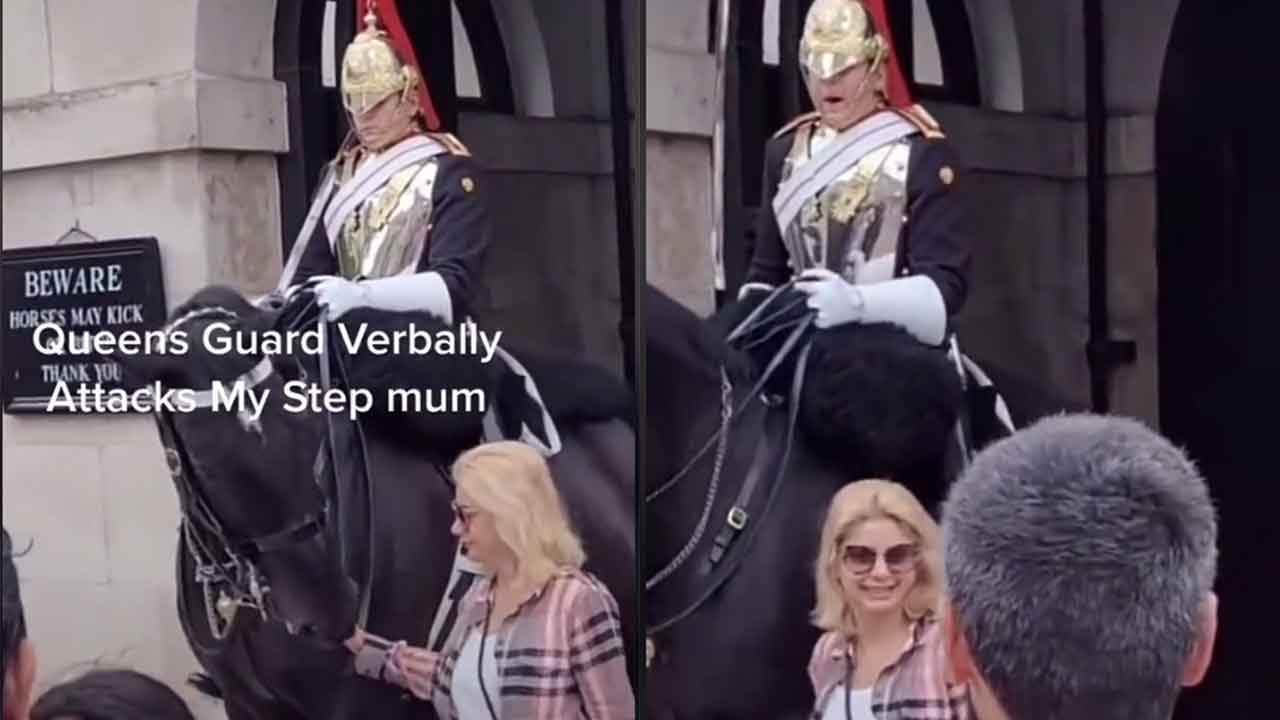 A tourist has learned the hard way to not interfere with the Queen's guards, after she copped an earful from a guard for grabbing his horse's reins.
During a recent trip to London, the woman went to pose for a photo next to the guard and his horse when her hand went to reach towards the animal, drawing the guard's attention.
When she then touched the reins, he reacted by yelling with authority from atop his horse.
"Stand back from the Queen's lifeguard, don't touch the reins!" he yells.
A clip of the incident was shared by the woman's step-son Ethan on TikTok, with the caption, "We will never return to London after this incident" and text across the footage reading, "Queens Guard Verbally Attacks My Step mum [sic]".
Though Ethan commented the guard as a "rather angry little man", a large number of commenters sided with the guard, arguing that he has an important job to do and that working animals like his horse shouldn't be touched while on duty.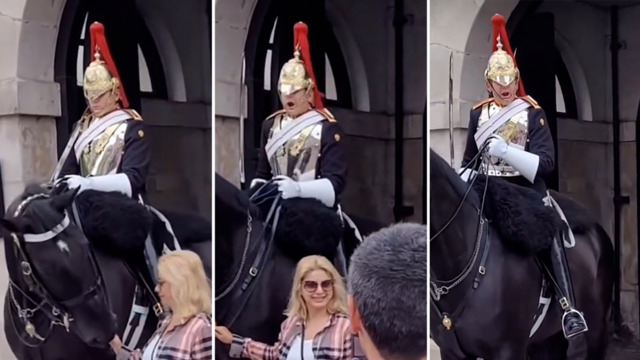 Image: TikTok
"It's not Disney they are working horses and serving army," one person said.
"Serves her right, you aren't allowed to touch the guard," another wrote.
"They have a job, just don't go near them," a third added.
British followers were particularly quick to defend his actions and respond to their decision not to return to London.
"The whole of London is so upset that you won't be returning we're all begging you to come back," one person said.
"Every British person I know knows you don't touch them, or is she one of them ones that would put her hand in the blender," another wrote.
As some commenters pointed out, the horse's reins are connected to the animal's mouth - which is quite sensitive - and tugging on the reins could spook the animal, causing it to bite her or unseat the guard.
Others compared interfering with or touching the guard and his horse to doing the same to a guide dog, while 9Honey royal reporter Natalie Oliveri explained that as a rule, you shouldn't touch animals that are on-duty.
"Also, as a general rule tourists should be respectful of any member of Her Majesty's guard while they are on duty – they are there for an important reason and no one should try to interfere with that," Oliveri said.
She explained that it's also best not to speak to members of the Queen's Guard while they're on duty, and that you shouldn't expect a response from them.
"If you would like a photo, perhaps it's best to stand at a respectable distance and never interfere with their job," she added.
Images: TikTok